Mr Coffee One-Touch CoffeeHouse Espresso & Cappuccino Machine Review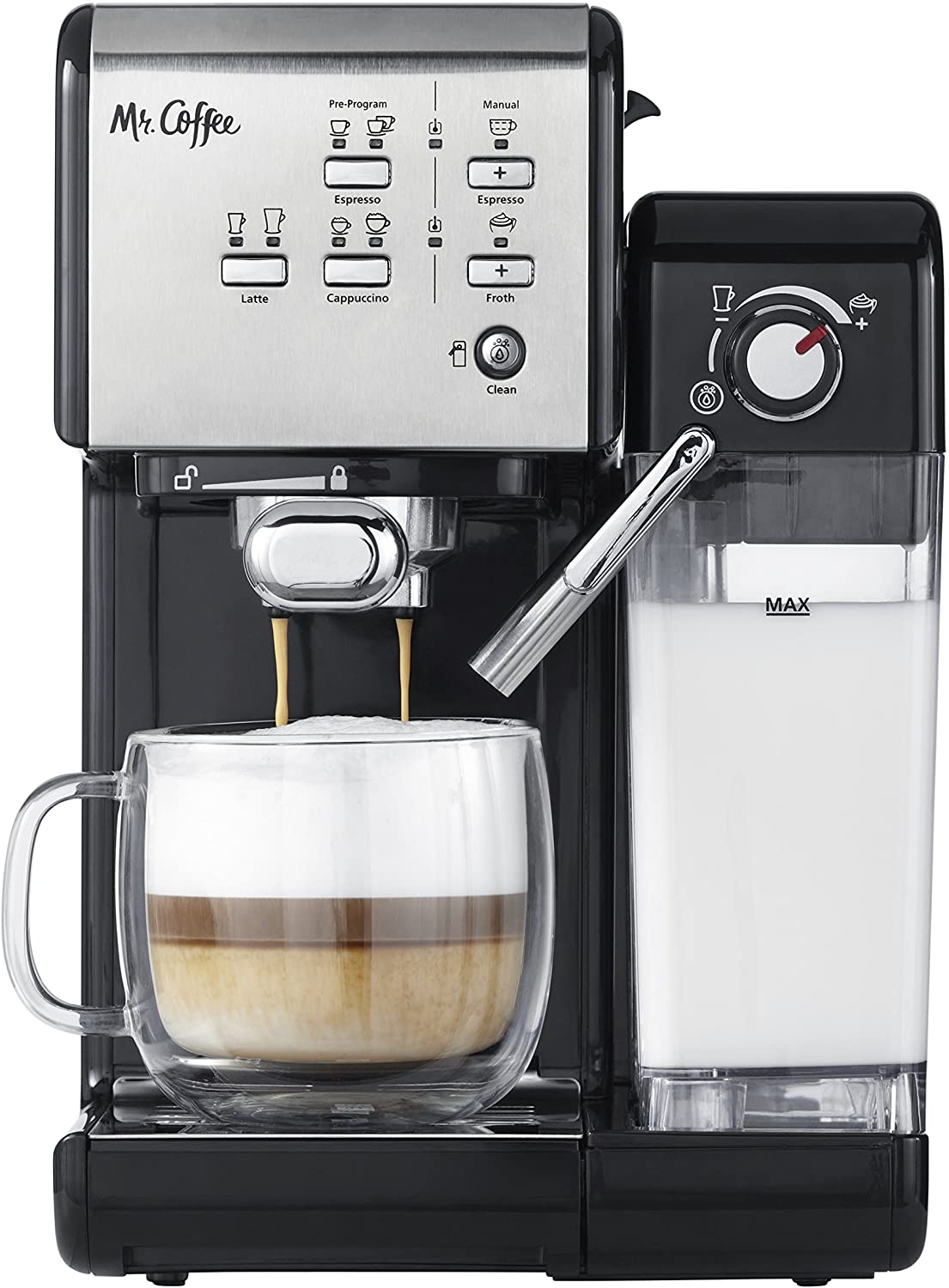 The One-Touch Espresso Maker features an intuitive, easy-to-use interface that makes it simple to make great espresso, lattes, cappuccinos, and other espresso-based beverages. 
It also includes a removable milk reservoir for easy filling, cleaning, and storage. In addition, the built-in thermocouple heating system ensures consistent, evenly heated water throughout the entire brewing process. 
Other key features include a removable cup tray, a 19-bar Italian pump for superior flavour extraction, and automatic frothing. 
In addition, Mr Coffee's One-Touch Espresso Maker is designed with the same attention to detail and quality construction as their other products.
Mr Coffee One-Touch CoffeeHouse Espresso Maker at a Glance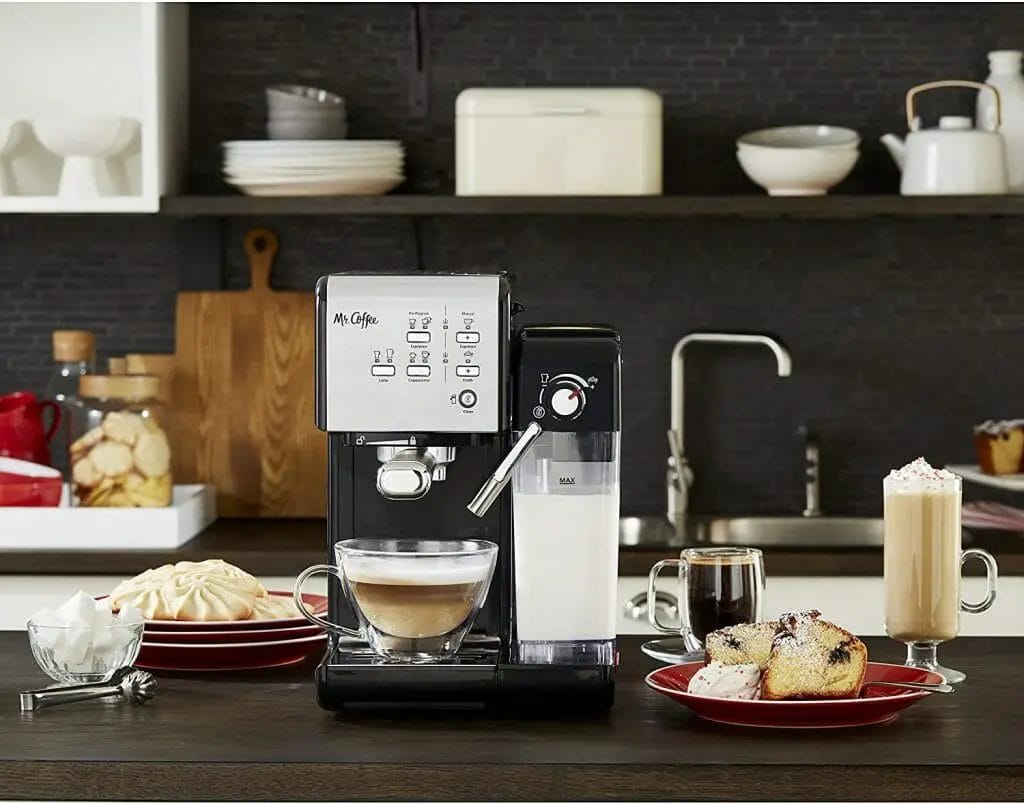 Size: 10.9 x 13.7 x 15.5 inches
Weight: 13.85 lbs.
Serving: 3 lattes, or 6 Cappuccinos, or 2 Espresso cups
Milk Reservoir: 650 ml
Thermal Couples: 3
Material: Stainless steel drip tray
Let's go through the features of the Mr Coffee One-Touch CoffeeHouse Espresso Maker and Cappuccino Machine:
Features:
19-bar pressure: Extracting full flavours from coffee capsules by spinning them under 19 bar pressure using an Italian pump that is long-lasting and of the highest quality.
One-touch Control: A panel that allows you to conduct one-touch activities. It does it all with a single touch, making it simple to use and clean, whether brewing or cleaning.
Thermocouple heating: It is a method that uniformly warms the water to make hot coffee. It rapidly and efficiently heats the water, allowing you to enjoy hot coffee.
Automatic milk frother: An integrated, automated milk frother transforms your favourite cappuccino into a light, creamy froth.
Removable milk reservoir: 650ml milk reservoir that allows you to prepare coffee in one go. It is effortless to clean and fill, and you can also use it to preserve leftover milk in the fridge.
Simple to clean: You must clean your coffee machines once a week or once a month. You should descale the heating pots regularly, mainly if you use hard water. 
The milk frother reservoir, on the other hand, must be cleaned immediately after use. The detachable milk reservoir on the One-Touch CoffeeHouse is dishwasher safe.
Pros
At the touch of a button, you can make lattes, espressos, and cappuccinos.
A high-pressure pump extracts the ideal flavour of coffee to create barista-quality beverages.
A coffee machine that cleans itself automatically and is readily programmed
Cup tray that may be adjusted to fit different cup sizes
You may obtain an automated grinder with the equipment for a small extra fee.
Cons
The price without the grinder is $241, and the price with the grinder is $281.
It may require manual cleaning to extend its life.
Because there is no additional water warning, the coffee maker will attempt to add water even if there is insufficient, therefore be sure to check your water reservoir.
FAQs
Can you tell the difference between an espresso machine and a cappuccino machine?
Espresso and cappuccino are both well-known beverages, and each builds on the other. As many people are aware, cappuccino is made with espresso as the foundation and steamed milk and foam on top to create a creamy texture.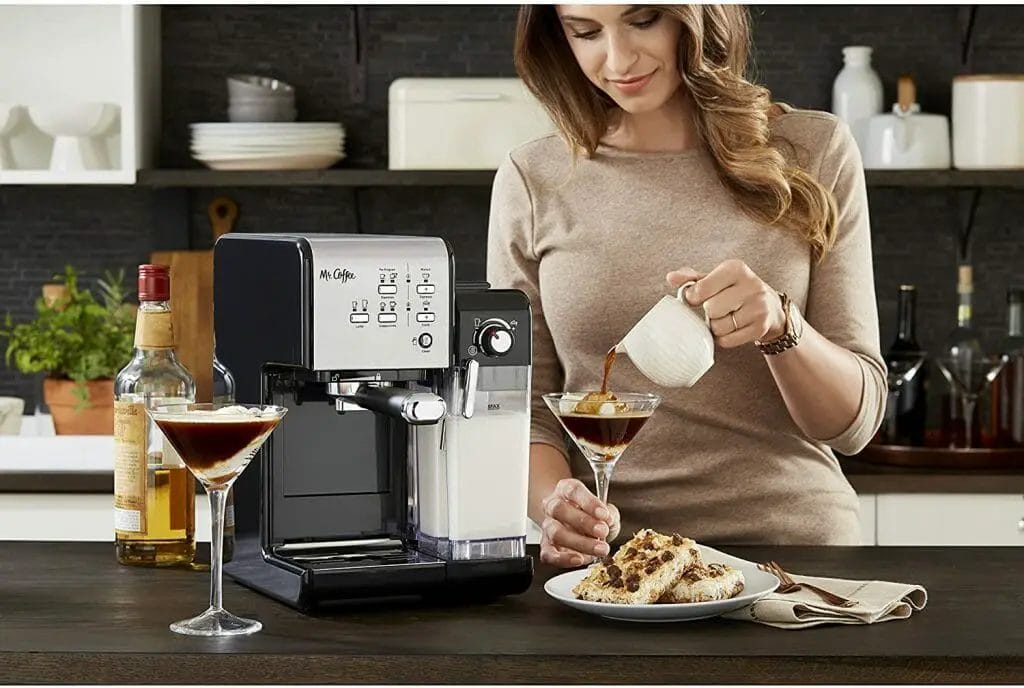 Espresso, on the other hand, is just coffee with no additional additives or decorations.
How long does it take to clean the coffee maker?
Clean the coffee maker, including the brew basket, cover, and carafe, after each use.  Also, remove the grounds and clean the brew basket, lid, and carafe. To clear mineral deposits, descale at least once every three months.
Who needs a Mr Coffee One-Touch CoffeeHouse Espresso Maker?
Essentially, any coffee enthusiast may purchase this machine. Some people, though, will like it the most. 
First and foremost, if you enjoy espresso but lack the culinary abilities to create a nice drink, this is for you! Not only will the gadget extract coffee flavours from the grounds, but it will also allow you to accomplish everything at the press of a button!
Also, if you want to make a cappuccino, you should consider purchasing this machine. The cappuccino consists of a double espresso with milk added. 
How do you use the Mr Coffee One Touch coffee house?
Unscrew the lid.
Fill the water reservoir with water up to the line
Turn on machine and press 'on-program' button
Ensure the water reservoir is filled to full mark.
Place 15g of coffee in the filter, ensuring you give it a good shake before placing it in.
Pour water over the coffee grounds.
Remove the lid and put in the filter and press 'all-in' button, do not touch any buttons on machine during this process as this is when steam will be released into your drink.
Does Mr Coffee espresso machine need a filter?

No, the machine does not require a filter to make good espresso. However, using a pre-ground coffee made of whole beans will add better and more intense espresso taste.
How do you make a Mr Coffee espresso latte?

Mr Coffee espresso maker uses aeroccino milk. You can use any milk you fancy, eg. skimmed milk, almond milk etc., and it makes a great latte.
What coffee do you use for Mr Coffee espresso?

You can use any coffee you fancy. You can use beans or ground coffee. You can even put Nescafe while making espresso if you don't have any coffee at home.
What do you put in Mr Coffee espresso machine?

Fill the water reservoir up to the fill line indicated and put in 15g of coffee in the filter.
Does Mr Coffee machine have a frother?

Yes, it has a frother built-in. Simply pour milk into the machine and press 'steam' button. You can also use a blender to create foamed milk for hot or cold drinks.
Can I use filtered water in Mr Coffee espresso maker?

No, do not use filtered water as it does not provide enough pressure for brewing espresso properly.
Does Mr Coffee espresso machine use pods?

No, it doesn't use pods. However, you can use ground coffee or whole beans.
Does Mr Coffee espresso machine have a grind unit?

Yes, it has a built-in grinder. You can adjust the setting to 13 settings to choose different type of beans like coarse and fine ground beans.
Does Mr Coffee espresso machine have a steam wand?

No, it doesn't have a steam wand so you cannot add foam to your beverages at the same time as brewing.
How do you prime a Mr Coffee espresso machine?

It is recommended that you use the 'priming' option for the first time to get a drink from your machine. For priming, fill the water however much you prefer, but not up to the line, add 25g of coffee in the filter and leave it for 3 minutes. Then press 'prime' button to make sure it works properly.
Why does my Mr. Coffee espresso taste burnt?

If the scoop is too big, it will clog up easily. Also, use water that is fresh and cold.
Can I use Mr. Coffee without water filter?

No, you will need to use a water filter as Mr Coffee espresso machine does not have one. The filter helps to remove impurities in the water.
Does Mr Coffee espresso machine need descaling?

Yes, it needs regular descaling once a month or as per instruction provided by manufacturer. Using a descaler such as white vinegar or lemon juice works well and also extends the lifespan of your machine.
Customer Reviews
Many reviews say that the machine's popularity is due to creating various quantities of espresso, latte, and cappuccino. 
People also enjoy that the machine includes a detachable tray to set cups of multiple sizes. In addition, they found it helpful because it comes with comprehensive instructions.
The majority of consumers like the frother, which creates foamed milk and steamed milk. However, some individuals are concerned about the machine's sound, which they believe is a touch too loud. 
Customers also appreciate that they can make coffee with a single click by utilizing the pre-programmed settings. 
Of course, you may also override the pre-programmed settings and brew your coffee according to your tastes. This feature has got much appreciation in the reviews.
One clear thing from the reviews is that to brew a perfect cup of coffee, you must first understand all there is to know about the machine. But, overall, the coffee machine has gotten excellent reviews and a high rating.
Check Out The Latest User Reviews Here
Alternatives
There are many alternatives if you are shopping around. The closest thing to the Mr Coffee One-Touch CoffeeHouse Espresso Maker is the Breville BES840XL Barista Express. 
It is an expensive alternative, but it is very similar to Mr Coffee, although some key differences may influence your decision.
The main thing that sets this machine apart is its built-in grinder, so you do not have to invest in an additional product for grinding coffee beans. 
Unfortunately, there is no steam wand on top of the unit, so you will not be able to add foam to your beverages. 
However, it is not a deal-breaker for many people because they can add froth to their beverages at home with other household appliances such as a blender or mixer.
Unlike Mr Coffee, it has a pressure gauge and a water filter. The grinder has 13 settings and is adjustable for different grinds and types of coffee beans. 
Its frother shoots steam directly into your beverage. You can use the frother function to create hot or cold froth for lattes and cappuccinos.
Conclusion
Overall, the Mr Coffee One-Touch CoffeeHouse Espresso Maker is a machine that will make you fall in love with coffee all over again. It is a great device to use at home daily because it is so easy to use. 
The cleanup process is also straightforward, making it a fantastic option for those who do not want to invest time in cleaning the equipment.
It can produce a delicious espresso from almost any beans and grind, and its milk reservoir can automatically make a cappuccino or latte for everyone. In addition, its small size and light weight make it a breeze to take anywhere.
If you are looking for a coffee machine capable of producing a delicious coffee drink at a moment's notice, look no further!