De'Longhi ESAM3300 Magnifica Super-Automatic Espresso & Coffee Machine Review
The DeLonghi Magnifica is one of the most well-known espresso machines on the market, and for a good reason. 
This super-automatic espresso machine features a compact, stainless-steel removable double boiler, an integrated burr grinder, and a patented cappuccino system that lets you prepare cappuccino drinks with any size milk container. 
In addition, the machine makes espresso at a consistently ideal temperature because of its new stainless-steel double boiler, which provides excellent heat distribution. 
Also, its instant reheat function keeps the machine at a perfect temperature, no matter how long the interval between cups.
Its cappuccino system rotates 180 degrees to allow for any size milk container. At the same time, you can adjust its coffee spigot height to allow for all different cups of coffee, from a classic espresso cup to a tall mug. 
In addition, the unit features an exclusive drip tray to keeps cups warm before use, as well as a three-hour automatic shutoff for safety. As a result, Magnifica is the only super-automatic machine that delivers the freshest results.
Let's look at the features of the machine.
Design
The DeLonghi Magnifica is on the lower end of the scale when it comes to hyper-automated espresso machines. So, in reality, it may not appear to be very noteworthy at first sight.
The shell is composed of high-quality plastic, and there are no metal elements on the outside. 
However, the machine's plastic construction may make it appear modest, and other super automated espresso machines undoubtedly perform far better in terms of aesthetics.
However, because the equipment is well-made, there's no need to be concerned.
Fresh Espresso For Every Cup
Every day, the DeLonghi Magnifica ESAM3300 coffee machine provides a fresh cup of coffee. 
The quality is never compromised since the beans are ground to their most significant potential, keeping the fragrance and vital oils that enhance the flavour of caffeinated beverages.
Integrated Burr Grinder
There are 13 customizable settings on the professionally built conical burr grinder. It makes it easy to ground new beans every time, ensuring that the coffee retains its complete freshness. The pre-ground option is helpful if you are short on time.
Thanks to the pre-ground in the second chamber, you may select between decaf, speciality, or regular coffee. Additionally, you can change the grinding settings to create personalized espresso.
Cappuccino System
Due to its versatile 180-degree rotating mechanism, the DeLonghi Magnifica cappuccino system can accommodate any size milk container. 
The spigot height may also be changed, making it simpler to pour coffee into any size mug, from a regular coffee cup to a travel mug. It adjusts to a maximum cup height of 4.25 inches.
The Cappuccino System frother generates a creamy, thick froth on cappuccinos and lattes by combining steam and milk precisely.
Cup Warmer
Furthermore, the device has a cup tray that keeps the cup heated before use, allowing the coffee to stay hotter for longer, much like in a café.
Shutoff System (Automatic)
The three-hour automatic cutoff mechanism is necessary for two reasons: first, it prevents the appliance from burning out, and second, it saves energy.
Quite powerful
The 15 bar pump pressure aids in the creation of the most genuine tastes in the shortest amount of time.
The sturdy manual Cappuccino System is simple to use and allows you to combine steam and milk. 
For each cup of cappuccino, make your own rich, long-lasting foam. You may make a macchiato, a flat white, or even a rich latte by changing the amounts to get the perfect cup.
Customized Espresso Drinks
The appliance's cleverly crafted programming choices allow you to create delicious cappuccinos and espressos. 
After you configure your preferences, the machine remembers everything, including the strength of coffee you want, the size of beverage temperature, and other essential details.
Quality of coffee
The coffee grinder is built to last and ensures the freshest results every time. Moreover, the beans are ground to their maximum potential, retaining freshness and fragrance for a more genuine cup of coffee. 
The taste is also enhanced by the 15 bar pressure pump, which allows for an even more decadent flavour in the smallest amount of time.
Cleaning
The stainless steel boiler can be removed, making it simple to clean all of the coffee maker's components. It has auto-programs for decalcification and rinsing since it is super-automatic. As a result, you won't have to bother about cleaning.
Cleaning is necessary to preserve the most incredible flavour and the need for servicing.
Pros
The water reservoir has a large capacity, and you can remove it from the front.
The dual heating system allows for continuous brewing.
Produces high-quality espresso and micro-foam.
It works with both pre-ground and whole beans.
Design that is long-lasting
Inexpensive
There are seven settings on the grinder.
Clean and simple to use
The machine is operated from the front.
Because of the lower footprint, the design is compact.
You may easily remove the brewing unit for cleaning.
You can use the adjustable frother with a variety of cup sizes.
Setting a "smart" memory for your favourite beverages
Cons
Water filters are not compatible with this product.
It is not possible to brew and froth milk at the same time.
The steam wand's plastic components are prone to breaking.
The grinder makes a lot of noise. 
Oily beans don't do well in the grinder.
Cups may easily scratch the catch tray.
FAQs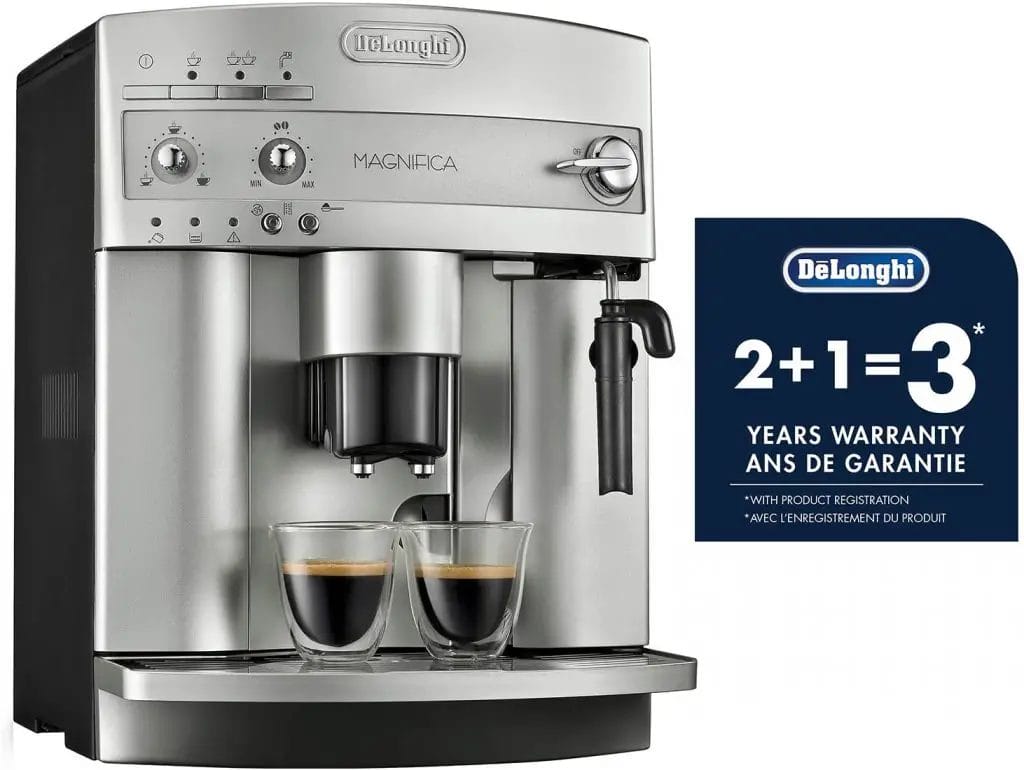 Can you replace the parts?
Yes. The spares will be sent to you by DeLonghi. There will be a modest fee for replacements if you are outside of the warranty period.
Where can you buy a DeLonghi Magnifica ESAM3300?
The internet offers a fantastic opportunity to get the most terrific deal on any cookware. The DeLonghi ESAM3300 is available for purchase on the company's main website. 
It's also available at various online sites run by well-known merchants such as Walmart, Costco, Bed Bath & Beyond, Williams Sonoma, Ideal Buy, etc. It's also available on auction sites like ebay.com and Amazon.com.
These vendors all provide the same warranty term. In addition, they frequently offer prices that are lower than those found in traditional physical stores. Another advantage for online shoppers is the availability of generous refund policies and free delivery.
Is it possible to prepare tea using this device?
Yes, because this is an entirely automated system, you can receive hot water whenever you want it.
Is DeLonghi Magnifica a good brand?

The DeLonghi Magnifica is a good coffee machine, although it does not have the most positive reviews. Its versatility, however, makes it a great option for those who want to pre-grind coffee beans and individuals who are willing to spend extra money on an automatic machine.
How long does DeLonghi Magnifica last?

On average, consumers can expect a DeLonghi Magnifica to last five years.
Does DeLonghi Magnifica make coffee?

It is not a coffee maker but an espresso machine, so it does not make coffee. However, you can use the DeLonghi Magnifica to make espresso.
Are DeLonghi coffee machines reliable?

The DeLonghi Magnifica has excellent reviews, which suggests it is a quality product. It also has a legendary reputation for being accurate and easy to use, making it a useful choice for consumers who like to prepare and make coffee at home.
Does the DeLonghi Magnifica have a water filter?

The DeLonghi Magnifica does not have a water filter.
How do I get the best Delonghi Magnifica coffee?

Delonghi Magnifica has different types of coffee capsules. You can chose the one that more suitable for you.
What coffee do I use for Delonghi coffee machine?

You can use different types of coffee, but the best is to use a coffee with low acidity. You can grind the coffee beans yourself or you can use pre-ground coffee for DeLonghi Magnifica.
How do I clean my DeLonghi espresso machine?

You can use the same cleaning products for all types of espresso machines. If you want to clean it quickly and easily, it is recommended to use a little water in the carafe and clean it with a soft cloth. If you want to do a more thorough cleaning, you can use a brush and some soap or liquid cleaner for easier cleaning process.
Customer reviews
Those who have tried the Delonghi Magnifica have praised it for its speed, calling it one of the quickest coffee makers ever.
It is swift and efficient, which makes it quite handy. Others have suggested that it is pretty compelling. That is very true due to its 1150 watt output. 
The small size of the coffee maker also appeals to many consumers since they can move it from one kitchen area to another. It also blends well with any décor because of its sleek shape and hue. 
There are a few pointers to follow to guarantee that you get the most out of this equipment in your kitchen. Here are some easy steps you may take to do this:
You must use only non-oily pure Arabic beans. If you use oily beans, your espresso machine will often clog and attract strange tastes. It's also possible that it'll reduce the life of your computer.
To minimize the accumulation of residue and preserve the sanitation of the product that goes into your coffee cup, be sure to clean the brew mechanism at least once a week. Also, you must rinse it with hot water, spit it out, and then run it through hot or much warmer water before replacing it.
Use spring water with this device and avoid tap water as much as possible, as tap water might create strange aromas in your espresso.
Alternatives
For a less expensive alternative, you can choose the Saeco HD 8615/05, which provides an excellent option for the ESAM3300. It is a bit more affordable while having similar functionality. Unfortunately, the machine does not have a built-in grinder, so you have to purchase this separately.
For a higher price range, you can go for the Jura Giga 5 or Gaggia 17110 Classic, both of which are very reliable and give excellent results when used correctly.
The Rancilio Silvia is very popular. It is a bit more pricey than other options and comes with a built-in grinder. It uses pre-ground coffee and stainless steel parts which makes it last long
The Gaggia Anima has been rated as one of the best espresso makers out there. Professionals and beginners alike use this machine, but it is more expensive than most other options on the market.
Conclusion
Although the DeLonghi Magnifica coffee maker is expensive, the reliability it provides appears to be exceptional value for money. In addition, you can be your barista all year; it's simple to use and consistently produces excellent coffee.
This appliance is an excellent choice for people who want to brew batches of freshly ground coffee and those who wish to hassle-free, mess-free equipment that is easy to clean and performs well.
If you want all of these capabilities in one appliance, the DeLonghi Magnifica is likely to be your best option.