De'Longhi EC9335R La Specialista Espresso Machine Review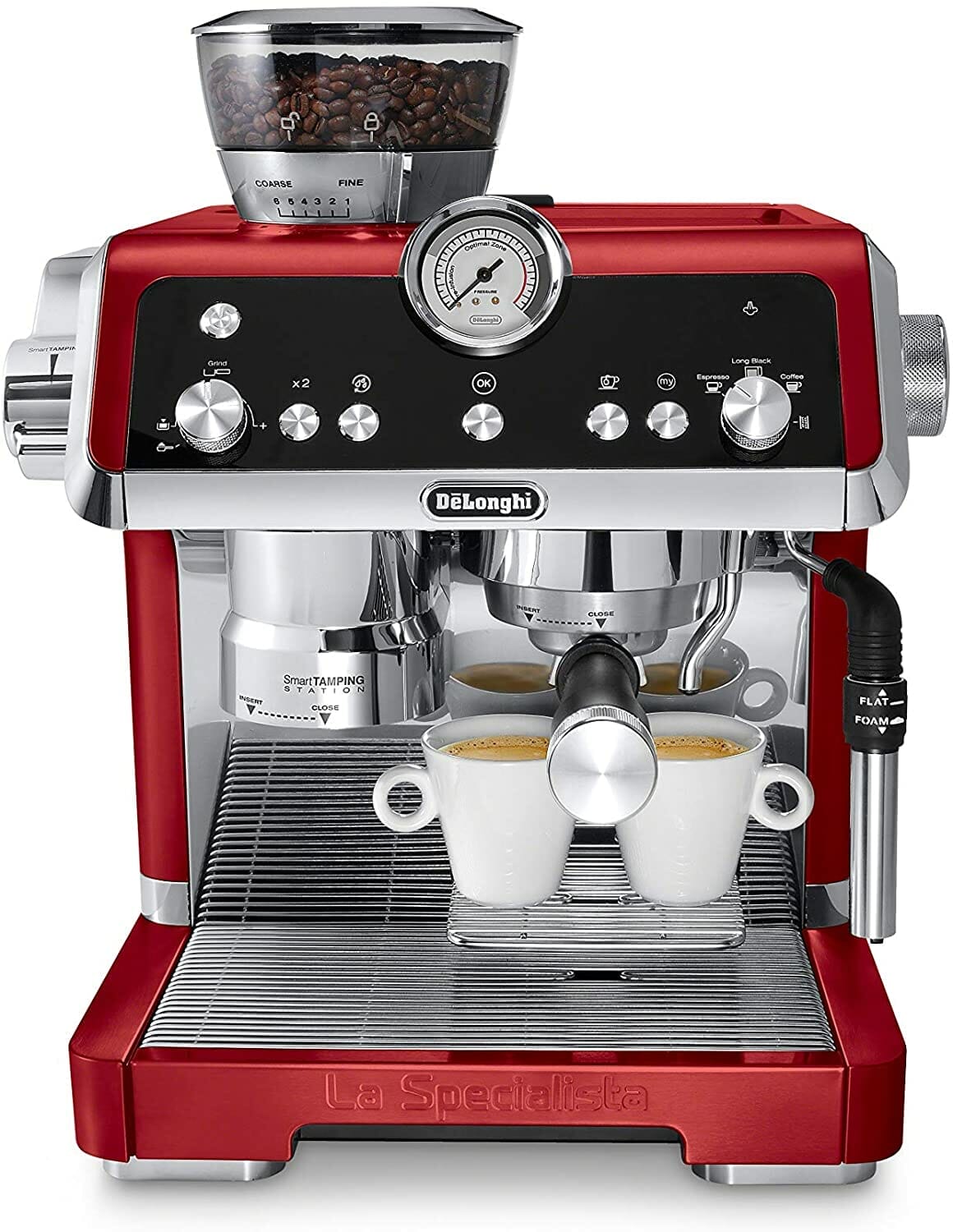 The EC9335R La Specialista is the latest addition to their line of espresso machines, and it's designed to make espresso and other types of coffee drinks just like a pro. 
However, this model has some unique features that make it stand out from the crowd. 
One of those features is the patented sensor grinding system designed for grinding coffee beans to exact particle sizes, allowing for more even flavour extraction from the bean. 
Another unique feature is the dual heating system which maintains the ideal temperature for steaming milk or frothing for lattes or cappuccinos.
Also, the EC9335R La Specialista has an advanced milk frothing system that ensures the perfect texture for lattes and cappuccinos. 
And last but not least, the EC9335R La Specialista has an automatic dose control system that lets you make espresso or coffee with the perfect dose of coffee grounds every time. 
This machine also has several other valuable features like an automatic cleaning system, an alert system that tells you when the water filter needs changing, auto-shutoff after the espresso brewing cycle is complete, and much more.
Let's look at the features of the DeLonghi EC9335R La Specialista Espresso Machine:
Performance
Freshly ground beans make the best coffee. It is why coffee enthusiasts choose a machine with a grinder, such as the Delonghi Specialista. It helps you to get the most out of every grain of espresso in the portafilter.
La Specialista features a 19-bar pump that extracts flavour and ensures each shot has a rich taste and saturated fragrance. To heat the brew and steam the boiler independently, the equipment employs a unique active control technology. 
Furthermore, it has a sensor that guarantees coffee beans are uniformly ground for consistent flavour.
Brewing capacity
La Specialista is a wonderful product for homes and workplaces, with a big 2-litre tank that can hold around 67 fluid once.
A standard espresso shot weighs around one fluid ounce, whereas a double shot weighs two fluid ounces. 
This converter allows you to make up to 67 single shots or 33 double shots of espresso. It means that you won't have to replenish the reservoir for weeks or even months, depending on how much coffee you consume. 
There's also a bean hopper that can carry up to 1.7 pounds of beans, which is very remarkable.
Easy to use
This espresso machine stands out because of its intuitive user interface that provides complete control. The La Specialista features a pressure gauge in the centre, a bean hopper at the top, and the rules are on the front for simplicity of operation. 
The steam wand has two modes: foam and flat, as well as three pre-programmed modes: espresso, americano, and coffee. The machine also has an intelligent tamping station where you may collect your beverage.
Advanced Latte System
This machine includes a unique steam wand that is more powerful than the ordinary. In addition, it is hand-free and incorporates De'Longhi's "Advanced Latte System."
To acquire the exact quantity of air you need for your preferred beverage, you may adjust the wand for "flat" or "foam" before or during the milk frothing process.
Sensor Grinder with Smart Tamp Technology
With the built-in sensor grinder, you can grind intelligently. Then, connect your portafilter for hands-free, even filling every time.
By rotating the bean hopper, you may select one of six grind coarseness settings.
Whatever setting you select, the sensor technology within the closed filling mechanism will automatically adapt with the coarseness and fill your portafilter correctly.
When your portafilter is full of grinds, clever, tamp it while it is still in the closed filling area.
Pull the lever on the machine's left side to tamp with the perfect amount of pressure required for the most OK shot of espresso.
Coffee taste
The coffee taste is a bit better than other espresso machines. It has a 19 bar pump, which creates a lot of pressure during the extraction process, enhancing the saturation of flavour from the coffee grounds.
It also has an ingenious dual heating system that ensures that your milk is always at the ideal temperature for drinks such as latte and cappuccino. 
The grinder's unique sensor technology will grind your coffee beans just right so you can enjoy every cup to the last drop.
Price and warranty
This espresso machine makes expert quality coffee at a fraction of the price at $850. This machine comes with a 2-year warranty, which is very good considering the price of this machine. 
In addition, it comes with an additional 1-year warranty if you register the machine within 90 days of purchase.
Pros
It is simple to use for novices.
By putting pressure on the lever, you may collect the drink.
Sensors make the work more accessible and more efficient.
It includes a hot water spout for your convenience.
It heats up fast.
Quick one-minute startup.
Removable water tank
It comes in red colour!
Cons
Unfortunately, the machine lacks PID control, which allows users to regulate temperature accurately.
 FAQs
Does it include a water filter?
Yes, the machine has a water filter. However, it does not last forever. To keep your coffee tasting fresh for longer, you have to buy a replacement cartridge.
You can get Delonghi replacement cartridges or ECP-10N replacements for this machine online.
What's included in the box?
You will receive:
Espresso Machine
Portafilter
Single & Double Filter Basket
Milk Pitcher
Descaling Solution
Cleaning Brush
Instruction Manual & Quick Start Guide
2 Year Warranty + 1 additional year if you register your product
Customer reviews
Most purchasers give the Delonghi EC9335R La Specialista Espresso Machine a five-star rating and rave about how smoothly it operates. 
One customer already owns a Delonghi EC9303N DeLonghi Coffee Maker, wrote that this machine is just as good as the other one. 
He said that he loves its intuitive design and how it brews a perfect cup of espresso. Another reviewer's espresso shots taste smooth and rich.
Some customers complain about the simplicity of cleaning the machine. They say that everything gets covered in a thick layer of coffee after every cup. 
Others point out that there is a problem with getting them to work after their warranty has expired. One customer noted that the machine's power switch in the front is not durable and tends to get jammed.
Alternatives
There are different types of espresso machines that you can choose from. Here are some alternatives that will suit your preference:
Breville BES870XL Barista Express
It is a more expensive machine than DeLonghi's EC9335R Specialista, but it produces better espresso shots. 
With the Breville Barista Express, you can choose from 12 different coffee-strength settings. You can also use this machine for Americano and Lungo. 
This machine also has a 20-minute automatic shutoff feature that will save your electricity and money.
Gaggia Classic Espresso Machine
This compact espresso machine with an Italian design has a stainless steel finish with chrome accents. It includes a frothing pitcher, which you can use to make lattes or cappuccinos.
Ninja Coffee Bar KLX200-BK Coffee Brewer
First launched in the United Kingdom, the Ninja Coffee Bar has been so famous overseas that it is available in the United States. 
The Ninja Coffee Bar makes delicious coffee at the touch of a button and has features such as an automatic milk frother and milk steaming system. This machine also includes a bean hopper for storing your favourite beans.
Is DeLonghi a good espresso machine?

This is a great espresso machine for people who want to make espresso at home. Not only does it produce great tasting shots, it is also simple to use. The DeLonghi EC 9335R La Specialista Espresso Machine has all the features that you need for an enjoyable experience. This espresso machine is sleek, stylish and durable. Online customers are very pleased with its quality and how long it lasts.
Is DeLonghi La Specialista a dual boiler?

This is a dual boiler espresso machine. This means that both the coffee grounds and the milk get heated evenly, which allows the machine to make delicious cappuccinos. The DeLonghi EC 9335R La Specialista Espresso Machine has active temperature control, which regulates the temperature of both systems separately. This ensures that pressure and thermal shock are minimized when steaming heat sensitive milk such as latte or cappuccino.
Is DeLonghi La Specialista pressurized?

This is a pressurized espresso machine. This means that the water flows through the portafilter and into the Espresso capsule inside after it is pressed. A high-pressure pump takes care of this process, which subsequently heats up the espresso material inside the capsule.
This makes it very quick to prepare your espresso maker shot and delicious, too.
Why is my DeLonghi La Specialista leaking water?

If you notice that the water is leaking from your machine or your portafilter holder, this is a sign that there may be a loose wire or connection somewhere in your machine. Check all the connections and make sure they are tight and firm; if not contact an authorized DeLonghi service center to have them fixed.
How long do DeLonghi espresso machines last?

DeLonghi espresso machines last for a long time if you clean and maintain it well. You should check the water filter on your machine, which should be replaced every month if you live in an area that does not have clean water. If your cream pitcher is not removed from the machine after every use, this machine will also not last for long.
Are DeLonghi espresso machines noisy?

Most DeLonghi espresso machines are quite quiet and so is its coffee maker if it is properly maintained. If it is making a loud humming noise, you might have a broken sensor.
Which DeLonghi coffee machine is the best for home use?

The best home-use DeLonghi coffee machine is the Delonghi EAM3500. This machine is compact and its drip tray can be removed for easy cleaning. The carafe thermostat ensures your espresso stays hot, while the double boiler makes steaming milk easy and convenient.
How long does it take to descale Delonghi La Specialista?

Place 100 ml of distilled water and 2 tablespoons of white vinegar in the machine and run the cleaning cycle for about 10 minutes. This can be done once every 2 weeks.
Which DeLonghi coffee maker is best for large families?

DeLonghi EC 6160 Delonghi Coffee Machine is a model that everyone will like because it has been designed to brew multiple cups of coffee at the same time without affecting your brew times.
Conclusion
After reading this article, you should know the espresso machine that will fit your requirements perfectly. Delonghi EC 9335R La Specialista Espresso Machine is for novice and intermediate users due to its high-end features. 
This machine has all the features you can ever need in an espresso machine at a reasonable price. 
The La Specialista is simple to use, but you can always count on the manufacturer's technical support if you have issues. With this machine, you can achieve professional-quality espresso shots at home.
 If you are still confused with choosing the best one for your needs, feel free to read more reviews that I have written on other espresso machines that are popular in the market today!