Gaggia Brera Super Automatic Espresso Machine Review – Whats The Hype
This super-automatic espresso machine is designed with three robust Steam Valves. They heat up and pressurize the water through the machine-making for a smoother, more consistent extraction and a richer flavour. 
This machine has won awards for its superior taste and performance, over and over. With a wide variety of options, the Gaggia can make just about any espresso drink you can think of. 
In addition, the Gaggia comes with an easy-to-use touch-screen control panel and a sturdy, ergonomic design that makes it easy to use and a pleasure to own.
The Gaggia Brera is a traditional design that is much more space-efficient than most machines in its class. In addition, the sleek, brushed stainless steel front panel makes this super-automatic espresso machine a perfect addition to any kitchen.
Let us look at the features that make this machine such a good buy.
Design
Gaggia Brera features a sleek and streamlined stainless steel body that complements the decor of your kitchen. 
In addition, the stainless steel front has an LED display with lighted symbols, making operating the appliance much more accessible and getting a good image.
Despite being one of the cheapest automated machines on the market, the Gaggia Brera is relatively straightforward to maintain, and I believe it is a beautiful machine.
Control Panel
The Gaggia Brera includes a user-friendly display with a push-buttons control panel and an LED display with lighted symbols to help you optimize your brew settings.
The control panel also has a knob that you may use to adjust the ground settings from coarse to fine, according to your preferred beverage.
The strength button allows you to pick from three different espresso strengths, allowing you to customize your coffee to your liking. For all baristas, from novice to professional, the control panel provides a simple experience.
Water Reservoir
The water reservoir has a capacity of 40 ounces, which is adequate to prepare coffee for 2-3 persons. In addition, the Gaggia Brera features a lower reservoir than other coffee makers, allowing you to get between 3 and 4 shots before needing to refill.
The front of the plastic water reservoir comes out, making it simple to access for refilling and cleaning.
Pre-infusion Technology
When you want to get the most out of your grounds to make the most excellent coffee, this brewing unit function comes in useful. 
The pre-infusion technology works by pre-wetting the grounds in the internal portafilter after tamping but before drawing a shot. 
Then, at lower pressure, even saturation and extraction of the grounds are assured, gradually increasing to a 15-bar amount for the optimum espresso brew.
Because pre-infusion removes flavour and fragrance from every particle of your grinds, your coffee will taste great.
Brewing and Programmability
To begin with, the sensation of using this espresso machine will not linger in your throat. Taking a glance at Brera may make you feel scared at first, but preparing your first cup of coffee will help to relax the tense muscles of nervousness. 
Another reason to relax while working around it is that there aren't many PID controllers or alternatives.
You may regulate your brew owing to Gaggia's Optiaroma technology, which allows you to choose between strong, light, or medium-strength settings. 
Furthermore, you have the option of selecting the volume of coffee you require and choosing between a lungo and an espresso.
An auto-off option that activates after one hour of inactivity is also a nice feature. It saves energy while the device is not in use, lowering your power expenses.
The most incredible thing about this espresso maker is that it remembers your personalized settings, so you don't have to reset it the next time you need a comparable brew. 
Milk frother
Many inexperienced baristas have no idea how to froth milk. The Pannarello frothing wand from Gaggia Brera comes to the rescue here.
It's relatively easy; owing to its mobility, it can handle various cup sizes and quickly produce a thick foam. 
While holding the container in place, the intake hole has a silky-rich foam.
Quality of Coffee
Gaggia Brera comes with a variety of customization options for making restaurant-quality coffee and more. The coffee is of high quality; however, I recommend using good grade grinds for the best brew. 
Furthermore, when it comes to frothing milk beverages, the Pannarello wand performs an excellent job foaming cappuccinos and lattes, as well as serving as a hot water dispenser for Americanos and tea.
Durability
Super automated machines are pricey, but the Gaggia Brera is less expensive from a pricing standpoint and is also reasonably robust. In addition, it comes with a one-year guarantee, so you can replace it if any part of the appliance fractures or leaks.
The water reservoir, brew unit, bean hopper, and cup warmer tray are all constructed of plastic, which means the appliance may last a lifetime, or you may need to replace it in 3 to 4 years, depending on your usage.
The appliance isn't very long-lasting, but it's not awful if you're seeking high-quality caffeinated beverages at a reasonable price.
Ease of Descaling and Cleaning
Gaggia Brera is well-designed, with few notches, so you don't have to worry about cleaning it. 
The dregs drawer, drip tray, and water tank, for example, are all conveniently accessible from the front of the device and may be quickly separated for cleaning.
Furthermore, you may remove the detachable brew group for routine cleaning and washing to avoid dirt from collecting in.
When you switch the machine on and off, the self-cleaning cycle begins and tells you when the device needs descaling. 
Value for money
The Brera is much more expensive upfront than some of the less-priced capsule machines, but it is significantly cheaper in the long term. So along with a good performance in taste and ease of use, it makes it a smart buy.
The Gaggia Brera Super Automatic makes the following coffee drinks:
Espresso
Americano
Latte
Cappuccino
Coffee
Decaf Coffee
Check Out The Latest Price Here
Pros
It is small enough to fit on a small counter.
For creating high-quality milk drinks, there's a built-in froth booster.
Easy-to-understand display with lighted symbols
Cleaning is made easier with easy access to the dreg drawer, water tanker, and drip tray.
The pushbuttons and LED symbols make it simple to operate.
Eco-friendly
a strong appliance
Rapid steam technology warms up quickly, which instantly makes the coffee
Cleaning reminders so you can keep your machine in good shape.
A one-year warranty is included.
Cons
Small reservoir of water
Bean hopper with a small capacity
Limited grind settings
FAQs
Is the Gaggia Brera a fully automated espresso machine?
The Gaggia Brera is a super-automatic espresso machine, which means it has more features than just pulling shots. You can pre-program this device with minimal effort, and your coffee will taste fantastic.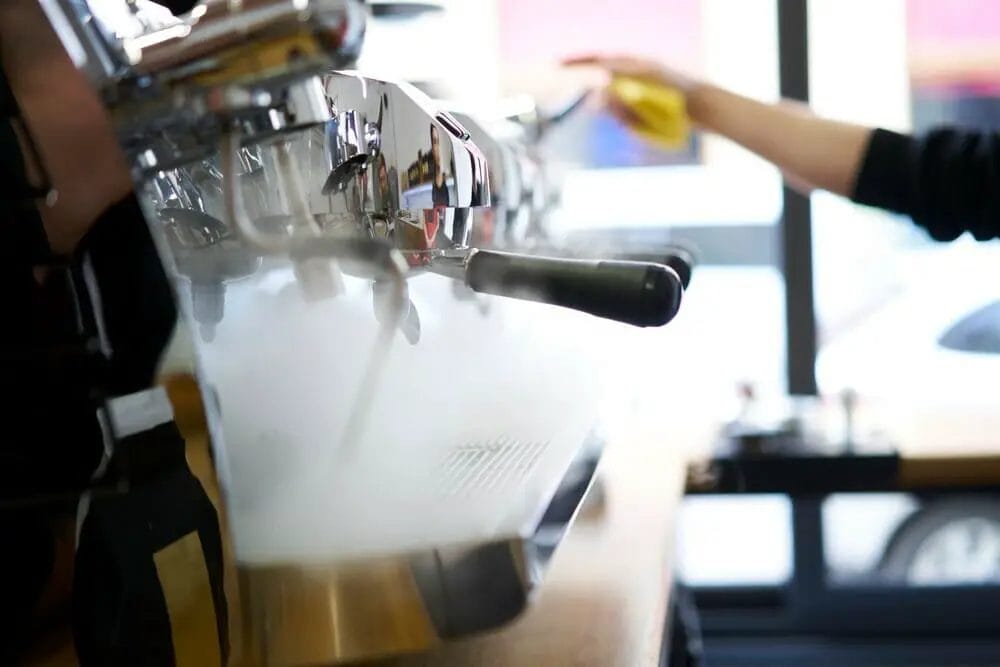 In addition, this machine excels in speciality brewing, so you won't have to put in any work with this super-automatic espresso maker.
How do I clean the machine before each morning's cup of coffee?
You don't have to do it yourself, thankfully! When you switch on the appliance, it immediately begins a cleaning cycle that lasts around one minute.
How much coffee should I use?
The Brera has a double boiler, so it makes enough coffee for two 6-ounce cups. However, if you are serving others, it makes 6 ounces of coffee, which is enough for three or four people. You can adjust the settings to make 1.5 x 6 ounces of coffee if you're serving multiple friends, but 1 x 6 ounces is for one person.
If I want to create a latte or a cappuccino, how do I make them without a frother?
A frother comes with this machine, so you can get the milk pitcher and stick it in the machine if you want to create a latte or cappuccino.
Customer reviews
Most online users were first sceptical of the machine's plastic construction, but they were pleasantly pleased by the Brera's longevity after a year of use. 
Some users were irritated about the paint peeling off the device's Pannarello wand, but this did not affect the brew's taste. 
Users thought the descaling cycle was clever since it just flushed away from the system's remnants without making a fuss. In addition, many people found the water tank capacity to be sufficient for a day's worth of coffee. 
Overall, consumers feel the Brera Gaggia espresso machine provides excellent value for money, and its diminutive form saves kitchen counter space.
Check Out The Latest User Reviews Here
Alternatives
De Longhi ESAM 3300 Magnifica
This model is a bit smaller and cheaper, but most users still praise it. The majority of reviewers found the machine to be simple to use and easy to clean. 
Some described the espresso shots as bitter, but a few users felt that a better grind would cure this problem. 
The ESAM 3300 Magnifica is available from Amazon for around $500, making it slightly more expensive than the Brera.
La Pavoni Nespresso
The Nespresso capsules power this Nespresso machine, and its coffee is excellent, but it does not offer a froth option. 
However, you can use the grinder to create shots of espresso and cappuccino, so you don't have to get a separate frother. This model is just $1,500 from Amazon and is sturdy, and requires little maintenance.
Breville BES870XL
This espresso machine has a taste of 'coffee-flavoured water.' However, it is compact, so you won't have to accrue extra space on your countertop for this device. It also has an excellent grinder that you can use to create coffee without using a capsule. 
Is Gaggia a good machine?

Many consumers feel that Gaggia Brera is a fantastic choice for espresso lovers. It has a lot of features, such as a built-in froth function, adjustable brew strength and temperature ratios, and an ample water tank.
However, some consumers are not happy with the Brera's design. For example, it does not have a touch screen display, which some people find easier to use over the dial-based features featured on the machine next to it.
Where is Gaggia Brera made?

Gaggia Brera Espresso Machine is an Italian-made product.
How do you use a Gaggia Brera espresso machine?

You can pre-program this machine with minimal effort, and your coffee will taste fantastic. The Gaggia Brera is a super-automatic espresso machine, which means it has more features than just pulling shots.
You can also pair it with its frothing wand for cappuccinos and lattes. The Brera's steam wand makes froth with the touch of a button, which is something few coffee makers can do.
How long do Gaggia coffee machines last?

Gaggia Brera Espresso Machine is made with quality materials and very timely features. While some consumers have had their machines for a few months, others have used theirs for over a year. While some users have had to call Gaggia's customer service team in the past because their machine stopped working, they still praise its durability after a year of use.
Is Gaggia classic good enough?

For the price, Gaggia Brera has many great features. It is easy to use and maintain, and it brews a great-tasting cup of coffee that people love.
In general, this machine satisfies customers. If you want an espresso machine that offers cappuccino frothing and multiple brewing options, you should buy this device despite the fact that it is a bit pricey for its features.
What is the most popular espresso machine in Italy?

The most prominent espresso company in Italy is Gaggia and DeLonghi.
Where do I buy Gaggia coffee machines?

You can buy this espresso machine from your local dealer, or you can order it online from a variety of different stores. Some of the products on Amazon come with free shipping, as well.
How do I fix Gaggia Brera?

You can call Gaggia's customer service team for help if you are having trouble using the machine, or you can call a local dealer. The dealers will help you fix any problems that arise with your machine.
Conclusion
Overall, the Gaggia Brera has only a few minor flaws. Aside from that, the coffee is excellent. Although it is costly, fantastic bargains are available, bringing it within most decent coffee lovers' budgets. 
Even so, if you want a machine with a built-in froth function, cheaper options are available.