De'Longhi La Specialista Prestigio Espresso Machine Review
This prestigious list of the world's best products is compiled by GQ editors based on a range of factors, including quality, design, functionality, and desirability. The build quality is outstanding, and the overall appearance is modern, high-end, and elegant. 
De'Longhi has designed the machine to be simple to use, and the controls are easy to operate. With just a few simple operations, you can produce some of the best espressos you've ever tasted. 
The machine features a large 23-litre water tank which is ideal for busy households. It also comes with a 2-year warranty.
The La Specialista Prestigio comes in three stylish finishes; chrome, brushed steel, and black. All the finishes look great and suit any kitchen decor. 
It comes with everything you need to get started, including an instruction manual, a cleaning brush, and a steam wand. A steam wand is an essential tool for producing perfect lattes or cappuccinos. 
You can choose from three different milk texturing settings that are ideal for making cappuccinos, lattes, Americanos, espressos, and more!
Let us look at the features of this machine in more detail.
Aesthetic Design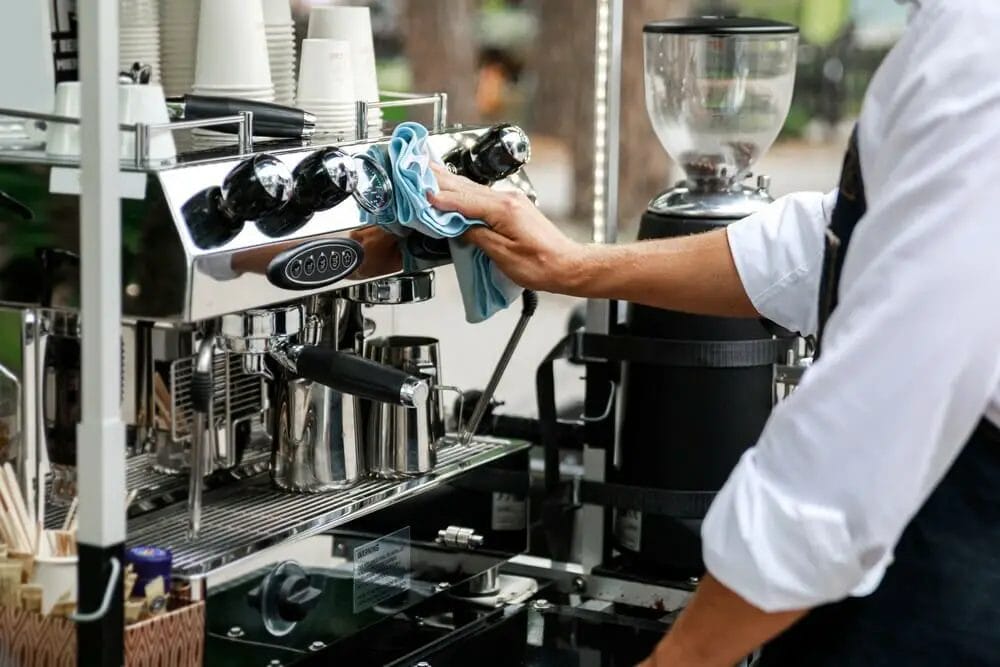 The DeLonghi La Specialista is a semi-automatic espresso machine with a stainless-steel body resistant to impact damage, corrosion, and rust. It also has a high-end, attractive appearance.
Despite its high-end look, the company created the machine with a novice brewer in mind. It includes an easy-to-use interface as well as a bean hopper and a pressure gauge. 
A stainless steel steam wand with a rubber-padded elbow and two foam options is also available.
The De'Longhi La Specialista's most noticeable feature is its beautiful and professional appearance. It's small (measured 14.5′′ x 12.5′′ x 14′′) and robust, with a solid-looking rectangular form softened by beautifully rounded corners.
Meanwhile, the stainless steel main body contributes to the overall impression of high-quality equipment for serious espresso enthusiasts. This machine would look great in a business environment and add a lot of "wow" to any kitchen surface.
Ease Of Use
The Delonghi La Specialista is simple to operate and is well suited to novices.
The machine's control screen provides the operator complete control while being simple to use. 
For example, you may change the dosage quantity with a simple dial turn on the left-hand side, or you can choose between single and double shots. 
Meanwhile, on the right, you may select from a variety of pre-set coffee drink recipes, including Espresso, Americano, and Coffee.
The machine's intelligent tamping station eliminates frequent tamping mistakes experienced by beginners. 
In addition, it means you won't have to be concerned if your tamping pressure is inconsistent. For example, with the aid of clever tamping, you may get a flat coffee puck.
After you've finished grinding, all you have to do is pull the lever to the left. It will tamp the ground coffee in the portafilter appropriately.
The programmable function also allows you to rapidly adjust the volume levels of the three recipes to your liking.
Overall, the machine's design helps newcomers avoid the most typical errors with ratio, grinding, and tamping.
Built-In Coffee Grinder
It is an espresso machine with a sensor grinder, so you won't have to spend extra money on a separate espresso grinder to get started. 
If you're starting with espresso and aren't sure if you'll like it, a machine like the De'Longhi La Specialista, which is both a brew and a grind coffee maker, is an excellent place to start.
The grinder has a sophisticated bean sensor that alerts you when you're running low on coffee beans. Then, when you change the coarseness, it also changes the dosage exceptionally smartly.
Whatever coarseness you require, you will always receive the optimal dosage. In addition, this clever sensor grinding technology ensures accurate and consistent espresso grinding.
One disadvantage is the limited number of grind settings — or the lack thereof. This machine only has six, which is insufficient for accurate adjustments.
Brewing Performance
The De'Longhi La Specialista espresso machine has two separate heating systems. One thermoblock extracts coffee, while an independent heating system explicitly designed for boiling milk or frothing provides rapid coffee preparation.
The machine also includes an "Advanced Latte System," which allows you to prepare multiple cappuccinos simultaneously when combined with two independent heating systems. 
For example, after drawing a shot, you may start heating milk and making another cup of coffee nearly instantly. However, you will not be able to steam and brew at the same time.
Milk Frothing
The DeLonghi La Specialista EC9335M comes with a Panarello steam wand that rotates 360°. The "Advanced Latte System" allows you to choose your froth type – thick foam for a cappuccino or microfoam frothing for Latte Art. 
Place the cup beneath the spout and adjust the ring to pick flat or foam, depending on your needs.
Warranty
 It comes with a two-year guaranteed warranty, and you can obtain an extra year of coverage by just registering the coffee machine.
Value For Money
One of the machine's drawbacks is its price, which is relatively high compared to what it delivers. For example, the Breville Barista Express has a comparable price, but it has more advanced features and delivers higher-quality coffee.
Despite this criticism, the Delonghi La Specialista's main selling point is its ease of use, making it an ideal choice for novice espresso lovers. 
It is due to its features, including sensor grinding, integrated smart temping, and a dual heating system. 
While your budget may suffer, an investment in the Delonghi La Specialista will take the bother out of preparing espresso and result in fewer blunders and mistakes.
Pros
For brewing and steaming, it has a separate boiler.
It automates the grinding and tamping processes.
It has a built-in grinder and hopper.
It has a pressure gauge.
With this machine, you can create Americanos, Latte, Cappuccino, and Espresso.
It is ideal for both residential and business use.
It features a sophisticated latte system.
Cons
Power usage is high.
You cannot program it
You cannot use big cups in it
FAQs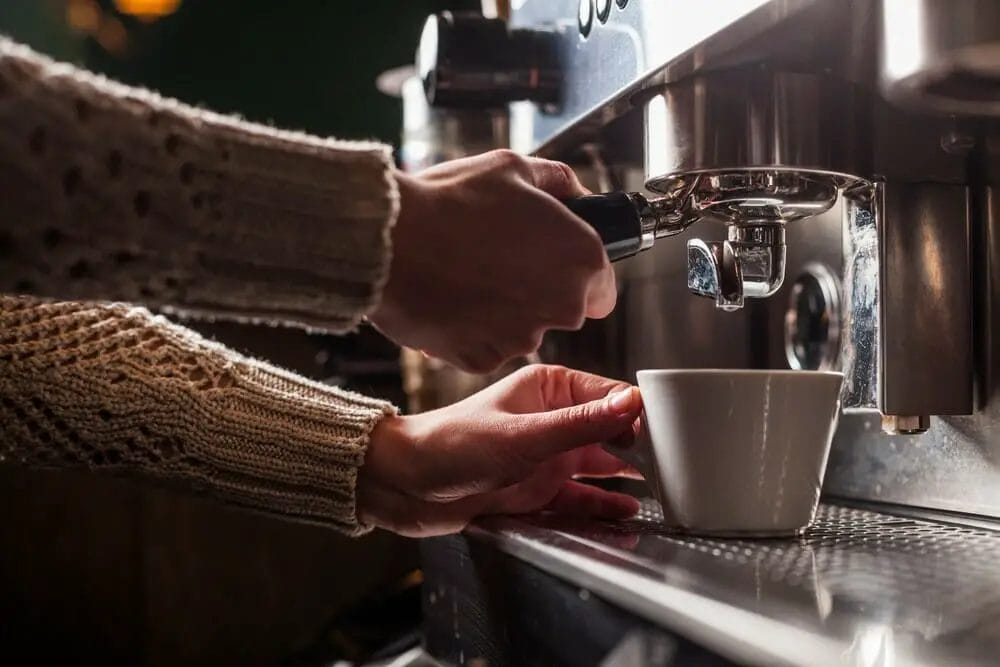 Is DeLonghi La Specialista easy to clean?
Yes, it is. The La Specialista is ideal for backflushing and descaling. A descaling solution and a tiny cleaning brush come in the box. This brush can assist you in cleaning the dirt.
Also, you cannot wash this espresso maker in the dishwasher. Because the housing and most of the components are constructed of stainless steel, merely wiping the machine clean is sufficient.
Does DeLonghi La Specialista have a warranty?
Yes, it does. However, the manufacturers offer a service that covers only the parts that are damaged.
It takes care of any extra expenses related to the price of parts. If something goes wrong with the machine, contact their customer service office for further details.
Does DeLonghi La Specialista have a grind setting?
This espresso maker has a built-in grinder. It has an intelligent sensor that knows how many coffee beans you need and, as such, will adjust the coarseness of the ground coffee accordingly. 
You can remove the hopper and grind fresh beans or do it on-demand. It is intelligent enough to prevent overheating and to monitor the grinder's waste disposal.
Does DeLonghi La Specialista have a steam button?
Yes, it does. The coffee machine features a steam wand that rotates 360° for ease of use and prevents splatter.
Are DeLonghi good espresso machines?

Delonghi espresso machines are undoubtedly one of the best in the market. All the DeLonghi espresso machines are equipped with a patented internal boiler that provides you with a high-pressure steam and ensures that your coffee is always fresh. The machine has up to 12 different bars of pressure, which serves to release all of the flavours from your coffee beans.
Is DeLonghi La Specialista double boiler?

Delonghi La Specialista double boiler machine is very effective. It's built with a steam wand, which will help you to heat up the milk without creating much steam. The machine also has a thermoblock thermal carafe, which can retain heat well and is quite useful in maintaining your coffee's temperature.
How long does DeLonghi espresso machine last?

The longevity of DeLonghi espresso machines is a point that is worth considering. Most DeLonghi espresso machines have a lifespan that goes on for years and years with proper care. Also, when you combine your DeLonghi espresso machine with the right accessories, you can ensure the quality of your coffee and the look of your machine for a long time to come.
How do you grind coffee for DeLonghi La Specialista?

There is a coffee grinding lever in the front of this machine. But before you just start grinding coffee with it, you should first put the hopper on top of it. This is because, the roasted coffee beans have to be properly measured out before they are ground.
How do I clean my DeLonghi La Specialista espresso machine?

When cleaning your DeLonghi espresso machine, there are a few things to keep in mind. First off, there is a special setting that has to be used for cleaning functions like this. So you will have to turn the machine on and see if there is a cleaning icon in the control panel.
Who is better Breville or DeLonghi?

When it comes to grind and brew coffee machines, DeLonghi is definitely superior. The company is not just a coffee machine manufacturer, it also offers a wide range of accessories for home coffee enthusiasts.
Delonghi coffee makers are available in different variations with varying capacities and are also very cost-effective. So it is hard to choose or even which brand you should buy. In this case, it's better to choose the best one according to your needs and budget.
Is Nespresso and DeLonghi the same?

DeLonghi is a well-known brand that is an expert in manufacturing coffee machines and accessories. According to statistics, the company has sold more than 20 million coffee makers in 170 countries across the world.
It's fair to say that DeLonghi runs a very effective marketing campaign, so you will probably see this brand pop up on your radar more often. However, you should know that DeLonghi and Nespresso aren't exactly one-and-the-same.
Can you use non-Nespresso pods in the Nespresso coffee machine?

Using non-Nespresso pods in your Nespresso coffee machine is a great way to get more use out of your machine. The only drawback is that some of the pods will be compatible only with one type of capsule or another. But if you are willing to try, here are some tips for using non-Nespresso pods with your machine.
Customer reviews
"I used this machine for a while, and I must say it did a good job. After a few weeks of use, the coffee beans always came out evenly ground. However, after a year's use, I had to replace the blade. Fortunately, it was under warranty, but it still cost me over $200. "
-Jim F., USA
"I got this machine about three months ago, and I have to say that it is amazing. I love the multiple functions and settings it has. The delivery was done on time, and I had no damage to the machine. Now, I make excellent coffee in my house."
-Adrian L., USA
"This machine is very durable and easy to use. It has a steaming wand that allows the barista to steam milk in no time. However, it has a small cup size, and you cannot add too many coffee grounds to it. Therefore, I would recommend this machine for its performance and durability only."
-James S., USA
Alternatives
Breville Barista Express – It is a machine that offers similar features and functionality to the La Specialist. It costs $100 more, but it's worth noting that this machine is also easier to program.
Braun Cafe-  is a compact and highly versatile coffee machine with a built-in grinder and espresso machine. It also comes with advanced thermal technology, which provides fast brewing cycles. 
However, you cannot steam milk in it due to its built-in heating system.
Barista Pro BES878 – It is a high-quality machine that's part of the Breville Pro Coffee family. It features a separate boiler and grinder, and it also has an integrated frothing system. 
Its thermal carafe retains heat for maximum freshness and flavour retention. However, there is no built-in frother. You can steam milk in it, but you cannot steam it with coffee for latte art.
Conclusion
The central selling point of the De'Longhi La Specialista espresso machine is its practical features, which make drawing a shot simple enough for beginners while reducing annoyance and failures.
There's minimal possibility of making a mistake, whether you're tamping, grinding, or drawing a shot since it's so natural. However, one disadvantage is that you will be limited in your ability to enhance your brewing skills. 
So, if you want to keep improving, the La Specialista will not allow you to do so, and you'll need to search for a more professional model.
The good thing about this machine is its flexibility. The price may be a little high, but its ease of use and versatility can offset its cost. 
Another advantage of the Delonghi La Specialista coffee maker is that it does not require much knowledge to make espresso coffee.
I hope this Delonghi La Specialista review has been helpful and has given you much information you need to know when choosing your next coffee machine. Don't forget to leave a comment below and let me know your thoughts on this model.