De'Longhi ECAM35075SI Dinamica Fully Automatic Espresso Machine Review
The ECAM35075SI features a host of innovative designs and functional features that make it an excellent choice for first-time and experienced espresso aficionados alike. 
For example, the machine has an intuitive interface with a large, easy-to-read LCD screen and a digital control panel that gives you complete control over every aspect of the brewing process. 
In addition, an internal cone burr grinder ensures freshness and flavour in your espresso, and an anti-creep guarantee keeps your beans from drying out. 
And with its 1-year additional warranty and free technical support, you can rest assured that you've invested in a high-quality machine that will provide many years of reliable service. 
With all of these great features, the ECAM35075SI is still one of the most affordable, high-quality espresso machines you can buy. 
It makes it the perfect choice for anyone on a tight budget who wants to experience the deliciousness of espresso without sacrificing quality.
Let's look at the machine's features in more detail to see how they contribute to its impressive performance.
Design
The machine has a beautiful modern appearance with an easy-to-use LCD that makes operating and brewing beverages a breeze. You may also save your favourite recipe and make it again with a simple click.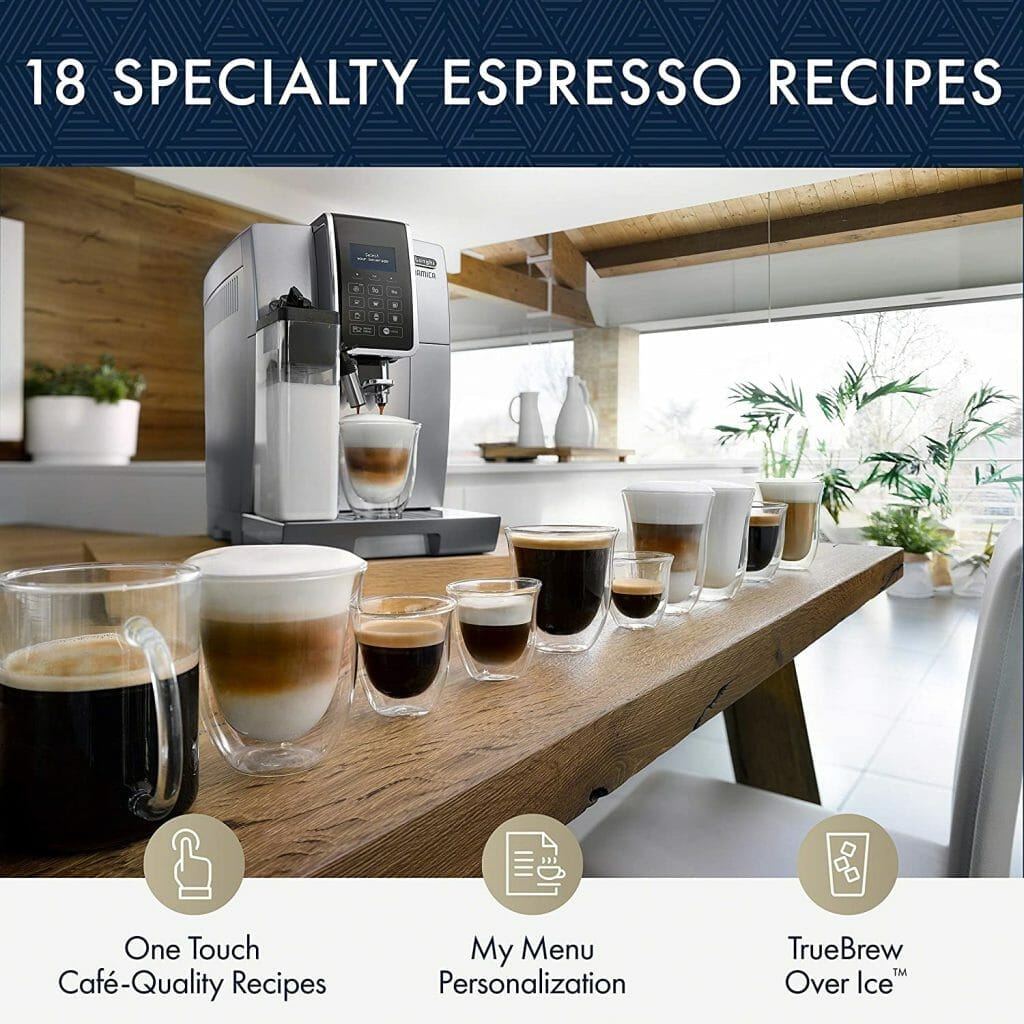 Choose the recipe you wish to customize, the quantity and intensity of the drink, and the amount of milk for espresso-based beverages.
Conical Burr Grinder
It is one of the best professional automated espresso machines, with a built-in, conical burr grinder that allows you to ground fresh beans whenever you want fresh coffee. 
The grinder has 13 settings to guarantee that the coffee beans are ground uniformly and finely to extract the fragrance and tastes. 
In addition, you may change the grind amount on the burr grinder to make your favourite shots according to your preferences.
Latte Crema System
The latte crema system by De'Longi allows for automatic and variable milk frothing. You can keep the carafe in the fridge, fill it with milk, and take it out when it's ready. 
A self-cleaning milk frother is included in the system, which automatically froths milk to the perfect texture and density for flat whites, cappuccinos, lattes, and other espresso-based beverages. You may also use it with soy, oat, or rice milk.
Dual Heating System
It only takes seconds for this machine to start brewing a steaming cup of your favourite coffee beverage. Because it grinds and froths simultaneously, there is no wait for numerous lattes and cappuccinos because the boiler is always at the proper temperature and ready to brew.
Easy to clean
The De'Longhi Dinamica is very easy to clean because it has a dishwasher-safe drip tray and milk carafe. It's also simple to wash by hand in a sink.
Drink menu
With 18 coffee drink options automatically prepared at the touch of a button, the Dinamica ECAM35075SI has the most possibilities. Espresso, coffee, macchiato, ristretto, latte, cappuccino, flat white, and other coffees. 
You may change the intensity of the coffee, the quantity of the drink, and the amount of milk in the glass, and the machine will remember your preferences for the next time you use it.
Taste
This machine uses a conical burr grinder for excellent-quality espresso and exceptionally delicious taste, and its automated technology allows you to pick the strength and intensity of the beverage. 
The machine uses a drip tray with a valve that controls the quantity of flow of the coffee. It ensures that no flow stops, even when you use different amounts of coffee beans or ground coffee.
Price and warranty
The DeLonghi ECAM35075SI is a little expensive at $1,299. However, it comes with a 2-year warranty.
Pros & Cons
Pros
It warms up in a matter of seconds.
It's simple to use and keep up with.
It's fantastic for foaming milk and making alternative milk.
The LCD is simple to operate.
You get 18 coffee drinks with different strengths and intensities of coffee.
The machine uses a conical burr grinder for excellent-quality espresso and exceptionally delicious taste.
Cons
The model does not have a cup reheating feature.
It may be too expensive for first-time buyers.
FAQs
Why should you buy it?
The ECAM35075SI is an excellent model to consider if you enjoy milk coffee beverages and want the flexibility to multitask. It's a stainless steel-encased mid-range espresso machine. 
In addition, it has a unique LatteCrema frothing technology with an automated wand that allows you to make excellent foam with the touch of a button.
It has a cutting-edge twin boiler technology that allows you to brew simultaneously, steam, and froth. It is ideal for individuals who need to go out the door quickly and brew coffee quickly.
Is it easy to use?
Some of the most practical features of this espresso machine are the individual controls for water hardness, cup size, and shot ratio. The De'Longhi ECAM35075SI also has a separate water tank for frothing milk.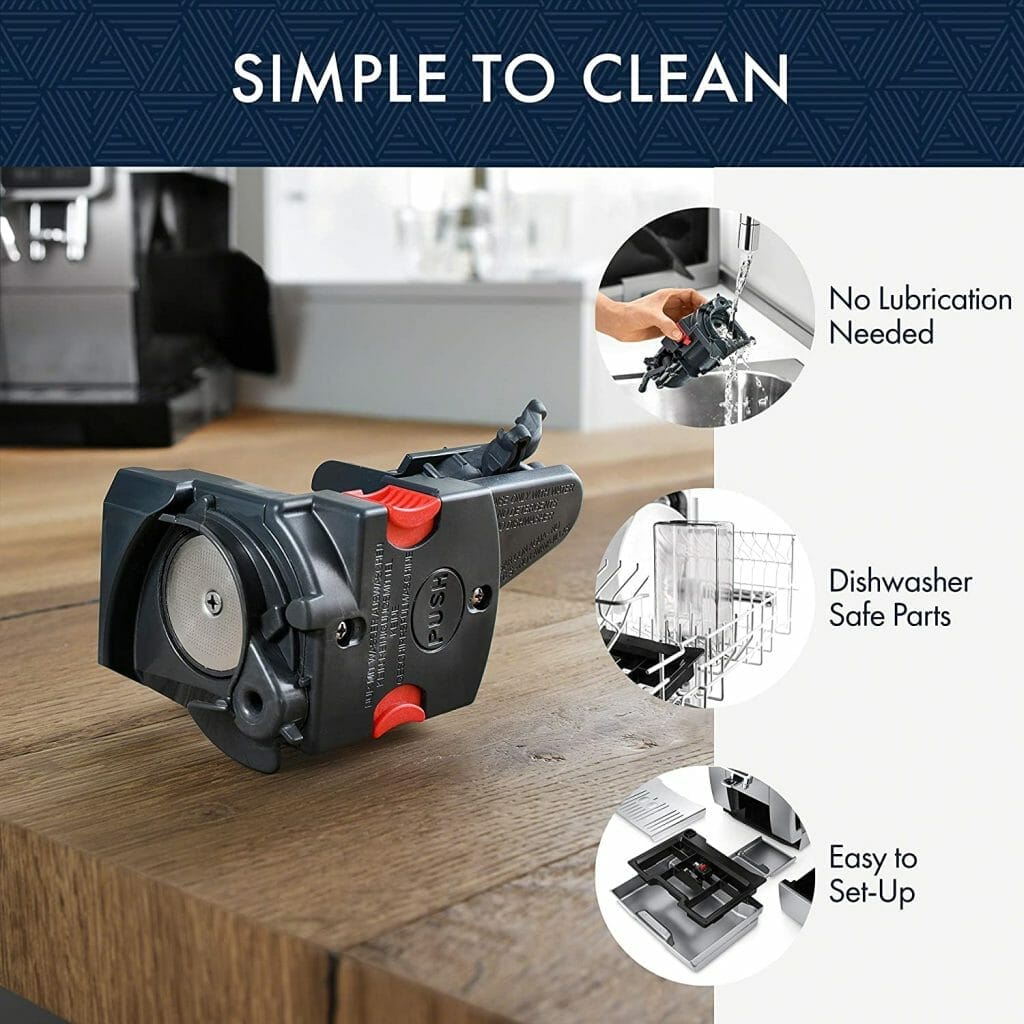 As a result, you'll get a full range of coffee and milk drinks prepared fresh with the touch of a button.
The construction is very durable and can be used in any kitchen and on any countertop. In addition, it's easy to clean and is dishwasher-safe, making it versatile enough to be used in commercial settings.
Customer reviews
Customers love this machine.
It's effortless to use and comes with a high-quality foam frother that makes the perfect foamy milk froth for coffee.
Even though the machine does not have a warming plate, customers love it. It also has a large capacity and plenty of space on the inside for upgrades if you want to experiment with different drinks or espresso blends. There were mixed reviews on the build quality. 
Customers say that it's heavier than it looks, and it's a little tricky to hold as you're pouring milk into the cup. 
That means you have to pay attention as you pour milk, so you don't spill it and keep your hands steady. Not a big deal!
Alternatives
Jura D6
The Jura is a coffee machine that will make you fall in love with the perfect cup of espresso. It has everything you need for the perfect shot of espresso – bar pressure, steam injection, cold water not only to achieve the right texture but also to maintain it throughout the brewing process.
The dual boiler technology makes this machine unique. It heats the water in both wells simultaneously so that this won't cause any even distribution of hot or cold spots, which will help pull all the flavours deeper into your drink.
Nespresso Essenza – By Breville –
It is a new machine from the prominent Nespresso coffee machine innovator. This time they have a device that will help you get coffee bar quality espressos at a fraction of the costs. 
The Nespresso Essenza machine uses the glass-lined, stainless steel aeroccino milk frother to make amazing microfoam for cappuccinos and lattes.
Gaggia 14101 Classic – By Gaggia – 
Looking for that classic coffee shop taste? You may want to take a look at this machine. It has all the features that you need to take your brewing experience to the next level. 
This machine has everything from a brew pressure control system, automatic volume-based dispensing, easy access drip tray, cup warmer, and even an auto-stop energy-saving function.
You will have everything you need for excellent tasting espressos.
How does the DeLonghi dinamica work?

The international coffee machines are equipped with a burr grinder that grinds the coffee beans within the device and then heats them up from within.
From here, the heated water is used to heat up both water containers in the espresso machine in order to extract flavor from the coffee beans. The water is then distributed evenly between the two containers and then pulled out of one container and continuously poured into the other container.
Does DeLonghi dinamica make hot coffee?

The DeLonghi has a temperature selector that allows you to set the device to either hot coffee or a cold beverage like iced coffee. As this device is designed to be a single-serve machine, it does not have a built-in warming plate. Therefore, it is important to take note of this feature in order to prepare your coffee.
Can DeLonghi dinamica make hot chocolate?

The DeLonghi dinamica has a function for heating milk for both hot chocolate and hot coffee. However, due to the potential risks of an overheated milk, it is important to read the instruction manual before attempting this.
Are DeLonghi espresso machines worth it?

From the time it took to brew your coffee to the espresso that you drink, this coffee machine is worth every penny.
Customers have stated that their coffee tastes better when used with this device. The company has also worked hard to make sure that all of its devices are easy to use and maintain as well. That is why it makes excellent products like DeLonghi dinamica with LatteCrema Fully Automatic Espresso Machine.
Can you make iced coffee with DeLonghi dinamica?

You can use a DeLonghi to make iced coffee. In order to do this, the machine's temperature selector must be set to hot coffee and the water needs to be heated before brewing. Also, you will need to add ice into the machine before brewing your coffee. It can make both hot and cold beverages easily with DeLonghi espresso maker.
Does DeLonghi Dinamica make Americano?

The international coffee machines can make Americano, espresso and cappuccino. However, the DeLonghi dinamica cannot make a macchiato.
Whats the difference between the DeLonghi dinamica and dinamica plus?

The DeLonghi Dinamica and the DeLonghi Dinamica Plus have some key differences that you should be aware of. The DeLonghi dinamica is equipped with a digital display, while the DeLonghi dinamica plus has a dual touchscreen.
Both machines have a boiler system that heats up water within 30 seconds. However, the boiler system of the DeLonghi Plus makes more heat than that of the DeLonghi Dinamica, allowing it to make espresso and cappuccino quickly.
Conclusion
If you're looking for a new coffee machine, the De'Longhi Dinamica is an excellent choice. It's one of the few coffee makers on the market that can produce over-iced coffee. 
Although the device is pricey, it is well worth the money gave the value you receive. You can buy this machine online at Amazon.com today!