Calphalon Temp IQ Espresso Machine With Grinder & Steam Wand Review
Calphalon temp iq espresso machine review- In addition, its integrated burr grinder provides various options for grinding your beans, from fine to coarse, and even pre-programmed grind settings for the perfect espresso.
The Calphalon Temp IQ upgrades the original Calphalon IQ, but with a few crucial differences. 
First, the Temp IQ has a new, more powerful motor that spins the burr grinder at higher speeds, letting you use less ground coffee and making the espresso extraction process go more smoothly. 
It also means that you can use less water when making espresso, and therefore, the Calphalon Temp IQ will brew more consistently great-tasting espresso with every use. 
The calphalon espresso temp iq also has a redesigned tamper with a softer plastic that makes it easier to remove the filter basket and allows for a smoother extraction, plus a cleaning brush and pin to clean the portafilter and tamper.
Let us now look at the features of calphalon temp iq espresso machine with steam wand. Also, check out calphalon coffee maker warranty.
Calphalon Temp IQ Espresso Machine with Grinder & Steam Wand Review: 
Here's Calphalon Temp IQ Espresso Machine with Grinder & Steam Wand Review:
Ease of Use:
The Temp IQ is a machine that works on a semi-automatic basis. While this design typically yields better-tasting espresso, it demands a little more work and a steeper learning curve than many more automated versions on the market.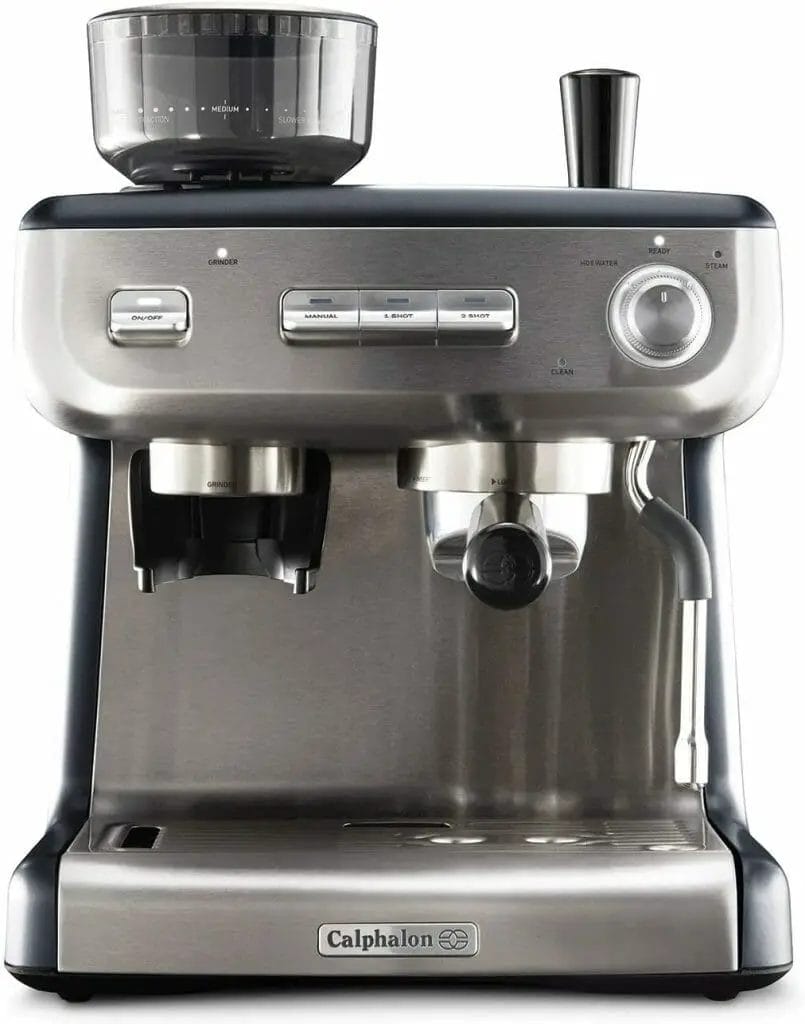 However, the Temp IQ makes this more complicated brewing technique quite simple, even for novices. So, if you've wanted to boost your game with a semi-automatic machine but are unsure which one to choose, we strongly suggest this one.
The easy instructions included guide you through the steps of grinding, tamping, and brewing. They will even assist you in determining the exact grind size required for the individual coffee beans you are using. 
We also like how the grinder settings are labelled "faster" and "slower," in addition to "coarse" and "fine" – this makes it easier for newbies to alter the grind size if their shots are pulling too quickly or slowly.
Ease Of Cleaning:
The semi-automated design of the Temp IQ needs a bit more manual cleaning than some of the completely automatic versions, but it makes these duties as painless as possible.
Cleaning is effortless. Descaling is likewise a rapid procedure. Depending on the mineral composition of your water, descaling should be done every two months or so.
Design:
Even though the Temp IQ is one of the higher-end espresso machines, it remains one of the most solidly-built models we've seen.
With its chrome accents and polished housing, this machine has an air of elegant sophistication. However, it's not nearly as heavy as some comparable machines, making it easier to move around. 
It also makes cleaning a little less stressful because you won't accidentally bump or chip anything while washing up after your brewing session.
Milk Steaming:
The Temp IQ can genuinely produce cafe-quality steamed milk. Of course, it takes some experience, as with any model that employs a traditional steam wand, to get everything just right, but the work is worth it.
What truly distinguishes this machine's milk steaming is its capacity to produce beautifully textured microfoam.
This type of foam is responsible for the rich flavour of lattes and, for many coffee consumers, characterizes the café experience. 
If you've always wanted to be able to pour a beautiful rosetta or tulip on top of your lattes at home, the Temp IQ can assist.
Value:
The Calphalon Temp IQ isn't cheap, but when you consider what professional espresso machines cost — and even what many home ones sell for — you'll realize that it's somewhat reasonable. 
It also comes with a grinder, so you won't have to pay for it separately if you don't already have an espresso-capable hero.
If you're searching for a machine capable of producing genuinely cafe-quality espresso beverages, a calphalon temp iq espresso machine with steam wand is one of the more affordable options. 
We believe the Temp IQ is an excellent overall value as long as you are ready to invest a little more for high-quality outcomes and are willing to work harder to obtain those results.
Calphalon coffee maker warranty:
The Calphalon coffee maker warranty comes with a one-year and includes a three-year limited warranty on the motor.
calphalon espresso temp iq:
Here are the pros & cons of calphalon espresso temp iq:
Pros:
Advantages of calphalon espresso temp iq incudes:
Produces delicious espresso
Effortless steam wand
After initial setup, it is simple to operate and requires little training.
Simple to clean
Includes single and double baskets with dual walls.
Cons:
Disadvantages of calphalon espresso temp iq are:
It takes time to set up for the first time.
Plastic tamper instead of a heavy-duty metallic tamper.
When brewing or steaming, it can be a little noisy.
FAQs
What Is Included With The Calphalon Espresso Machine?
A plastic tamper
Stainless steel milk pitcher
Dual walled single and double filter baskets
Cleaning pin
58mm portafilter
2 litres removable water tank
Removable drip tray
How Long Is The Warranty?
The calphalon coffee maker warranty details:
One-year factory warranty
Three years limited warranty on motor
Is The calphalon temp iq espresso machine with steam wand Easy To Use?
The calphalon temp iq espresso machine with steam wand:
Simple for anyone who has used a traditional espresso machine.
Semi-automatic, so it requires a little more manual work than a fully automatic machine, but it does give you more control over your shots.
Has two buttons: one for single shots and the other for double.
What Is The Initial Setup Process?
The setup is not complicated, but it might be difficult for those who have never used an espresso machine before. To properly set up, it takes approximately half an hour.
To begin, set the machine on a stable level table or countertop. Next, remove the power plug from the water tank's bottom.
In warm soapy water, clean all the detachable parts of the espresso machine. The portafilter, filter baskets, water tank, tamper, and drip tray grill are among the items to clean. The plastic things are not dishwasher safe. 
Using a clean cloth, dry the detachable pieces. Remove and clean the drip tray grill and replace it.
After that, you'll need to prime the machine. Refill the water tank with filtered or bottled water and replace it in the machine. Make sure the dial knob is set to the "READY" position.
Press the "ON/OFF" button after plugging the power connector into a power source. When this button flashes, the machine warms up. When both the ON/OFF and READY lights glow, the device is ready.
Place the double basket in the portafilter and secure the portafilter in the machine's group head. Next, select the "2 SHOT" option on the dial knob.
The machine will continue to flow water through the portafilter until the READY light illuminates, at which point you should restore the knob to the READY position. 
Then, repeat the 2 SHOT dialling procedure once more, and the machine is now ready to brew espresso and steam milk.
Now let us know Calphalon Temp IQ Espresso Machine with Grinder & Steam Wand Review of the customers.
calphalon temp iq espresso machine review of Customers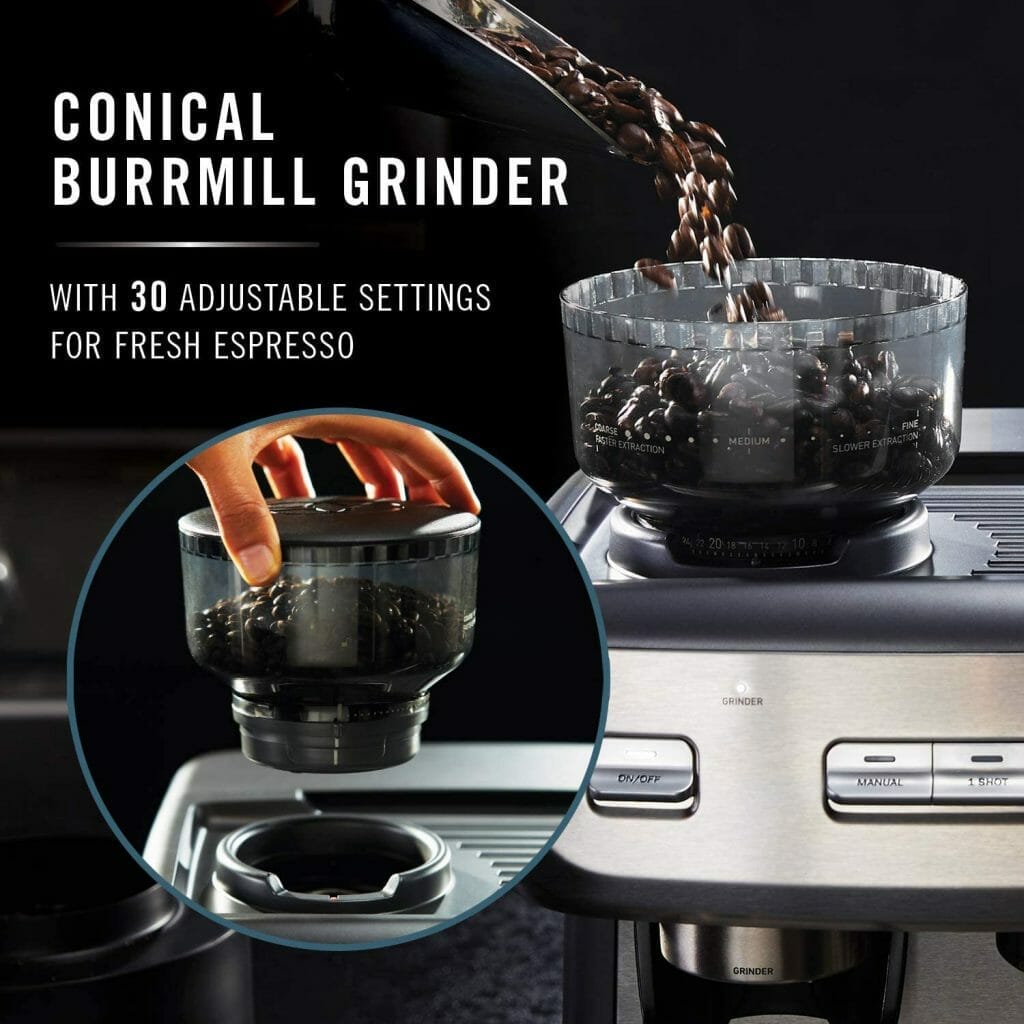 Check out the calphalon temp iq espresso machine review of customer– The machine is very sturdy and well-built. The grinder is also well made and produces quality espresso. 
Though I think it may be better to have a longer paddle as you can't change the grind size as quickly as on other machines (mines is a medium grind at the moment).
My only negative comment about this espresso machine is that it makes a loud noise when brewing and steaming milk – due to the double-walled filter baskets, there's no way around this. 
But the espresso is EXCELLENT!!… Very close to what I'd get at a local coffee shop. 
Calphalon temp iq espresso machine review Is it worth the price? If you're looking for an excellent all-around machine that produces perfect espresso, I would say yes, this is worth it. You can use the grinder for much more than just coffee, so that's a bonus too. 
In addition, the stainless steel can be wiped clean easily and doesn't show any wear and tear signs after several months of use. 
Alternatives
If you're interested in learning more about the Calphalon Espresso Machine, check out some of these other models:
KitchenAid ECMP1000
This commercial-grade espresso machine is dual-purpose for household use, with the option of using it either for making lattes or speciality coffees. 
It has a maximum temperature of 200°C/392°F, making it the only machine in the guide that can handle heating past the boiling point of water.
The conical burr grinder can produce anywhere from 12 to 28 grams of coffee at a time, which is more than enough for most everyday espresso needs.
Gaggia 14101 Classic Semi-Automatic Espresso Machine
A slightly lower-end option, this is still a viable machine with customizable grind settings. It can produce espresso in about 30 seconds, much faster than it takes the Modbar to brew. 
Rocket R5800-XH Max-Performance 15 Bar Pump Espresso/Coffee Machine
This machine operates at a pressure level of 15 bars, making it capable of producing some of the most potent espresso shots on the market. 
In addition, it comes with a built-in, conical burr grinder, which has an adjustable grind feature to customize your coffee or espresso to your liking. 
Calphalon Temp IQ Espresso Machine with Grinder & Steam Wand Review – Conclusion
In conclusion on Calphalon Temp IQ Espresso Machine with Grinder & Steam Wand Review- For both beginner and expert baristas wanting to produce cafe-quality lattes at home, calphalon espresso temp iq is one of the best espresso machines on the market. 
A Calphalon temp iq espresso machine with steam wand creates stunning pictures, has a top-notch steam wand, and allows you to study and improve your abilities.
While it is an expense, it is well worth it when you consider all you get with a calphalon coffee maker warranty and the high-quality beverages you will be able to make.
I hope this calphalon temp iq espresso machine review is useful!...