Best Built-In Wall Espresso Coffee Machines With Water Line Reviews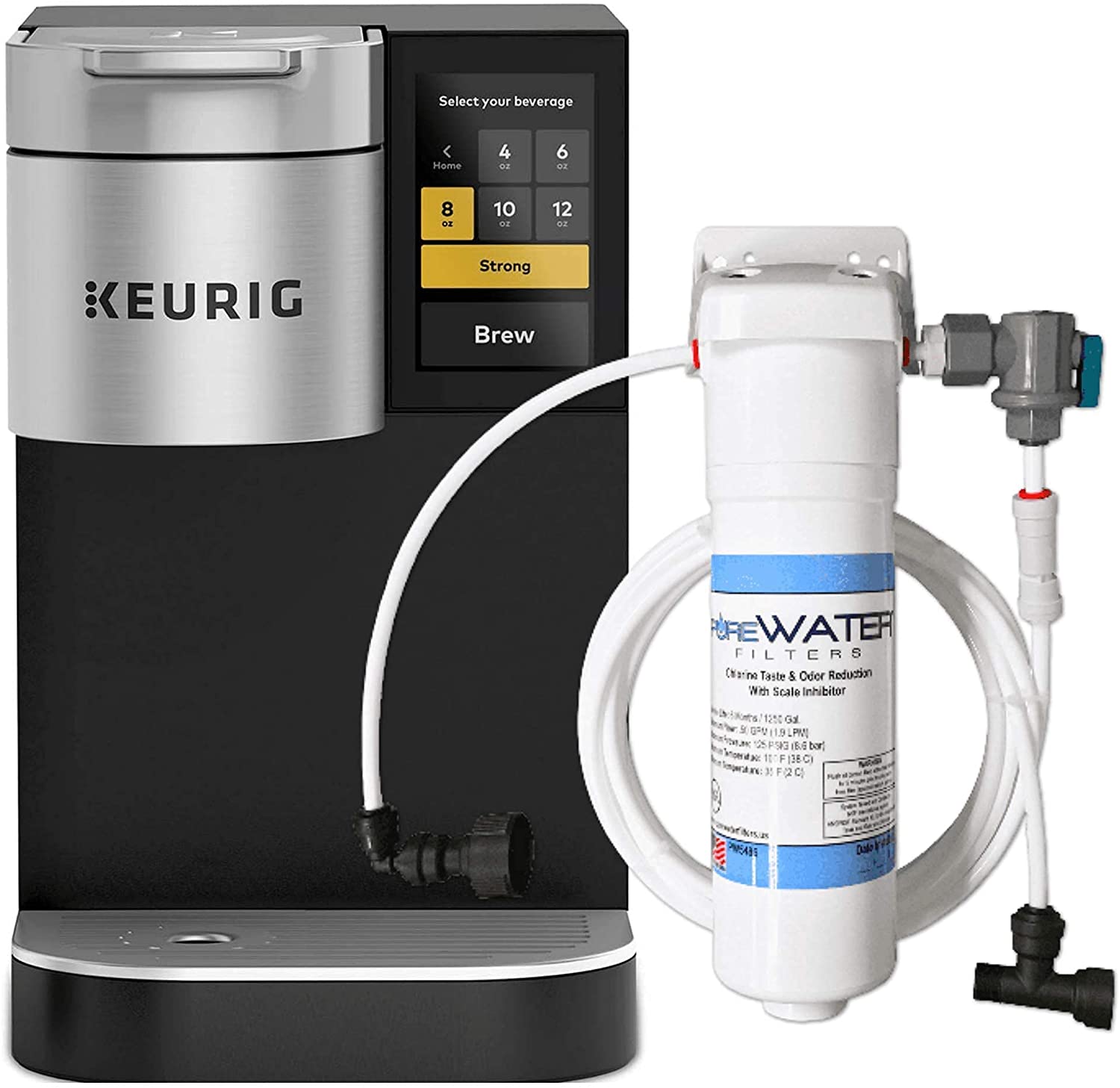 When you think of a Built-In Wall Coffee Machine, your mind probably goes to one of two things: One, it is a standard full-size model with a large footprint. Two, it's an industrial-type machine with most likely exposed pipes and wires. 
Neither are attractive nor desirable in the kitchen. However, other pretty and more practical coffee makers don't look like they were built in a factory. 
You may want a built in coffee maker with water line, so, read these built in espresso machine reviews and find the one for your home!
If you're considering the Best Built-In Wall Coffee Machines and want a simple, streamlined solution, then consider the built in coffee system comparison below.
Best Built-In Wall Coffee Machines
Thermador TCM24RS Built-In Fully Automatic Coffee Machine Stainless Steel
Thermador TCM24RS Built-in Fully Automatic Coffee Machine Stainless Steel is an intelligent solution that lets you enjoy gourmet coffee at home.
This built-in wall coffee machine is a perfect addition to your kitchen with its sleek and sophisticated design. 
It features a one-push function to froth the milk and make your coffee, allowing you to focus on other essential things.
The built-in coffee maker with water line helps to reduce the water hardness and keep the water cleaner. It also has an automatic rinse function to clean the milk system. 
Other convenient features include an integrated alarm to indicate low water levels and automatic steam cleaning for the milk system.
Features
By pressing a button, you can have freshly brewed latte macchiato, cappuccinos, espressos, and more.
Up to eight of your favourite beverages may be easily programmed for quick and easy preparation.
Depending on how strong the coffee is and how hot you want it, add your special touch and create your beverage.
Just like at your local coffee shop, you can change the size of your drink from short to tall, grande to venti.
Don't worry about milk frothing; it has a one-touch mechanism that takes care of everything.
The milk frother is built within the coffee machine.
At turn-on and turn-off, a fully automatic rinsing routine is activated.
The milk system is cleaned automatically using steam.
Miele 24″ Plumbed Built-In Stainless Steel Coffee System
This Miele coffee maker has a sleek and modern design with plenty of space for the beans, filter, and water. The stainless steel exterior is easy to clean and maintain. 
It features a drip-free brew system with two adjustable dispensing spouts for creating two coffees simultaneously.
It also has a flexible Aromatic System, a removable brewing unit, and a built-in, conical grinding system that allows for various grind sizes. 
This coffee maker is also suitable for creating several user profiles, valid for guests coming over or children who need their unique settings.
Features
Dispensing spouts with two dispensing spouts for making two coffees at once
Aromatic System with Adjustable Settings
Brewing unit that may be removed
Container for up to 500g of coffee beans
Pre-ground coffee can also be used with the built-in, adjustable conical grinding mechanism.
System for automatic rinsing and cleaning
Multiple user profiles can be created.
Cup sizes can be adjusted.
Gaggenau CM470711
If you want to give a coffee machine the full-on coffee experience, this is it. The CM470711 espresso maker from Gaggenau offers all the bells and whistles you'd expect in a high-end device, plus a few extra tricks to make your morning brew even better. 
First off, there's a 24-ounce continuous flow heater, which means you can keep a steady stream of perfectly heated espresso flowing into your cup for as long as you want, or even reheat leftover shots after the fact. 
The machine also comes with a TFT display that lets you see what's going on without having to get up and poke at the device, plus a built-in grinder, so you don't have to worry about losing a coffee bean in your milk. 
In addition, there are seven light settings for customizing the machine's appearance and an easy-to-use interface with centralized controls to help you navigate the machine's functions.
And, of course, you can use the CM470711 to brew multiple cups of coffee at once, thanks to its double-brew cycle function.
Features
There is no waiting time with a continuous flow heater, and the brewing temperature remains constant.
For a full aroma, aroma brewing technology is used.
TFT touch screen
Controls are centralized for simple access and operation.
Operation with a single touch
There are seven different light settings.
Electronic fill level control for milk, water, and coffee is used to provide a precise result.
Ceramic disc grinding equipment that requires no maintenance.
A separate drawer is reserved for the second sort of ground coffee.
Bosch Series 8 Built-In Coffee Machine BCM8450UC
Bosch has become a household name thanks to its reliable appliances. Now it's also getting into the kitchen with a built-in espresso machine.
Its sleek design is a big part of that, but the best feature is its ability to prepare multiple drinks at once without any manual intervention. 
That means your espresso machine can double as a cappuccino maker, making it a great alternative to a separate appliance.
The system is compact and powerful and requires no assembly or maintenance. It features an adjustable water tank for precise control and its built-in water filter. 
And it even has a timer for when you want to turn off the machine. The Bosch Built-In Coffee Machine is ready to brew from the moment you open the lid.
Features
It has a clean and sleek look
It has a stainless steel rotary dial
Automatic descaling, rinsing, and cleaning system
It has a built-in drip tray
It has sensor alerts when the water levels are low
You can choose your grinding settings
You can install the machine without needing the waterline.
Wolf Built-In Coffee Machine WOLF EC24/S 
The Wolf Built-In Coffee Machine WOLF EC24/S is a powerful, built-in coffee machine that's ready to brew at a moment's notice.
Its stainless steel construction makes it easy to clean up spills, and its built-in water tank and grinder make this system perfect for the whole family. 
You can also use it to brew hot water for tea. Push a button to select from among 24 pre-programmed sizes of coffee, espresso, cappuccino, and more to get started.
The water spout also allows you to dispense hot water for tea, so you don't have to use your kettle anymore.
Features
Stainless burr grinder
It has a 2-year warranty
You can navigate the menu easily
You may use the whole bean or pre-ground coffee
It requires no plumbing
Multiple cup sizes
You can choose the brewing time
It comes with a separate drawer for coffee grounds
The machine has an easy to clean function.
How Do The Built-In Coffee Machines Work?
Whether you're looking to buy the Best Built-In Wall Coffee Machines or want to improve the performance of your current one, it's essential to understand what makes them tick if you want the best results.
You must read the built in coffee system comparison or  built in espresso machine reviews to know how to choose the best one. 
Built-in coffee machines use two main methods to brew, but most come in two versions: water and steam (which is sometimes called espresso). 
What Is A Built-In Coffee Machine? 
A built-in coffee machine is a personal appliance designed to brew and dispense hot coffee and espresso. 
They are typically made with stainless steel or glass, have glass carafes or plastic carafes, and have small reservoir reservoirs that don't require filter baskets filled with water. 
Built-in coffee machines are designed to be installed in a permanent position and don't have a direct water line that requires plumbing but instead has built-in water tanks that hold hot water.
If you want a line, check out the best  built in coffee maker with water lines on the internet!
How Do They Work?
Built-in coffee machines use a technology called the "thermal system" to get your first cup of coffee ready as soon as you open the lid.
Hot water used for brewing is usually heated via a hot plate or another heat source. It has certain features, such as:
A Built-In Coffee Grinder
It comes with a built-in grinder. You have complete choice over the type of coffee grind you choose. Espresso can be made with almost all built-in coffee makers. Simply press the appropriate button, and the beans will be ground to your specifications.
Servings: Single And Multiple
Modern coffee makers, such as those embedded into the wall, are exceptionally user-friendly. It's made to give you various choices based on your preferences.
For example, it can be programmed to make a single espresso, brewed coffee, or extended coffee.
Select the "two alternatives" icon, commonly represented by two cups if you want to produce two cups. It will enable the machine to brew enough coffee for two cups of coffee to dispense simultaneously. Then, arrange two cups beneath the dispenser to make it work. 
Milk-Based Beverages
If you enjoy lattes, cappuccinos, and other milk-based beverages, you'll appreciate the built-in coffee machine. 
Personalizing Your Coffee
Some built-in coffee machines allow you to customize your coffee by adding flavour shots or changing the volume of water dispensed.
This feature is not very common in the most modern models, but it still exists, allowing users to choose what they prefer. 
For example, you may change the amount of coffee you want to use, the brewing temperatures, and even the strength of the coffee.
Do espresso machines need a water line?

Not all coffee makers need a water line to function. There are several integrated coffee machines that are designed to be installed into the wall and run with water tanks instead of a direct water line.
If you want to preserve the look of your kitchen, but you still want to make coffee, this is probably your best choice. The tank will give you hot water for up to 12 cups or two cups of espresso at a time.
Can the Bosch built-in coffee machine be plumbed in?

Yes, the Bosch built-in coffee machine can be plumbed in.
However, it's hard to find a place that will do this. You might have to do it yourself if you want to put it in a specific location.
Can you run a water line to a Jura?

Jura's built-in coffee machines are very easy to install. You can easily find a plumber or plumbers who can do the job in your area. However, make sure you know how to install a water line before you hire anyone.
It is easy to install if the right tools are used, but if you don't want to mess with it yourself, then check out these installation video tutorials on YouTube.
What is a plumbed coffee maker?

A plumbed coffee maker is a coffee machine that has its own water line.
There are several types of built-in coffee machines in the market. The ones that are basically made of glass or stainless steel look like those without a water line.
The others have permeable pumps (such as the Bodum) that make use of your existing water lines to dispense hot water and other liquids.
Which Keurig coffee maker can be plumbed?

The Keurig K-2500 is a water line-based machine. That means that it can be plumbed with a water supply line to dispense hot water and tea.
How do you run a water line to an espresso machine?

You can run a water line to an espresso machine by either running the water line directly to the machine or by running it through the wall.
If you want to try the latter, talk with a plumber or plumbers who have experience with this type of work. This is because it's not that easy to do.
Can you use tap water in espresso machine?

Espresso machines need water that is not very hard, which simply means it's not full of sediments, calcium, or other minerals.
Tap water that has been filtered or softened is suitable for use in your espresso machine. If you want to use tap water straight from your faucet without first filtering it and softening it, then run the tap for a few minutes before using it in your espresso machine.
Which Keurig does not have a reservoir?

The Keurig Mini Plus Brewing System does not have a reservoir.
The Takeaway on the Best Built-In Wall Coffee Machines
You will find built-in coffee machines almost everywhere today. They're available in homes, restaurants, and hotels that want a convenient way for guests to enjoy freshly brewed coffee at the touch of a button. 
The convenience and quality of these products can be attributed to their advanced technology, and you may want them in your home as well if you know how to choose the Best Built-In Wall Coffee Machines for your needs. Reading built in espresso machine reviews can help you to choose the best one.
If you have the budget, you can buy a built-in coffee machine. Make sure you do a built in coffee system comparison! 
They are estimated to be more expensive than the traditional coffee makers, but they can be worth it if you want the best possible cup of coffee every time. Check out built in coffee maker with water lines if you have the budget for them!
FAQs
Does A Built-In Coffee Machine Need To Be Connected To A Water Line?
Some models have a water line, which means you have to connect them to your water supply to operate. Otherwise, other built-in coffee machines use their internal tanks for hot water. So you need to refill them with hot water whenever necessary.
How Long Do Built-In Coffee Machines Last?
Build-in coffee makers tend to have a longer lifespan. It is because a lot of thought has gone into them.
From the cleanliness of their design to the materials they're made from to the way they're installed, built-in coffee makers are taken pretty seriously and are less likely to break down than most other types of coffee makers.