Can You Make Hot Chocolate in a Coffee Maker?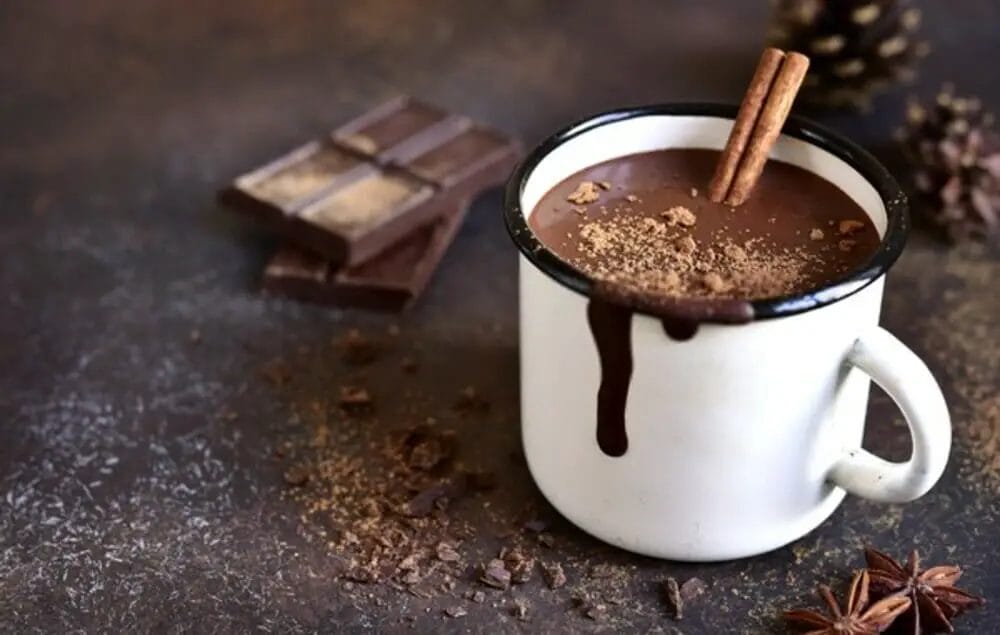 Many people think that you cannot make hot chocolate in a coffee maker. They are wrong.
You can make a batch of hot chocolate in any coffee maker: espresso machine, pod coffee maker, using premix or using cocoa powder.
One of the greatest advantages when making hot chocolate using a coffee maker is that it is fast and easy to make which makes it the perfect drink to enjoy at home before going to bed or even during the day in order to warm you up.
If you have never tried making hot chocolate with your coffee maker, then this might be something that you should try.
This article will explore the idea of whether or not you can make hot chocolate in your coffee maker and how to go about making it.
Hot Chocolate Using Premix in Coffee Machine
Making hot chocolate using premix is fairly easy, using your coffee maker. Just add your premix to hot water and its done. You can use your coffee maker of any kind like an espresso machine or just the traditional coffee maker. Just use it to heat up water and then add in the premix.
Some coffee makers come with a program for hot chocolate and many coffee machines come with a hot water filter. This means you don't even have to heat the water up separately before adding in the premix. Just add in your premix, let it boil for a moment and then pour hot water over it.
Hot chocolate using Cocoa Powder in Coffee Machine
Making hot chocolate from cocoa powder will require milk and sweetener of your choice. If your coffee maker has milk frother or steamer feature, you can add cocoa powder, sweetener and milk together and then steam and froth it and you are good to go.
In traditional coffee makers, just mix milk, cocoa powder and sweetener together and then add hot water from coffee machine, stir and enjoy. Its better to use hot chocolate premix if your coffee machine does not have a milk frother.
Hot chocolate using a pod/capsule coffee maker.
There are already pods out there that you can add right in your coffee maker that makes hot chocolate, just like you would any other kind of drink. If you do not have these pods available, there are some that are available online.
One good thing about using a pod coffee maker is that you have less mess to clean up after making the drink. However, if you do not enjoy the taste of chocolate in your drink, then this won't really be something that interests you.
Hot chocolate using an espresso coffee machine
Using Steamed Milk in Coffee Machine
Using steamed milk to make hot chocolate is simple and fun. Just add your sugar, cocoa powder and milk to your coffee machine and then steam the mixture until you get the consistency you want. Then add in your sweetener if you need it and stir it well.
Using Premix
You can make hot chocolate in an espresso machine by just using the premix. Just add in the premix and let it heat up. Then just add the hot chocolate in a cup and add sugar to taste.
Making hot chocolate using a coffee vending machine.
This is one of the easiest ways to make hot chocolate using a coffee maker. Some coffee makers have a designated canister for making chocolate.
Other times there's a chance of having an empty canister where you fill it with your favorite hot chocolate flavor. You are on your way to getting the best hot chocolate cup.
How to make Hot Chocolate mix at home?
The first thing you will notice about homemade hot chocolate is that it's thinner and darker than the pre-made kind. This is because those pre-made mixes are heated in order to make them thicker.
You can use the same method to make your drink thicker if you want as well by adding more mix into your coffee maker. However, for some people, there is an option to let the drink sit longer before drinking it.
In order to make a hot chocolate mix, you should have these things for sure:
Instant coffee or Coffee granules
Evaporated milk (also known as powdered milk)
Butter or margarine
Egg
Milk or half and a half (half butter and half milk)
Cinnamon or chocolate
Steps You Need to Take to Make Hot Chocolate in a Coffee Maker:
Make sure that the water and milk are hot before adding them to your coffee maker
Add in the sugar and some of the pre-made hot chocolate mix if you would like to make your own drink thicker
Add in cocoa powder, instant coffee, and dried milk. You can also add vanilla extract if you would like to flavor it
Pour the mix into a mug or jar with a lid immediately or place them into serving glasses to ensure that they don't break down too quickly
If you want to use mugs, make sure that they are of a good quality
If you want to add whipped cream, put it on top of the drink before drinking
Enjoy the drink
Final Words
So just turn on your coffee maker and make a perfect cup of hot chocolate to enjoy.
Tell me did you try it and how it turned out. Do you have questions about this article? Do you want to share your experience with us ? Please drop a line.
Thanks for visiting the site! Don't forget to subscribe for new articles and leave me a comment.