Breville BES880BSS Barista Touch Espresso Machine Review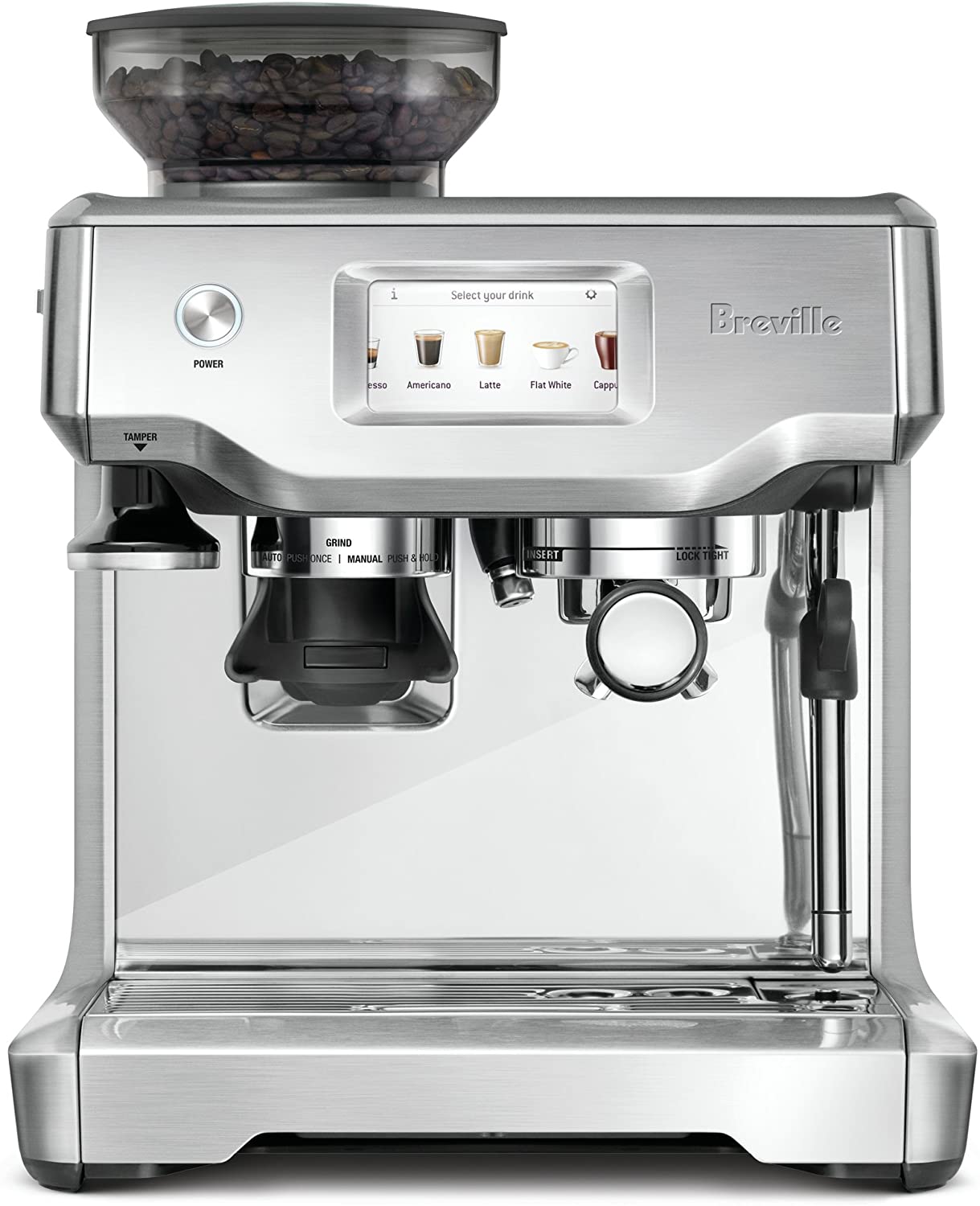 The BES880BSS is part of the Barista Series that offers all-in-one espresso machines with an integrated grinder to go from beans to espresso in under one minute. 
With the BES880BSS, you can enjoy premium speciality coffee at home using the four keys formula and is suitable for absolute beginners and pros. 
It comes with a precision conical burr grinder with dose control, an integrated tamper, and a stainless steel portafilter. With the BES880BSS, you will never run out of hot water again!
The latest model takes everything we've learned about making great coffee at home and applies it to the perfect machine for creating speciality coffee at your kitchen or bar countertop. 
It features a simple, easy-to-use interface with excellent coffee brewing and customization features. The touch screen makes it easy and quick to change the temperature, milk texture, and coffee strength for the perfect cup of coffee every time!
Breville BES880BSS Barista Touch Espresso Machine Review- Let's Look At its Features:
Design
The brushed stainless steel body is the first design feature that stands out when looking at this espresso machine. 
This feature is uncommon in espresso machines in this price range and even in higher-priced models. It's intended to strengthen the machine and make it easier to clean.
The BPA-free plastic 67 oz water tank is simple to fill. You may even remove it if you wish to fill it full. 
As a result, you can brew quite a few espressos before needing to refill them. It also features a filter, which prevents pollutants from entering your cup of coffee.
This espresso machine includes a built-in stainless steel conical burr grinder. The bean hopper on top can hold up to eight ounces of coffee beans. The beans are then transferred to the portafilter. 
You may also use the side wheel to fine-tune the size of the grind. There are thirty different grind-size stages to choose from. The size you select shows on the front display.
Touch Screen Display
Touch displays are all around us these days. From your phone to touch screen displays in vehicles and coffee shops, you cannot go a whole day without coming into contact with a touch screen. 
With the aid of this touch screen, browsing settings and customizing your coffee beverages have never been more accessible. 
It's not just a nice feature; it's a beneficial one that makes the Breville BES880BSS far more user-pleasant than comparable espresso machines.
Push-Button Operation
With many espresso machines, there is a precise procedure that you must follow before you enjoy your favourite hot drink just the way you want it. But, it's different from the Barista Touch. 
Once everything is in place, the whole process from bean to cup is automated, ensuring consistent quality every time you want to enjoy the ideal espresso.
Coffee Customization Capabilities
The Breville BES880BSS is primarily an espresso machine. However, most of us enjoy various coffee-based drinks from time to time, such as cappuccino.  Therefore, nothing is more straightforward than the Barista Touch. 
You may configure every part of the coffee brewing process in great detail and store up to eight distinct configurations in the machine's internal memory. 
This way, you just need to enter the settings once into the machine and may have your unique coffee drink whenever you want with the touch of a button.
Automatic Milk Frothing
This feature is related to the one above. To make the ideal cappuccino or latte, you must first learn to generate the perfect milk foam. 
It is generally accomplished through a lot of trial and error. However, with the Barista Touch, everything is done automatically. 
The milk frothing technology is capable of creating the ideal milk foam without your participation. Because of micro-foam technology, you can have your perfect latte whenever and wherever you choose.
Conical Burr Grinder
The built-in, conical burr grinder allows you to fine-tune the amount of coffee that goes into each cup as well as the grind size. 
As a result, making the perfect cup of coffee has never been a more exact science. True, there will be some trial and error at first, but once you hit that sweet spot, you can depend on that precise mix every time you brew a cup of coffee.
Brewing Capacity
The bright touchscreen display on these Breville espresso machines makes the coffee-making procedure a breeze.
There are five coffee beverages to choose from: flat white, americano, latte, cappuccino, and espresso. 
It takes a while to brew. The main feature of this machine is that it can change the temperature of the milk from 110 to 170 degrees. When the milk froth becomes dense, the temperature of the milk automatically reduces.
Easy Cleaning
It's simple to clean this espresso machine. Its big water tank makes cleaning everything from the brewing equipment to the bean hopper a breeze. 
Because it is stainless steel, you can only wipe it. It doesn't need to be descaled regularly. Every three months, you can descale it. You may remove stains and spills by wiping them down with a wet cloth.
Coffee Quality And Taste
The Breville is a smooth espresso machine that provides excellent quality Coffee. It can produce very compatible shots with different kinds of beans and serves lattes and cappuccinos. 
The different types of coffee drinks that Breville can make are delicious and full of flavour. 
Although this machine is more expensive than other espresso machines we reviewed, we believe that it's worth every penny because you will get such great results as mentioned above.
pros & cons of Breville BES880BSS espresso machine
Pros
The exterior is brushed stainless steel.
You may adjust the temperature and texture of milk 
Adjustable coffee strength 
There are five different beverage preparation options.
Cleaning method for milk wands that is automated
PID temperature control for integrated grinder
Touch-screen display
Operation without using your hands
Grinding dosage control
Cons
The front does not have access to the water tank. 
Mugs do not have a preheating system.
No automatic cleaning system.
It's tough to find/replace a water filter
FAQs
Is The Breville BES880BSS A Good Investment?
Yes, the Breville BES880BSS is a good investment. It's perfect for all sorts of clients looking for high-quality coffee. 
It's widely regarded as the most excellent espresso machine for creating barista-quality coffee drinks. In addition, it has a beautiful scent and a strong taste that produces outstanding results.
How Long Is It Going To Last?  is Breville BES880BSS barista Espresso worth it?
It doesn't last long, according to the user. In the first few weeks, it works great. After that, there was a lot of noise in the brewing unit and milk foaming. 
As a result, it gives you thin milk foam. It works great for two years after maintenance. However, we cannot say that it is long-lasting.
Is It Better To Buy A Breville Or A DeLonghi?
Breville grinds a large number of beans, whereas DeLonghi only grinds a small number of beans. Breville has 15 bars of pressure, whereas DeLonghi has 19 bars. 
Even while Breville produces a thick crema, DeLonghi's milk froth is thin. Overall, Breville is superior.
Is It Possible To Make Regular Coffee With This Machine?
The Breville Barista Touch does not make regular coffee. It does, however, have a hot water spout so that you can make Americano, hot chocolate, cocoa, and black tea with it.
Can I Use The Breville BES880BSS Espresso Machine To Brew And Froth Milk Simultaneously?
It is a single boiler machine, which is unfortunate. So you'll have to focus on one task at a time. 
Is It Noisy?
Like any other pump-powered equipment, the Barista Touch generates a considerable amount of noise, especially when using the frother. However, as compared to low-cost competitors, it is noticeably quieter.
Customer Reviews
Two categories of customers are there. First, according to a group of consumers, this machine produces the finest quality coffee drinks at home and makes you feel like you're in a café. 
You'll receive consistent shots with authentic flavour, and the barista-quality milk froth makes creating new recipes and beverages at home a breeze. But, on the other hand, some people are taken aback by the consistency and cost.
Another set of consumers complains about the machine's endless faults. They claim that this equipment only works for four weeks. 
It's milk frothing blocked after a few weeks. With brewing, you will also experience annoyance. Due to pump issues, the brewing process takes far too long. It isn't particularly user-friendly, they claim. 
It doesn't heat over 120 degrees; therefore, you won't be able to make hot coffee drinks. The grinders don't work correctly.
Alternatives
DeLonghi EC155.
If you're interested in purchasing a machine that costs less than the DeLonghi Barista Touch and provides you with similar results, then we recommend this machine. 
It has a robust espresso and has three different options: espresso, cappuccino, and latte. In addition, you can control the amount of coffee through this machine. You can also adjust the temperature of the milk to get an even froth.
Tassimo S50.
If you are looking for a cheaper machine, then this product is for you. It has an automatic frother function that produces thick milk foam without requiring too much effort. 
This machine comes at a lower price yet with similar results to the Breville.
Capresso EC155.
This machine is also relatively compact, which accommodates your needs. Thanks to the adjustable temperature, settings, and brightness, you're free to customize the brewing process according to your preferences. 
In addition, it has a removable water tank so you can easily access it for cleaning without putting too much pressure on the machine.
Conclusion
The Breville Barista Touch is a top-of-the-line espresso machine that offers you superb barista-style coffee. You can customize a variety of drinks and choose from a wide range of flavours. 
The one thing that we love about this machine is that it gives you an option to adjust almost all the settings. 
If you're interested in buying this machine, we highly recommend going through what other people have to say about it before deciding whether or not to invest in it.
I hope you have got enough information in this Breville BES880BSS Barista Touch Espresso Machine Review