When it comes to cups, many of us are guilty of falling into the trap of using a standard coffee cup when we want something a little more special. You'll find many different cups available to suit your style. 
In this article, we'll take a look at a cup known as the demitasse cup —one that is explicitly designed to serve small portions of coffee. We will also learn all about this unique cup type and what it can do for you.
The History of Demitasse Cups
The origins of the demitasse cup (or demi from which the name comes) are not clear; however, they did exist in France since at least the end of the 15th century.
During that period, they were used mainly in small establishments such as cafés or taverns (where many would serve a single cup to each table). 
The word 'demitasse' means 'half cup' in French, and you should note that this is not a type of soup cup. It was also common for the demitasse to be placed on top of saucers for added effect. 
The design of the demitasse cup was created so that it would be easier to handle with one hand and would not require a saucer underneath it. 
In addition, it was meant to be an attractive way for the barista to keep track of the amount of coffee served to each drinker. 
So, What is a Demitasse cup?
Demitasse is French, meaning "half cup." This little coffee cup has a capacity of 2 to 3 fluid ounces (60 to 90 millilitres). Because they are half the size of a standard coffee cup, they are referred to as "half cups." 
In addition, the term demitasse can also refer to the amount of coffee measured in a demitasse cup or glass. Finally, the term is often used in Europe to refer to the liqueurs typically served as digestifs at the end of a meal. 
The modern-day demitasse coffee cup was developed at the beginning of the 20th century and is typically used for espresso-based drinks at finer restaurants and cafes. 
What are Demitasse Cups Made From?
Traditionally, these demitasse cups were made from porcelain or glazed earthenware.
What is a demitasse cup used for?
Turkish coffee, espresso (single shots or double shots), and other extremely concentrated coffee drinks are commonly served in demitasse cups (such as Greek coffee). They are also used in cafes, restaurants, and homes to serve hot chocolate and other hot drinks.
Demitasse cups are mostly seen at restaurants after dinner. However, they are also seen in various cafes and coffeehouses throughout the day.
When serving espresso in a demitasse cup, some individuals prefer to use French roast coffee rather than espresso roast or Italian roast coffee.
It lends it a more distinct French flavour. Also, because French roast coffee is lighter roasted than Italian or espresso roast coffee, it has more caffeine. 
Even though demitasse cups are small, you can still fit two demitasse cups in a standard-sized coffee cup holder at your table.
You may use the cups to pour hot tea into small glasses. One person can serve several people with only one tea serving with a demitasse cup. 
Demitasse cups are also suitable for serving other drinks, such as alcoholic beverages or non-alcoholic beverages. While you can purchase demitasse cups from certain stores, it is also possible to make your own. 
If you are interested in making your demitasse cups, you will need to look in a home improvement or craft store's ceramic section. You can usually find all of the pieces you need there. You will also need self-hardening clay. 
Some people prefer to use air-drying clay because it gives the demitasses a more natural look and feels and is easy to work with.
Cup Materials and Colors
Porcelain, pottery, or ceramic are the most common materials used to make demitasse cups. They are sometimes constructed of glass and framed in a metal base with a metal handle.
Generally, the demitasse cups are white, but you may occasionally see brightly coloured or patterned ones that have become increasingly popular in recent years. 
You may decorate these cups with a design directly on the mug or on the saucer. Such methods may include stripes, polka dots, or other shapes. 
You can also have these cups personalized with a name on them. Some people choose to put their initials or monograms on their demitasse cup.
Some demitasse cups are made of different materials like stone, wood, and stainless steel. Most of these are designed to look like porcelain.
They tend to be more expensive than basic ceramic demitasse cups. Each of these materials also has its distinctive advantage. 
While ceramic demitasse cups are ideal for holding hot liquids, stainless steel demitasse cups on the other hand are more durable and easier to clean. 
Wood demitasse cups have a natural appearance, but you should consider how much liquid you put in them. While stone demitasse cups are the most expensive of these types, they are also quite durable and easy to clean.
Size of demitasse cup
The majority of demitasse cups are only 2 to 2 1/2 inches tall. Some demitasse cups include a saucer. The saucer is normally about 4 to 4 1/2 inches in diameter. Demitasse cups are also available in teacup and espresso cup sizes. 
The main difference between these sizes is that teacups have a capacity of 4 to 5 ounces (120 to 150 millilitres), and espresso cups hold 7 to 8 ounces (200 to 225 millilitres). Demitasse cups are also made in 12-, 16-, and 20-ounce varieties. 
Many specialty coffee shops also sell demitasse-size cups designed for specific drinks such as cappuccino or latte. These are usually a bit taller than regular demitasse cups. 
Where to buy demitasse cups
Demitasse cups are available from various vendors, both online and in-store. Many home improvement stores, craft stores, and kitchen supply stores sell demitasse cups. These can also be purchased from mail-order catalogs or various online retailers. 
Some stores sell individual demitasse cups and saucers. Others sell sets of four, six, and eight demitasse cups. While you can purchase demitasse cups in just about any colour or design imaginable, there are some things to keep in mind when making your purchase. 
The most important thing to look for is how sturdy the cup is. The second most important thing is how easy it is to clean the cup.
The third most important thing, however, is its appearance. Vintage or hand-painted cups are popular, but they can be more expensive. 
If you are buying them online, it's a good idea to scrutinize the product images. You should also read customer reviews to see how sturdy and easy to clean the cup is and how durable it is. It is good to buy demitasse cups that can also be used as regular coffee cups.
Best demitasse cups
The best demitasse cups are sturdy and easy to clean. They should hold hot liquids well and be unlikely to crack or chip. It's also a good idea to buy demitasse cups that can also be used as regular coffee cups. 
When buying your demitasse cups, you should consider the following factors:
Demitasse Cups Material
The most common material used in constructing demitasse cups is porcelain, pottery, or ceramic. Demitasse cups made from these materials are very durable, but they are also a little more expensive than glass or stainless steel. 
Demitasse Cups Size Varies
The most common size for demitasse cups sold in sets is 4-6, but different sets contain different cups and saucers. However, some coffee shops sell individual demitasse cups.
The average capacity is 2-3 ounces (60-90 millilitres). Some demitasse cups are also available in 12-, 16-, and 20-ounce sizes.
Demitasse Cups Colors
Demitasse cups are available in different colours and designs. You can choose from simple white demitasse cups to very colourful and patterned versions. 
The most common colours include white, cream, blue, green, red, black, and clear glass. The most common patterns have stripes, polka dots, or other geometric patterns.
Insulation
A shot of espresso loses heat quickly, usually in a matter of seconds. It is due, in part, to the lower brewing temperature and the smaller serving of coffee; with a smaller amount, heat transfer is considerably faster than with a large cup of coffee. 
As a result, insulation is critical when selecting a nice pair of espresso cups. Even if the cups are porcelain or made of other heat-retaining materials, they will lose heat faster when they lack insulation.
As more people become interested in fine beverages, demand for demitasse cups has also increased. Today, you can find a wide variety of demitasse cups in different sizes and designs. First, however, it's essential to purchase the right kind of demitasse cup for your use. 
So, let's look at the best ones available right now!
Konitz Coffee Bar Espresso Cups and Saucers
Konitz Coffee Bar is an Italian company based in the north of Italy, and they produce a range of products designed for baristas and coffee enthusiasts.
In addition, they have a wide range of coffee machines, barista equipment, coffee accessories, and much more.
They're a well-established brand and have been around for almost 30 years. The Konitz Demitasses and Saucers are traditional style Demitasses and saucers in the cafe cups popular throughout France and Europe. 
The Konitz cups are made of the most fabulous insulating material available – ceramic porcelain – and can carry a standard dose of double espresso. 
In addition, the saucers that come with it are the perfect size for having a few sugar cubes and a tiny teaspoon. 
Aside from the Konitz set's elegant, timeless aesthetic, what I enjoy about this Demitasses set is the concave bottom, which has been engineered to ensure Crema's correct development every time.
Features
Microwave & dishwasher safe
Made from durable and heat-retaining ceramic
Capacity: 2 ounces of coffee
Rhombus design; holds espresso comfortably with the perfect formation of crema every time
Aozita Espresso Cups and Saucers,
Aozita Espresso Cups and Saucers is a line of modern espresso cups and saucers designed with a sleek and stylish design, perfect for espresso machines. 
Made of high-quality porcelain/ceramic, lead-free, chip-resistant, make them healthy & sturdy for daily use, safe for dishwasher, microwave, oven, and freezer. 
Ideal for coffee lovers and people who love espresso, our espresso cups are made of lead-free porcelain, making them safe for drinking. 
Our espresso cups are perfect for people who like drinking a single shot of espresso. These espresso cups are helpful for cafes, restaurants, and coffee shops. They will add style to your kitchen and protect the table surface.
Features
Set of 4 White Porcelain Espresso Cups & Saucers
White colour, elegant and beautiful
Microwave and dishwasher safe to be used daily
Ideal for espresso machines, Fluted saucers can prevent drink overflowing during movement.
Light and Beautiful
JoyJolt Savor Double Wall Insulated Glasses Espresso Mugs 
The JoyJolt Savor Double Wall Insulated Glasses Espresso Mugs are made of heat and condensation-resistant borosilicate glass, which is stronger and more durable than ordinary glass that gives a smooth finish and a crystal clear look. 
In addition, it suspends drinks within an inner wall for an interesting optical effect. The inner wall is double-walled to keep your drinks hot while keeping your hands cool. 
It is a beautiful addition to any cafe, restaurant, pub, and definitely to your own home. It can be used for Cappuccino cups, Lungo cups, Macchiato, Latte, Espresso cups, Demitasse cups, Tea, smoothie, and juice.
Features
Double-wall insulated glassware
Microwave, dishwasher, and oven safe
Safe for beverage temperatures between 195˚F to 220˚F can also be heated within that range.
Capacity: 5.4 ounces
Each glass holds a standard shot of espresso or espresso-based drinks.
TeamFar Double Wall Stainless Steel Espresso Cups
The perfect blend of style and functionality, the new TeamFar Double Wall Stainless Steel Espresso Cups are great for everyday use, mainly when serving your morning cup of joe. 
This set of six double-wall stainless steel espresso cups has an 18/8 stainless steel construction, which means it's incredibly durable and can withstand high temperatures without any issues. And since these cups have a mirror finish, they'll look right at home with your other coffee cups and mugs. 
The cups also stack nicely for easy storage and are dishwasher safe, so you no longer have to worry about cleaning them by hand.
Features
Stainless steel and mirror finish
Double-wall
Made from 18/8 stainless steel
Fits most coffee makers, espresso machines, and homebrew setups (some exceptions may apply)
Solecasa Porcelain Espresso Cup and Saucer Set
The Solecasa line of porcelain is designed to be both beautiful and practical. The cups are strong enough to withstand the rigours of daily use while being lightweight and easy to clean. 
The porcelain construction allows for a smooth surface that resists scratches and stains. The cups have an elegant, traditional style and are ideal for use at the table or home.
Features
Microwave and dishwasher safe
Made from durable and heat-retaining porcelain
Capacity: 4 ounces of coffee
Dotted pattern on the rim. Classical winter frost white, well-matched with other tableware. Light with durability, non-slip & non-stick. 
Cool / Unique Demitasse cups
If you want to buy some unique yet functional cups for espresso coffee, you should consider buying them from Etsy. com. 
On the etsy.com site, you can purchase cool demitasse cups that come in a wide range of prices and shapes and styles. I have found three cool and unique cups from Etsy that you should check out!
Set of Two Handmade Ceramic Coffee Cups by JehnCeramics
 The ceramic cups are made from natural clay and hand-formed on a potter's wheel. The cups are fired at an extremely high temperature of 1200°C, which gives them a unique and beautiful colour. 
The ceramic coffee cups are also dishwasher and microwave safe, so you can easily wash and use them at home.
Elesva Delfts Blauw Made in Holland Hand Painted, Demitasse Cup and Saucer by FindsLeftBehind
It is an adorable demitasse cup and saucer set. The mug is hand-painted with lovely flowers and leaves and accented with silver trim. It has a signature in the artist's initials mark, marked Made in Holland.
Haviland Limooge France Demitasse cups and saucers/Retro by NAttic
The Haviland Limoges, France pattern is a beautiful bone china pattern with a beautiful mauve, blue and red colouration, and light green foliage with white blossom.
Antique / Vintage demitasse cups
Here are a few antique and vintage demitasse cups that you can buy at the online store etsy.com, which has a wide range of prices and shapes.
Sets of Vintage mid-century cups & saucers by AuntNieceVintage
These are gorgeous vintage pieces in perfect condition. The cups and saucers are robins egg blue to pale blue with blue lace flowers and silver accents.
Antique Early china Fancy white and gold Demitasse teacup and saucer by JasonsCollectables
The china was made in England, and the teacup and saucer are from the early 1900s. It is a lovely and unique gift for someone who likes tea or tea parties.
Antique, collectible Coalport Bamboo demitasse cup and saucer by Pasttimestories2
The Antique, collectible Coalport Bamboo demitasse cup and saucer is a stunning example of the best craftsmanship and design from the turn of the last century.
With a sturdy base and an elegant design, this is a piece of furniture that will last for years to come.
How to use demitasse cups?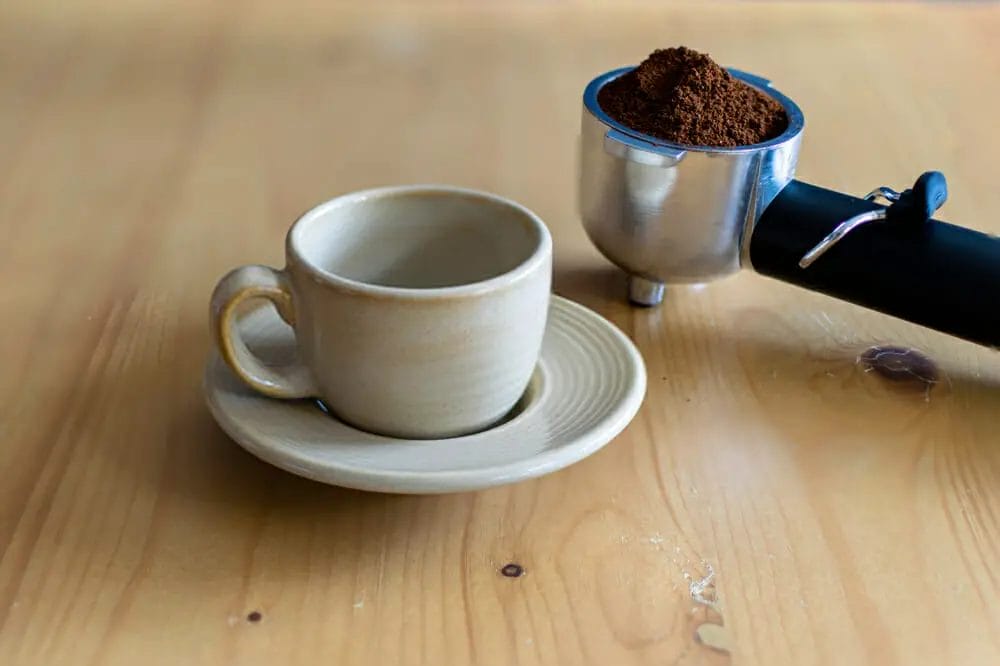 Demitasse cups are used for serving espresso and other coffee drinks. It is now standard practice for restaurants to serve coffee in demitasse cups to give the customers a feeling of exclusivity. 
However, demitasse cups are now more than just a vessel to serve your espresso. With the right cup and saucer, you can turn this simple drink into an elegant presentation to delight your guests. 
You may use it to serve your drinks after dinner or on any special occasion. You can also use it alone as a decorative piece. 
The cups may serve one to two people. The amount of coffee in these cups depends on what you want to put in them and the size you want your espresso to be. 
You can choose from different designs such as your demitasse cup and saucer set. Popular ones are demitasse cups and saucers with a handle attached to the base, cups and saucers with a lid, and a double wall. Preparation of your drink is done by pouring your espresso into the cup. 
The demitasse cup is a heavier yet thinner type of coffee mug. It has small handles or spouts used to place it on the saucer or table surface. 
Demitasse cup vs teacup
There is a difference between the demitasse cup and teacup. The demitasse cup has a flat bottom yet narrow mouth.
It is smaller than the teacup and is used to serve espresso shots. You may use the cup to serve one to two people. 
The amount of coffee in these cups depends on what you want to put in them and the size you want your espresso to be. 
A regular teacup measures 3-4 inches in diameter, depending on the shape, and a demitasse is around half that size or 2.5 inches by 2.5 inches. 
Shape: Demitasse cups are usually round, whereas the teacups are generally oval or oblong. The demitasse is made for one or two people, whereas the teacup may serve more than one person and may also be used to serve hot chocolate and other drinks.
espresso cup vs demitasse
There is a difference between the espresso cup and demitasse in their construction, shape, and use. The espresso cup is heavier than the demitasse cup and has a thick bottom. 
Espresso cups are typically can-shaped with straight sides, holding around 2 ounces of espresso or Turkish coffee. 
The demitasse cup is thinner than the espresso cup and also heavier. In addition, it has a V-shaped bottom with a wider mouth. 
Demitasse cups vary in size and colour. There are many sizes, shapes, and colours of demitasse cups to choose from, but there are many different styles. 
Decorative options include handles that match the shape of the cup; matching saucers; embellished rims; full or partial domes, and many other types of decorations. You may also purchase demitasse cups in sets of two or more.
What can be served in demitasse cups?

It is often used for Turkish coffee, espresso (single shots/double shots) and other highly concentrated coffee drinks (Greek coffee). Demitasse cups may also be used for hot chocolate and other hot drinks in cafes, restaurants, and homes, though this is less common.

A demitasse cup can hold up to two tablespoons of coffee or tea. The standard size is 3 to 4″ inches in diameter.
What do you use demitasse spoons for?

You use them to remove the froth from espresso, especially if you own an electric machine.
What is the purpose of a demitasse cup?

The purpose of the demitasse cup is to make espresso drinks. The use of [demitasse] spoons for tasting the espresso "pulled" is common in Europe.
What is traditionally served in a demitasse cup?

An espresso cup is traditionally used to serve an espresso shot of coffee. It is also often used, more commonly in Europe, as a tasting cup for coffee liquor.
That means they are used to sip the espresso and taste the flavor. In some cafes, especially outside of North America, they use a demitasse spoon (a spoon with a small 4-6cm wide bowl), which is also called an espresso spoon.
What is the capacity of demitasse?

It is about 60 to 90ml. For the most common cup, it is about 90ml.
What is the difference between a demitasse cup and a teacup?

A demitasse is a smaller and lighter cup, often made of earthenware. A teacup is a larger, more substantial cup with a saucer and matching lid.
What are the dimensions of a demitasse cup?

Demitasse cups are often smaller versions of regular coffee cups that are generally only used to serve espresso.
They range in size from two ounces of coffee, to an ounce and a half, but they can go as large as five ounces if they're meant to hold hot chocolate.
They are generally 2-2.5 inches high and around 2.25 inches wide. The handles are about 2.25 inches long and are ribbed for a firm grip.
Conclusion:
Demitasse cups, the new trend in coffee cups, hold a cup of hot espresso or any other coffee drink.  You may use it to serve your drinks after dinner or on any special occasion. You can also use it as a decorative piece. 
With the right cup and saucer, you can turn this simple drink into an elegant presentation to delight your guests in your home or at work. Make sure that you buy a cup and saucer set that matches your interior décor, whatever that may be.
I hope this article told you all you wanted to know about the history of demitasse cups, their care, and how to use them. Now you are ready to go out and explore the different types on the market!