Breville BES878BSS Barista Pro Espresso Machine Review – One Stop Details
The Breville Barista Pro espresso machine with an integrated grinder is perfect for a coffee lover who wants the ultimate control over their coffee-making process. 
With a single touch of a button, this machine will grind your coffee beans, extract the espresso, and then heat the milk to the perfect temperature for making lattes or cappuccinos. 
It comes with a one-year warranty, and you may use it with all types of coffee beans, and features an intuitive interface, so it's easy to use.
In addition, the digital display makes it easy to monitor the progress of the coffee-making process.
It boasts a stainless steel conical burr grinder, digital PID temperature control, a powerful 15kW steam output, and its sleek design is sure to fit seamlessly into any kitchen. 
It makes the Barista Pro an excellent choice for anyone who wants premium speciality coffee at home without the hassles of owning a coffee shop.
Breville BES878BSS Barista Pro Espresso Machine Review- Key Features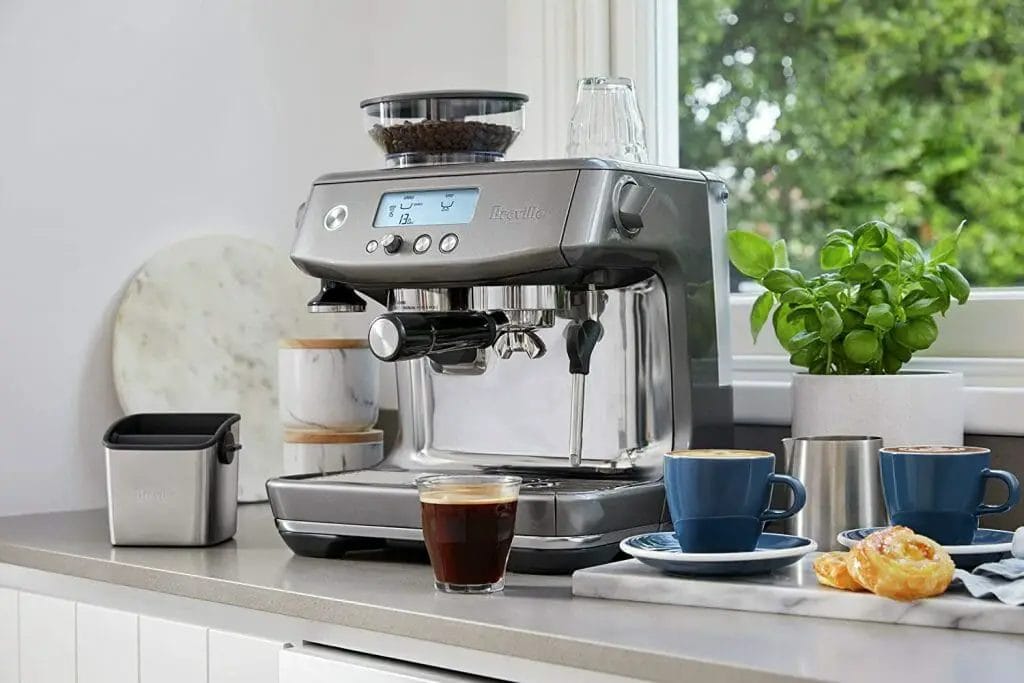 The 67 fl. oz. water tank comes standard with this automated espresso maker.
It features a 1/2 pound bean hopper.
It is made of brushed stainless steel, which makes it easy to clean.
It produces espresso with a power output of 1680 watts.
It is powered by 120 volts.
It comes with a user-friendly LCD interface, adjustable grind control, and 1&2 cup volumetric control.
This incredible espresso machine comes with a water filter, inbuilt tamper, 480 mL stainless steel milk jug, filter baskets, cleaning kit, single & dual wall, and the razor precision dosage cutting tool, among other things.
Let's Look At The Features Of The Breville BES878BSS Barista Pro Espresso Machine.
Design
With its simple and clean appearance, the Breville Barista Pro espresso model looks to be highly profitable. It has a more polished and glossy appearance than the Barista Express. 
Breville Barista Pro is generally available with three distinct colour schemes: Stainless Steel Sea Salt, and Black Truffle.
The steamer, portafilter, and control panel are all located on the unit's front. The model features a modern appearance and an LCD control screen.
Unlike the Breville Barista Express, the Breville Barista Pro does not feature a pressure indicator on the front. 
The integrated conical burr grinder is on top of the machine. The knob for adjusting the grind size is on the side of the coffee maker.
The water tank is in the machine's rear. Despite its remote position, it is relatively accessible. Pulling the handle higher will allow you to disconnect it.
Overall, the Barista Pro is a powerful machine. It is primarily solid stainless steel.
Brewing Time
The ThermoJet heating system in the espresso machine takes only 3 seconds to get ready. It drastically reduces the time required to brew coffee. 
However, we recommend keeping your device turned on for 5 to 10 minutes before brewing. It ensures more precision in brewing temperatures.
The actual brewing time is determined by whether you choose one or two shots. 
Nonetheless, the brewing time is relatively brief. And the espresso is ready in around 15 to 20 seconds.
Flavour
Regardless of the size of your cup, you can enjoy delicious, creamy coffee. The Barista Pro and Express espresso machines use PID technology to produce high-quality coffee, often known as digital temperature control. 
The steam wand makes creamy, silky micro-foam that blends seamlessly with your coffee, enhancing its flavour.
Temperature
Digital temperature control (PID) guarantees that the water is at the proper temperature for excellent espresso extraction. 
PID technology reduces and detects changes throughout the extraction process, making sure that the temperature remains within its optimal range at all times.
Steam Wand
It provides micro-foam milk texturing for perfect milk froth. Its powerful steam wand performs to the point where the user may obtain the quality of the micro-foam milk.
As a result, it improves the taste of the espresso while also blossoming the art of latté production.
Milk Steaming And Frothing
The Breville Barista Pro outperforms earlier versions in two areas: heating milk and preparing lattes. However, ThermoJet's most important benefit is not its quick heat-up time but rather the tremendous advances gained in steam transfer and steaming power.
For these reasons, the Barista Pro is a fantastic choice if you're searching for an espresso machine, particularly for making beverages with milk.
Beverage Size
The Breville Barista Pro Espresso Maker makes both one shot and two shot espressos. It does this through the use of its volumetric control function. 
For a single shot, the default amount is roughly 1 ounce (30 ml). For double shots, use 2 ounces (60 mL). 
Although the model includes preset volumes of 1 and 2 cups, it is also possible to manually override the default settings. That is, the user can set their shot volume.
Accessories
The device has an unrivalled amount of features that help you make coffee better. Furthermore, some aspects of the Express model have improved. As a result, it is a quicker and simpler espresso machine.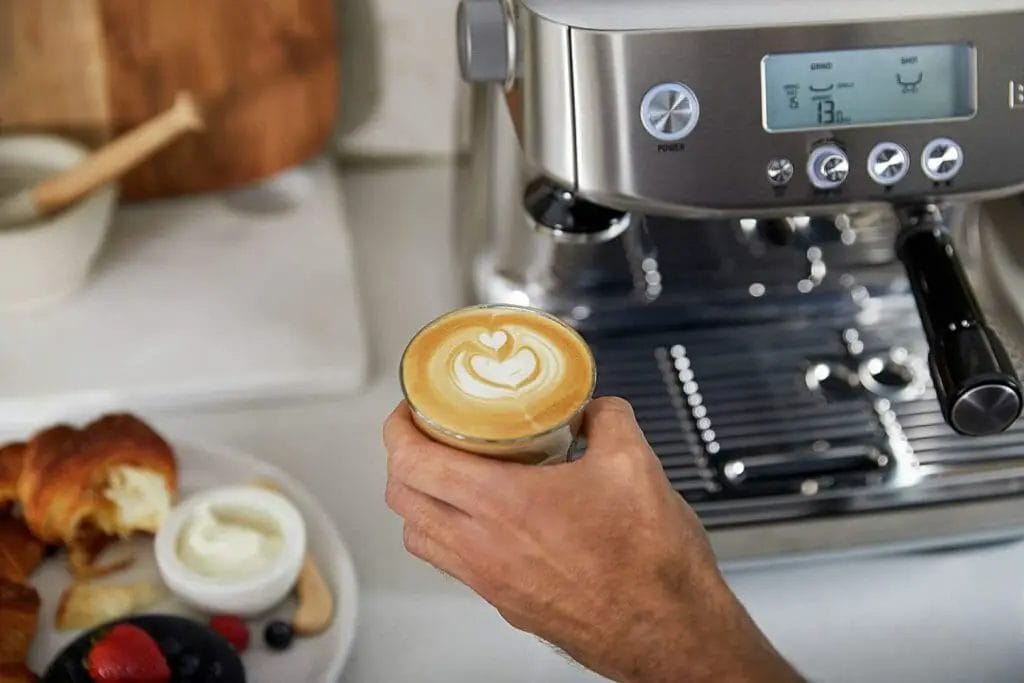 Several characteristics make this machine highly profitable. Other pieces of equipment included with the Breville Barista Pro were 
1 and 2 shot single and dual wall baskets,
filter baskets, a cleaning kit, 
a water filter, 
an integrated magnetic tamper, 
a 16-ounce stainless steel milk bottle, and 
a razor precision cutting tool.
Value For Money
If you ask how long do breville BES878BSS espresso machines last? Well! It's a value for money deal. 
Espresso machines are not typically inexpensive, and the Barista Pro espresso machine falls somewhere in the centre of the pricing spectrum. However, given its wide variety of capabilities, it is one of the best models available.
You may purchase a simple super-automatic espresso machine for a comparable price, but it does not provide the same level of control as the Barista Pro and is more difficult to use.
There aren't many options that look nice and offer the same number of features for the price.
Health And Safety
The body of the Breville Barista Pro is stainless steel. It also contains a few plastic pieces, such as the water tank, the grinder burr, and the machine's bottom and top.
The espresso machine Breville produced claims that the model is BPA-free. Furthermore, all items that may come into touch with water or coffee are BPA-free.
Even though this machine is BPA-free, other potentially hazardous polymers may or may not have been used in the production process.
pros & cons of breville BES878BSS espresso machine
Pros
A modern and elegant look with an easy-to-use LCD control panel.
The ThermoJet heating technology allows it to start up in only three seconds.
The transition from rapid brewing to steaming
Effortless milk steaming
Cons
Costs more than the Barista Express model.
FAQs
What's The Difference Between A Breville Barista Express And A Breville Barista Pro?
The most significant difference is between analogue and digital displays. 
The Express features a few buttons for various tasks, as well as an analogue pressure gauge. The Pro, on the other hand, features a bright, lighted digital display and smaller buttons.
Is Breville Superior To Nespresso?
Nespresso does not manufacture any machines. The ones on their website are the exact ones you'll find in shops. The only distinction is in the branding. 
On all models sold through their website, Nespresso removes the maker's seal. All of the major brands use Nespresso technology as well.
Can You Brew Espresso Without An Espresso Machine? 
Because espresso needs pressure, it is generally made by an espresso machine. However, even if you don't have a machine, you can prepare espresso at home with the help of a Moka Pot, an AeroPress, and a French press.
Is The Breville Bes878 Espresso Machine Worthwhile To Purchase?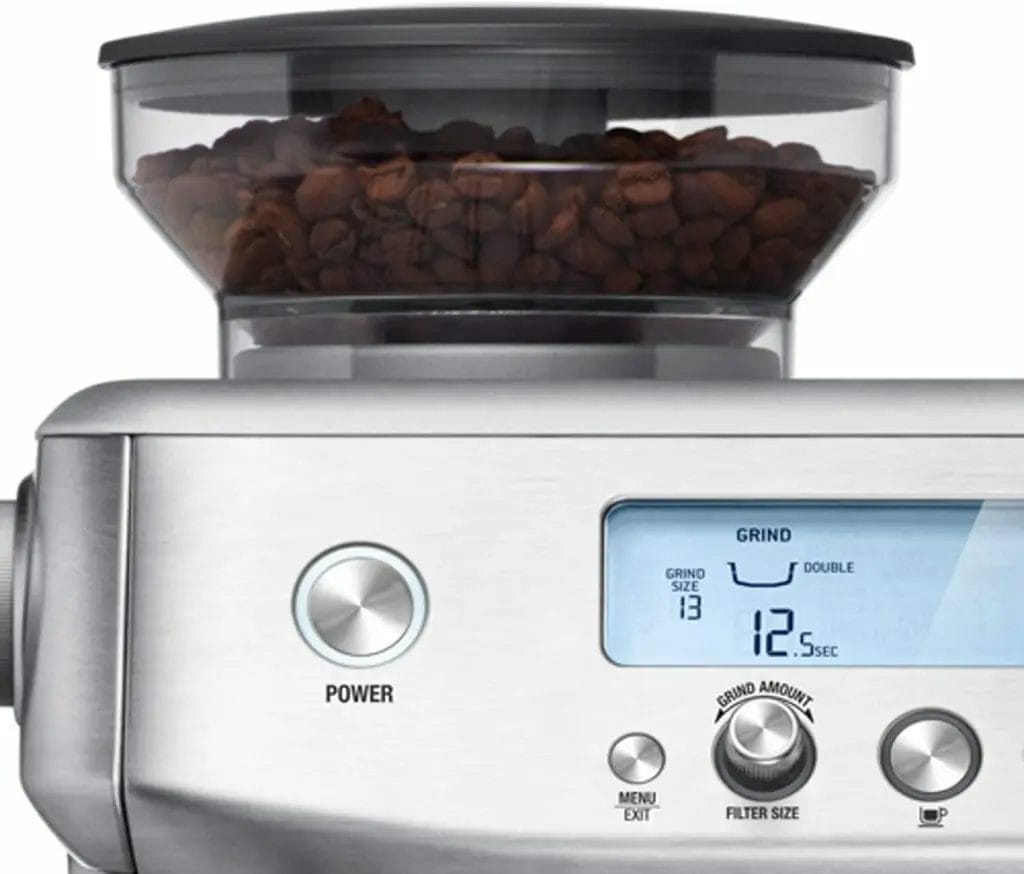 Yes. This espresso machine is unquestionably the best of its kind. Though it is pricey, the price will be irrelevant to you when you consider its features and performance.
What Are The Accessories That Come With The Box?
To purchase the espresso machine, you'll receive the following, to start with:
Single and dual wall filter baskets (one and two cups)
A portafilter
The Razor Precision Dose Trimming Tool
Stainless Steel Milk Jug (480ml)
Water filter
Cleaning kit
Is a Breville espresso maker worth it?

Breville is a manufacturer of professional-quality home appliances including coffee machines. They have a reputation for producing reliable, high-quality products, and stand out for their sturdy design.
Can you make coffee with Breville Barista Pro espresso machine?

The Breville Barista Pro is equipped with PID temperature control and a steam wand to help you make barista-quality coffee. It takes under one minute to brew coffee, and the cup is ready within 50 seconds.
Is Breville Barista Pro grinder good?

The machine has a built-in grinder that grinds coffee beans just before brewing. The grinder includes a removable bean hopper and is controlled by a commercial-style dosing timer.
Is the barista Pro better than the Express?

The Breville Barista Express Espresso Machine is equipped with a 1,000-watt heating element, which heats up in less than one minute. The machine grinds beans and produces cups of espresso more quickly than any other machines in the market.
Why are Breville espresso machines so expensive?

Breville espresso machines are expensive because they deliver high-quality performance with the ability to produce barista-style espresso. In other words, they are capable of producing espresso that is similar in taste and quality to those made in coffee shops.
How long do Breville Barista Pro Espresso Machine last?

Breville espresso machines last for a long time. If you take proper precautions, your machine can operate for up to six years without problems. The grinder can be used for one year before it needs to be replaced.
How often clean Breville Barista Pro?

People who brew espresso on a regular basis should thoroughly clean their machines at least once a month. If you do not wash the machine, it can accumulate dust, which may result in odors and potential problems down the road.
What is the best grind size for Breville Barista Pro?

Do not use too fine a grind for the Breville Barista Pro. A little too coarse a grind will result in an over-extracted cup, which tastes harsher and may have bits of grounds trapped in it.
Is Breville better than sage?

Breville has a slightly lower quality than Sage, but they are pretty close. In essence, they both produce very good espresso. The main advantage that Breville has over Sage is the removable bean hopper and dosing timer. With these features, you can adjust the beans you use and when you grind them to achieve your preferred taste.
Customer Reviews
Customers of this espresso machine agree that the Barista Bes878 espresso machine is the top-tier model, considerably superior to its predecessors. In addition, the makers attempted to optimize the process to create latte faster than any other equipment. 
Although all of the features and performances of this espresso machine are outstanding, a tiny number of consumers have expressed dissatisfaction with the equipment's high price. 
Apart from that, there are no restrictions on this Breville espresso machine. If you want to learn more about this product, check out the significant characteristics of the Barista pro Bes878 listed below.
Alternatives
Breville BES870XL Barista Espresso Machine
The Breville BES870XL is the best alternative to the Breville Barista Pro if you are looking for a more affordable but still very reliable espresso machine.
However, it lacks some of the smooth and sophisticated look and feel of the Barista Pro. 
Furthermore, some users have complained that this device does not produce steam and that some components may fail sooner or later.
The Breville BES870XL is also available in a two-row version (BES870XLD) for large office environments.
The De'Longhi La Specialista is a coffee grinder and espresso machine in one. It features stainless steel, a dual-boiler system, and has a steaming wand.
The price of this machine dramatically varies upon its condition and the place of purchase.
Conclusion
No matter how experienced you are, the Breville Barista Pro is an attractive choice for espresso lovers who wish to produce barista-quality espresso at home.
You no longer need to go to a coffee shop for your morning coffee with this fantastic machine.
If you want a modern machine that looks great in your kitchen or a gadget brews espresso and steams milk well, the Barista Pro should be your first pick.
We hope the Breville BES878BSS Barista Pro Espresso Machine Review is helpful to you along with answers to questions like how long do breville BES878BSS espresso machines last, pros & cons of breville BES878BSS espresso machine so that you can make your precise decision.