Bialetti Moka Express 3 Cup Review- Why You Should Choose One?
It is the perfect option for your morning or afternoon beverage for those just starting their coffee journey! 
Take a look at our Bialetti Moka to express 3 cup review to see why this is one of the best options on the market.
We'll be reviewing the taste, brew volume, and size. I think all aspects are essential when deciding whether or not you should buy this product.
We will also talk about some customer reviews from Amazon about the Bialetti 3 Cup Moka Pot, Bialetti 3 Cup Espresso Maker, Bialetti Stovetop Moka Pot 3 Cup which will help further determine whether or not to buy it.
About The Bialetti 3 Cup Moka Pot
The Bialetti Moka express 3 cups have an iconic design handled with care. Its polished aluminium body and easy-to-use design make this moka a must-have coffee maker in any kitchen.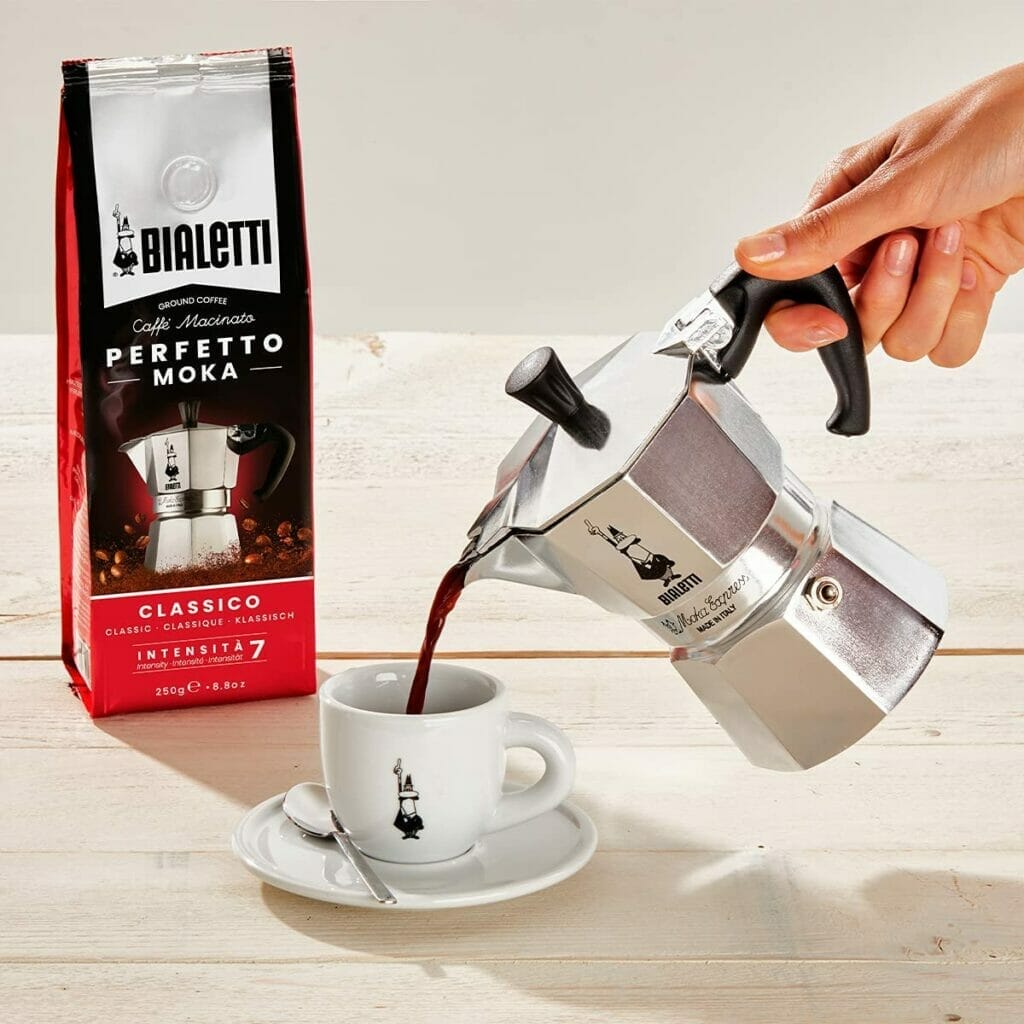 It brews an excellent cup of coffee every time, which is why it's still selling today.
This Moka Pot can make up to 3 cups of coffee, making it one of the best coffee makers you can buy. It is a quality product from a reliable brand, and it will undoubtedly stand the test of time.
It's a small and simple device that makes excellent coffee at an affordable price. It's a compact machine with a classic design that looks perfect in any kitchen. 
The Bialetti Moka express has a unique design that's easy to use and clean, with a non-slip handle that's comfortable to hold. People either love or hate the Bialetti Moka, but it's always good to have opinions. 
With that in mind, let's discuss some pros and cons of this coffeemaker so that you can make an informed decision.
How To Use Bialetti Moka Express 
The Bialetti Moka express makes it easy to brew a cup of espresso. It only takes a few minutes to heat up and is ready to use. The Bialetti works best with finely ground coffee, which you can grind right before using:
First, fill the bottom chamber with water to the level mark.
Next, place the filter and fill it with finely ground coffee beans.
Next, put the Moka Pot on the burner, close the lid and wait for ten minutes.
When it's ready, use a cup to pour your favourite beverage and enjoy! 
Features
Size – This Bialetti model comes with three size options: 3, 6, 9 cups. The sizes depend on how much coffee you want to make. 
There are two chambers in the Moka Pot. The upper pot collects the coffee, and the lower is for water. The coffee is always made right, and you can choose according to your preference.
Design: The Bialetti features an iconic design that is functional and visually appealing. The Moka Pot is made of polished aluminium and comes in various colours. 
It has a non-slip handle that makes it easy to hold, even when it's filled with water. You can use this coffee maker for hot and cold beverages, perfect for all seasons.
Taste of coffee: The Bialetti produces an excellent cup of coffee, which is one of the main reasons it remains a popular choice among coffee enthusiasts.
The Bialetti is a stainless steel product compatible with all sorts of coffee beans, though you should use the type that suits your cup. 
The filter lets you choose how much coffee you want to add to your coffee through the upper chamber. To create more crema in your espresso, you can gently press the grounds into the filter basket with a spoon.
Brew volume: The Bialetti Moka makes three cups of coffee, and each time it takes about five minutes to complete the espresso cup. You can also use it for cold beverages like iced lattes and cappuccinos.
Cleaning: You may clean the Bialetti in the sink. You must dry all the components before storing them. You must not use abrasive sponges or steel wool to clean the Moka Pot, as it may scratch the device. 
Using these products may scratch the surface on which it's fitted, which will affect its performance. The Bialetti is easy to maintain like any other kitchen appliance. However, it is not dishwasher safe. 
Price: The Bialetti Moka Express 3 Cup retails for $35 and $45. It is a relatively affordable coffee maker with excellent features worth the price.
Bialetti Moka Express – The Pros
Elegant and miniature
Brews enough for 1-2 people
Complete control and flexibility over the brewing process can result in outstanding, rich, and flavorful coffee.
Portable and reasonably priced
Durable
Easy to use
Bialetti Moka Express – The Cons
Made from aluminium
You will have to learn how to use it
Brewing procedure by hand
Cane takes 7-10 minutes to brew and is only suitable for stovetops (no open campfires)
Dishwasher not recommended
Does not brew large volumes of coffee
It is not hands-free brewing
Customer reviews
Based on customer reviews and our research, the Bialetti Moka Express is a highly rated coffee maker that gives you a good coffee cup.
It's easy to use and clean, classic and straightforward in design, and makes enough coffee for 1-2 people without fail. 
This device is also portable because it is easily foldable for storage. Many customers have said that this is a solid product with great taste.
The Bialetti Moka express 3 cups is one of the most popular coffee makers on Amazon because it makes an excellent espresso that doesn't cost a fortune. 
Customers appreciate the ability to make three cups at once and the classic design. Thanks to this Bialetti coffeemaker, they find that the espresso is bold, rich, and creamy.
Alternatives
Aeropress: The Bialetti Moka Express is a small and compact coffee maker, making it easy to take camping.
The Aeropress is also relatively small, but it produces large volumes of coffee. It can make up to 5 cups of espresso at once! 
The Aeropress looks like a giant syringe. To use this device, you place it on top of the cup and make a seal using the plunger or the flip cap. Next, add hot water and stir to mix in the grounds.
French press: The French press is another alternative to the Bialetti Moka express. Both of these devices make small and medium-sized portions of coffee. They are perfect for people who like strong coffee rich in flavour. 
The Bialetti can make a cup of coffee every time, while the French press takes some practice and precision to master. The French press has a lengthier brewing process than the Bialetti, which is why it's more expensive.
Why Choose The Bialetti 3 Cup Espresso Maker?
The Moka Pot is an enduring classic that has been used for decades. It makes espresso, cappuccino, and other Italian drinks at home.
Here are some reasons why you should use this Bialetti coffee maker: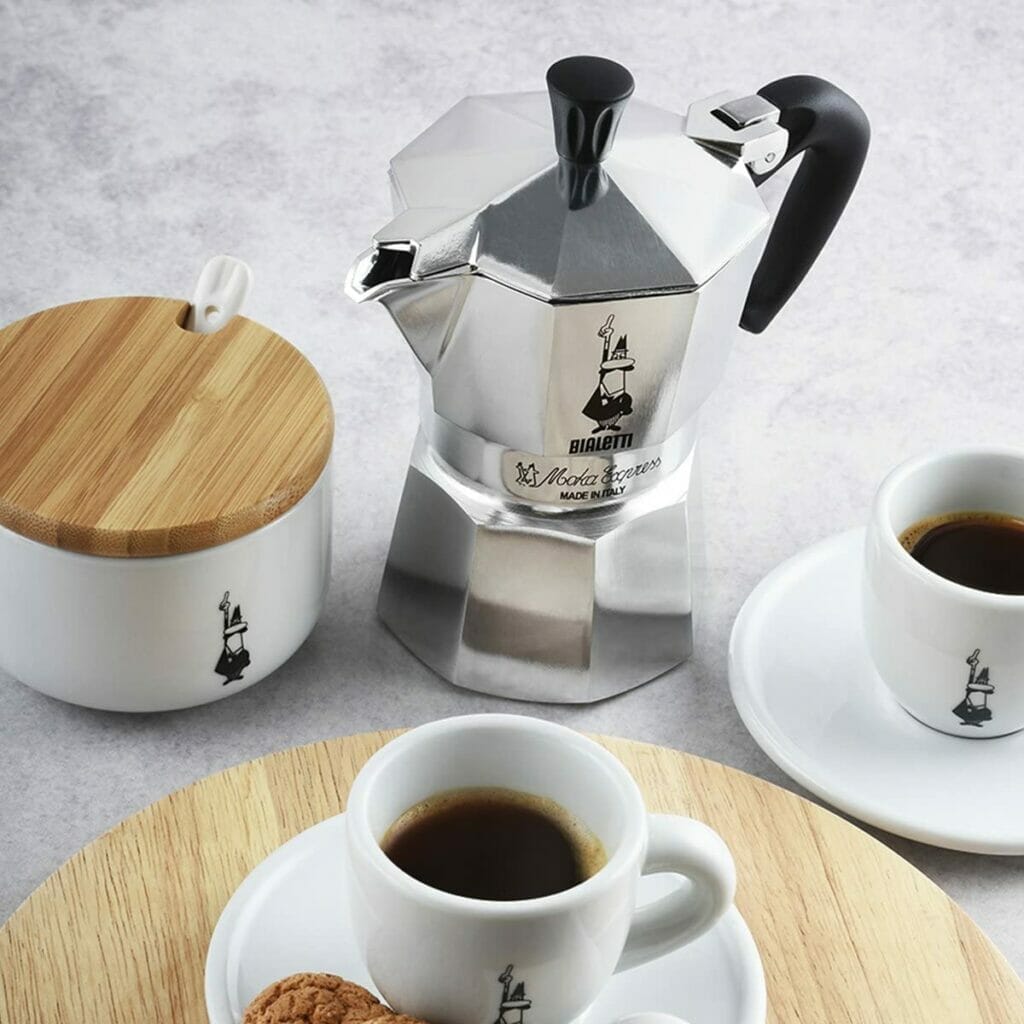 Brews stronger, more flavorful coffee than other Moka coffee machines.
This Moka coffee maker brews faster than other Moka coffee makers.
A fantastic design brews coffee by moving hot water under pressure from steam through ground coffee.
Lightweight and portable unit 
Excellent design and appearance
Brews fantastic, high-quality coffee as well as some fantastic tea
It's a steal at this pricing.
The handle is made of plastic (as opposed to stainless steel or wood)
Should You Buy The Bialetti Moka Express 3? The Verdict!
The Bialetti 3 Cup Espresso Maker makes excellent espresso and is well worth the price tag. Although it isn't a big brand, the Bialetti pot still enjoys widespread popularity among coffee drinkers. 
Coffee-lovers consider it a great alternative to the many expensive coffee makers available today.
The Bialetti's price is unbeatable if you're looking for a good quality home espresso maker that doesn't need electricity or batteries. It works on all types of cooktops. The Bialetti is also eco-friendly, portable, and durable! 
Look no further if you're looking for a good quality Moka coffee maker and a Bialetti Moka Express 3 Cup Review for home use. This machine brews the espresso in just a couple of minutes which is perfect if you want your cup of java in a hurry!
FAQs
What Is A Moka Pot?
A Moka pot is an Italian-designed stovetop coffee maker. It's typically aluminium, but it can also come in stainless steel and other materials. The process of brewing the coffee happens inside the metal container. 
The pressure of vapour pushes the water through the metal walls and, ultimately, into your cup of espresso.
How Does A Moka Pot Work?
The Moka pot uses pressure to push hot water through coffee grounds and into your cup or mug. The pressure is created by steam that's pumped up the Moka pot.
First, coffee grounds are placed into the metal chamber, and the bottom is sealed. 
Then, you can brew the coffee by adding hot water to the chamber to create pressure inside. When you add more water, it causes steam to rise through this system, which will result in a flavorful beverage.
Is The Moka Pot Safe To Use?
Yes, the Bialetti Moka coffee maker is safe and harmless. The coffee maker doesn't create harmful or dangerous fumes when used.
So you don't have to worry about the same dangers that you may encounter when using other coffee makers like electric or gas-powered ones. 
The Bialetti pot is a simple, traditional design that's great for preparing coffee at home.
How good is Bialetti?

This Bialetti Moka Express Espresso Maker is made of quality materials and is designed to give you the right amount of pressure, making it easy to brew your coffee.
The pot and its filter-holder are both made of aluminium. This means they are lightweight and rust-proof, while the Bialetti Moka Express holds up well under high temperatures thanks to its thick walls (2 mm in thickness).
Is Bialetti Moka induction good?

Yes, Moka Express is induction compatible. You can easily use the pot to make coffee, transferring heat from the stovetop to the inner container.
The Moka Express is compatible with all types of stoves and cooktops.
Do you need to fill the Bialetti completely?
The best espresso in a Bialetti pot comes when the water reaches all parts of the filter-holder.
Does Bialetti Moka Express make crema?

Yes, Bialetti Moka Express makes crema! First of all, it's very important that you clean the pot every time you use it.
Otherwise, your coffee won't have the dense consistency and taste of a delicious cup of espresso.
If you use pre-ground coffee in your filter-holder, you'll be able to make great crema.
If you like to buy whole beans, which ensures the quality of your coffee is impeccable, then let that particular grind sit for 24 hours.
Is Bialetti stainless steel?

No, the Bialetti is made from aluminum. This metal doesn't rust easily and it withstands high temperatures better than stainless steel. Also, the pot is resistant to scratches and staining.
Is Bialetti Moka better than other brands?

This brand is the original. Bialetti is the first company to make this type of coffee maker, and they've been making them for over 90 years.
Is Bialetti made in Italy?
This Moka pot is designed in Italy and manufactured in China. The materials are of excellent quality and it's easy to use.
How do I know what size my Bialetti is?

The Bialetti Moka Espresso Maker is available in four different sizes.
You can order a specific pot that's the perfect size for your vessel!
It's easy to tell what size of coffee pot you own as it has both measurement in inches and millimeters on the bottom.
Can Bialetti be used with my coffee grinder?
The Bialetti coffee maker doesn't have its own grinder; this means you can only use whole beans to make great coffee.
Is Bialetti still made in Italy?

Yes, Bialetti still manufactures its products in Italy. They make all of their items from aluminum, with the exception of the tops and handles, which are made from stainless steel.
It's still in the same family that started it all over 90 years ago!
How many cups does Bialetti make?
This Moka pot makes 3 cups of coffee per use. It can brew espresso for approximately 20 minutes.