Gaggia Velasca Espresso Machine Review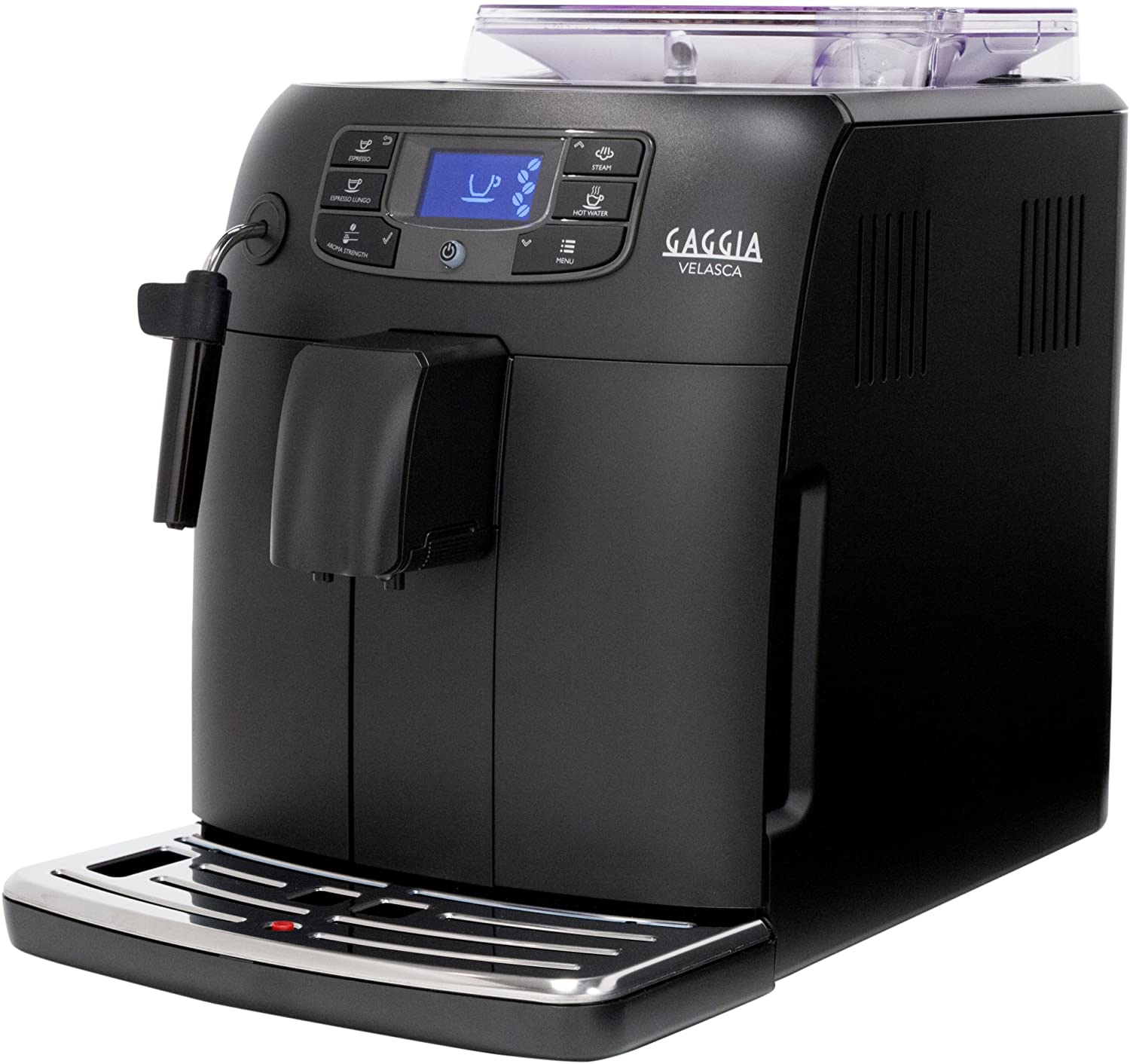 Gaggia Velasca Espresso Machine, Black
Manual frothing for milk-based drinks: Pannarello steam wand for frothing milk
Programmable: programmable brewing options for Espresso and Espresso Lungo with 3 different temperature settings
Ceramic burr grinder and brew unit: ceramic burr grinder with 10 fineness settings, 5 brew strength settings, and bean hopper with 10.5oz capacity
Front loaded water reservoir: features a 54oz capacity and pulls out from the front of the machine, ideal for low hanging cabinets
The Gaggia Velasca is a perfect example. With its easy-to-use and programmable features, the Gaggia Velasca allows you to make everything from simple espresso to complex espressos lungo, cappuccinos and lattes, with ease. 
Gaggia uses a patented ceramic burr grinder that works at extremely high speed, ensuring that you may get only the finest grind of the coffee. In addition, it provides even extraction, which translates to a more flavorful cup of coffee.
The ten fineness settings let you choose the coarsest or finest grind of coffee. The five brew strength settings allow you to select how strong your espresso or other coffee-based drink should be. 
The machine also features an automatic grind and tamp cycle to clean out the grinder between uses. If you're looking for an affordable super-automatic espresso machine that won't leave you begging for more, the Gaggia Velasca is the way to go.
Let's look at the features and specifications of the Gaggia Velasca Espresso Machine.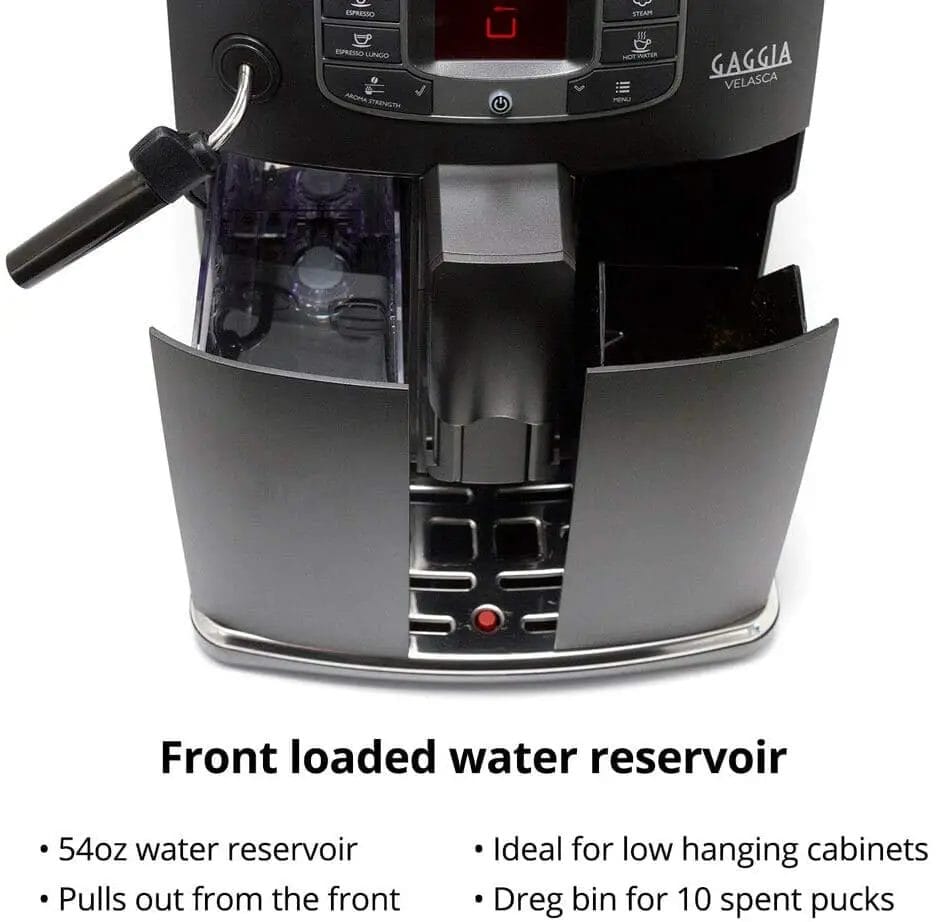 Design and build
Although the Velasca is one of the less costly bean-to-cup machines, it appears considerably more expensive than it is. Nevertheless, the Velasca looks fantastic in almost any kitchen, thanks to its matte-black plastic finish and perfectly angled front. 
It will also tuck out of the way because it is one of the most miniature bean-to-cup machines I've evaluated (256 x 340 x 444mm).
The front has a single display, which is flanked by one-touch drink dispensing controls. They're a touch soft and require a solid press to register a hit, but they're clearly labelled.
Ceramic Burrs
To grind the coffee, all Gaggia bean to cup machines use ceramic burrs. Most electric burr grinders utilize stainless steel burrs, but Gaggia has continued producing bean to cup machines. Their opinion is that ceramic burrs don't heat the coffee beans, as stainless steel burrs do.
Opti Dose System
The Gaggia bean-to-cup machines include an integrated system that detects the pressure needed to auto-tamp the coffee before drawing the shot, and the machines learn from this and apply it to the next shot.
These machines feature software that detects if it requires more or less pressure than predicted, and it adjusts the number of milliamps utilized to put pressure on the coffee. 
So, if you use a fresh coffee and it tastes terrible, give it a couple of shots, and it should taste better.
Cleaning
The presence of a water tank and a detachable drip tray simplifies cleaning. In addition, it has a front-loaded water reservoir with an up to 54oz capacity that you can remove in case of access water.
Great Frothing System
You will find the finest foaming between 150 and 155 degrees Fahrenheit. You must keep pressing the program button until you achieve the desired froth. Then, when you go to make your coffee, this machine does not waste your milk.
Maintenance
On this equipment, routine maintenance is simple. When prompted, the drip tray slides out the front, and you must empty it. Used coffee pucks fall into a container on the machine's right side, where you can empty it.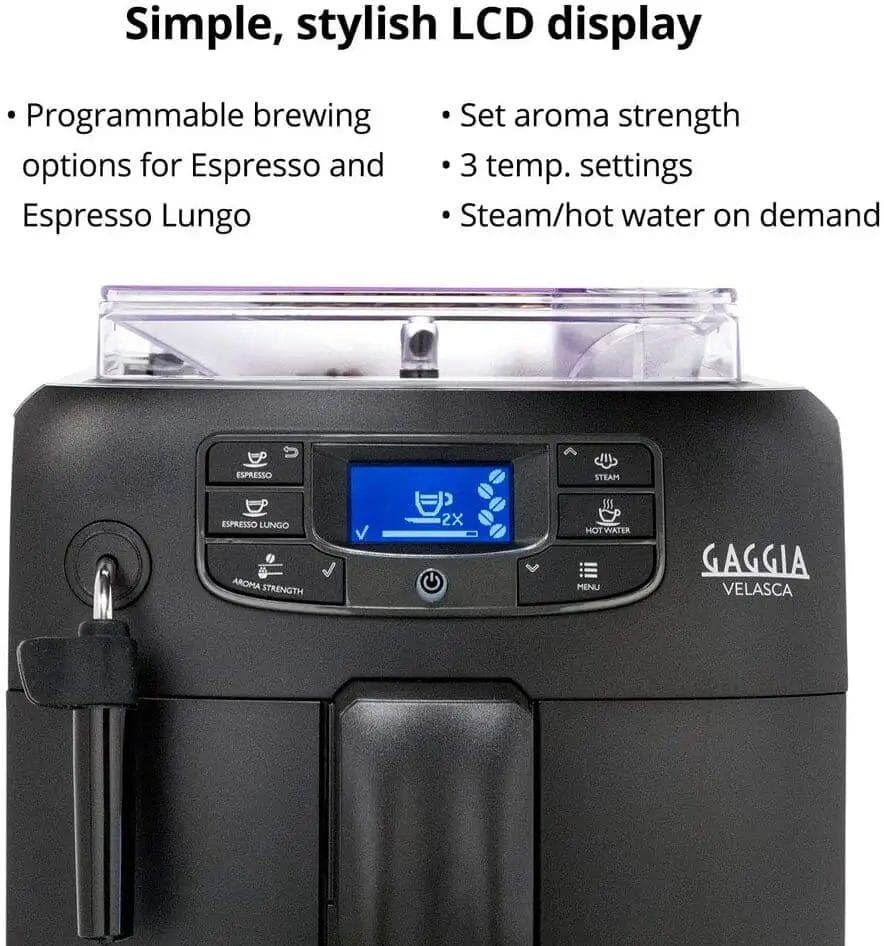 You may prevent mould by washing the trash with soapy water regularly.
The brew unit slides out of the machine's side, and you may wash it once or twice a week to clean the Velasca's interior. The machine should also be descaled as requested, using the built-in software and descaling fluid.
Pros
Complete brew unit and bean hopper
2-year warranty
Easy to use for beginners
5-flavors taste variety
Easy to clean
High-speed grinder
Cons
Small water reservoir
Hefty price tag
Does not work well with oily coffee beans
FAQs
What is the espresso quality of the Gaggia Velasca Espresso Machine?
Gaggia Velasca provides you with exceptional espresso quality. By adjusting the maximum temperature and delicate grind, you can get the most excellent espresso. The temperature should be around 62 degrees C.
Should you buy a DeLonghi or a Gaggia?
Even though DeLonghi is less expensive than Gaggia, I prefer Gaggia. It is considerably more efficient than DeLonghi at brewing and producing espresso. Its milk foaming is outstanding. Gaggia is better in terms of construction and has fewer annoyances.
Is the Gaggia Velasca espresso machine long-lasting?
Yes. This espresso machine lasts long. It comes with a 2-year warranty and can last up to 5-6 years. It can run for up to ten years at a time.
Why should you buy a Gaggia Velasca?
Aside from the Gaggia Velasca's slightly clunky controls and basic steamer wand, the Gaggia Velasca gets the basics right. 
It's a reasonably priced and compact bean-to-cup coffee maker ideal for anyone with limited space who needs essential equipment to make good espresso from fresh beans.
Customer reviews
Many customers believe it is the best espresso machine since it is simple to operate and produces unbelievable frothing. 
This espresso machine can make a better espresso than the most wealthy coffee establishment. It was dubbed the "ideal espresso machine for the home."
Another community expresses dissatisfaction with this. Consumers complain that it is adequate but not exceptional. It's not as if handling a variety of beans is inefficient. 
If you utilize a variety of beans, your machine will repeatedly stop. Some consumers claim that it requires constant cleaning and does not effectively heat, steam, grind, or dry foam.
Apart from that, it does not waste coffee and does not leave a harsh taste in your mouth. 
Alternatives
There are many competitors to the Gaggia Velasca. At the top of the list is DeLonghi EC145. It is a similar machine and has fared well since its inception. It still sells well and has a decent reputation among those who have used it.
The Jura Impressa C9 is a more powerful machine that includes various pre-programmed settings for various coffee types, making it ideal for those who enjoy experimenting with different kinds of coffee.
Instead of Gaggia Velasca, you can also look at the Jura Impressa C5. The Jura Impressa C5 is a lower-end version of the excellent milk frother that makes cappuccinos as Baristas made in your favourite coffee shop. 
So if you want the whole luxury espresso experience in your home, this is for you!
Conclusion
Gaggia Velasca Espresso Machine, Black
Manual frothing for milk-based drinks: Pannarello steam wand for frothing milk
Programmable: programmable brewing options for Espresso and Espresso Lungo with 3 different temperature settings
Ceramic burr grinder and brew unit: ceramic burr grinder with 10 fineness settings, 5 brew strength settings, and bean hopper with 10.5oz capacity
Front loaded water reservoir: features a 54oz capacity and pulls out from the front of the machine, ideal for low hanging cabinets
It outperformed all other espresso machines due to its position as the most prestigious brand. Its endearing characteristics can overcome any disadvantages. You can prepare a few cups of coffee at the same time without running out of time. 
Because this is a high-priced item, you may want to consider purchasing a DeLonghi ESAM 3300 Super Automatic Espresso Machine with a lower price if money is not an issue. You have a choice. You are free to make your own decisions.