Best Coffee Makers For Backpacking – We Help You Choose The Right One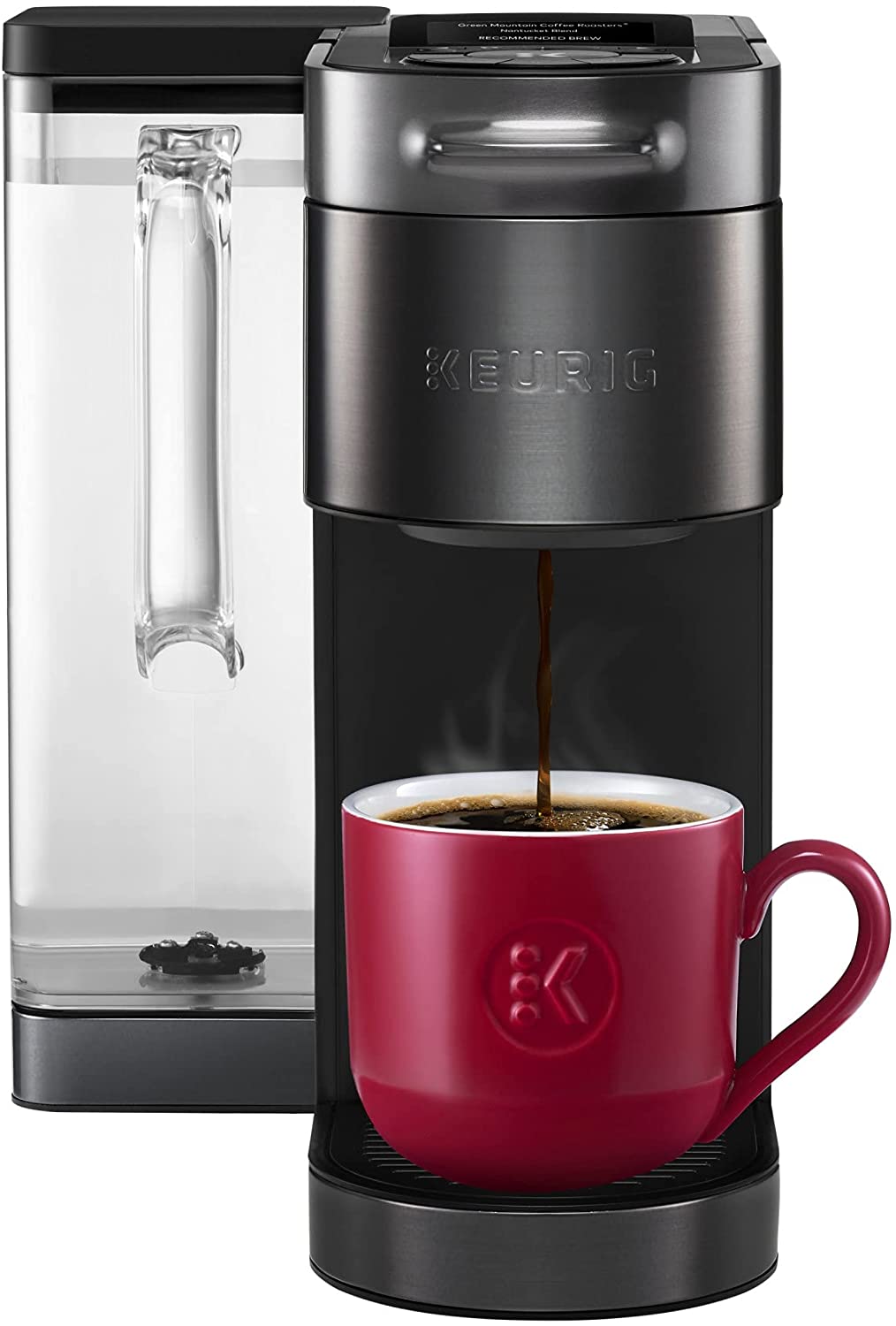 What's Most Important to You in a Camping Coffee Maker?
Coffee takes up less space, keeps you awake, and is cheaper than actual packets of instant coffee. But depending on what you are planning on brewing, finding the best coffee maker can be difficult. 
Some people will opt for a percolator, though they take up a lot of space and only produce one to two small cups at a time. 
On the other hand, a French press is better for larger groups and less gear to carry. This article will look at the Best Camping & Backpacking Coffee Makers and their features that make them work better than other products on the market.
Here Are The Top Five Best Coffee Makers For Backpacking:
AeroPress Coffee And Espresso Maker With Tote Bag
The AeroPress Coffee and Espresso Maker is an excellent choice for backpacking or any time you want to enjoy good-tasting coffee.
Its simplicity is its best quality, and you can easily brew a rich, smooth cup of coffee with less hassle than other backpacking coffee makers on the market. It is easy to use, reliable and has a sleek design. 
The Aeropress is great for camping or hiking trips because it is light, portable, durable, and perfect for backpacking.
You can brew between 1-3 cups of coffee before you need to refill. And can be used to brew cold coffee and espresso-style coffee with ease. 
The Aeropress's ability to deliver very rich and smooth coffee in as little as 30 seconds is the edge it has over all other backpacking coffee makers to emerge the overall best product you should get for your backpacking trips. And you may find yourself using this excellent product in your home too.
Features
A tote bag for convenient packaging
To place your coffee grind into the filter for brewing, use a coffee scoop.
A stirrer; for quickly stirring your coffee.
350 microfilters and a filter holder for simple brewing
Filling with water is made easier with the use of a funnel.
Stanley Adventure All-In-One, Boil + Brewer French Press Coffee Maker
The Stanley Adventure All-In-One, Boil + Brewer French Press Coffee Maker is a good choice if you are looking for something you can use for other purposes aside from brewing coffee.
It is also suitable for boiling and cooking soups and for heating your canned foods.
This French Press Coffee Maker is made of durable stainless steel, which means it can withstand the rigours of outdoor activities and it will last you for a long time.
And the best part is that it has a large capacity to enjoy multiple rounds of coffee or share with your family and friends.
Features Of The Stanley Adventure All-In-One French Press Are:
A nesting design to save space during packing and storage
A vented, melt-resistant nylon lid to improve thermal efficiency.
Dishwasher safe for easy and thorough cleaning
Primula Brew Buddy Portable Pour Over
The Primula Brew Buddy Portable Pour Over Coffee Maker offers a more convenient way to enjoy your favourite beverages in the comfort of your own home or on the go. 
The mesh filter is dishwasher-safe, so you don't have to worry about rinsing and drying it after use, making this a convenient way to brew coffee on the go. 
In addition, it is easy to clean because it comes with a mesh filter that you can toss in the dishwasher for easier cleanup.
The mesh filter is designed with a wide rim to fit all cups, including travel mugs. Still, if you prefer tall cups with smaller openings, you can also hold the mesh filter above your cup opening, so you don't have to worry about getting any coffee spilt. 
The Primula Brew Buddy Portable Pour Over Coffee Maker has a built-in water reservoir that stores enough water to brew two cups at once. 
The water tank is easy to fill and remove, so you will not be left with a mess when refilling. It also comes with a one-year warranty from Primula, so you are assured of good quality coffee! 
Features
Brewing mesh filters that are long-lasting.
The wide rim fits most cups and mugs, including the travel mug.
To make cleaning more accessible, the Mesh filter is dishwasher safe.
GSI Outdoors Java Press
Whether you are an avid camper or enjoy a bit of off-road exploration, the GSI Outdoors Java Press delivers excellent espresso-like beverages from your campsite while saving you time and trouble. 
Featuring a double-walled insulated lid and top lid, the Java Press keeps your coffee warm while not sacrificing the amount of flavour it provides. With the Java Press, you will never have to compromise on the perfect cup of Joe.
The GSI Outdoors Java Press is available in two sizes, 15 fluid ounces and 30 fluid ounces, allowing you to take coffee on the go or enjoy a whole pot at home.
Features
Double-walled insulated lid and top lid to keep coffee hot.
Made from the copolyester
GSI Outdoors Glacier Stainless Steel Percolator
The GSI Outdoors Percolator is a fully automatic coffee brewer that produces a whole pot of coffee in less than 4 minutes. It is the ideal coffee maker for camping or tailgating. 
The GSI Outdoors Percolator is a coffee brewer that you can use on a stovetop or a campfire. It features a transparent percolator knob that allows you to gauge the strength of your brew. 
The Percolator's sturdy stainless steel construction makes it perfect for rough handling and ground impact. 
In addition, the Percolator is made from heavy-duty stainless steel, making it durable and long-lasting. The Percolator is also dishwasher safe for easy cleaning.
Features
Easy to use
Automatic coffee maker
Stainless steel construction
You may use it on stovetops
Wacaco Nanopresso
Wacaco Nanopresso is a portable and potent espresso machine with revolutionary new technology. It uses a high-pressure pump, a pressure gauge, and a motor to make a perfect cup of espresso. 
The high-pressure pump pushes water through the espresso machine at 18 bar (261 psi). It creates a pressure that is ten times higher than the pressure needed by traditional espresso machines. 
As a result, Wacaco Nanopresso can produce an espresso shot with more crema and less bitterness than any other machine on the market.
Features
Lightweight and small
Compact and portable
Highly powerful and efficient
GSI Outdoors Ultralight Java Drip
For those who want the best of both worlds, the GSI Outdoors Ultralight Java Drip is the coffee maker that's ideal for car camping, gourmet backpacking, or any pursuit where space and weight are at a premium, but coffee is a must. 
The Ultralight Java Drip makes coffee in seconds with a push of a button, but it also lets you brew an entire pot using your existing stove.
In addition, the Ultralight Java Drip's sturdy legs clip to nearly any mug during its ultra-compact design nested under a standard fuel cartridge so that you can enjoy bold, mud-free coffee.
Features
It has a flat-folding feature that allows it to take up very little space in your backpack.
Sturdy legs that clip into practically any sort of coffee cup or mug.
Jetboil French Press Coffee Maker 
Jetboil is one of the most trusted names when it comes to backpacking. It is well-known for its line of stoves, but now, they have added a French press coffee maker to their lineup.
It is a lightweight and compact coffee maker that is easy to use and carry. You can use it for both the stove and the coffee maker. 
The product is made of silicone and is compatible with the Jetboil stove. It has a mesh filter that removes sediments and other impurities.
It is also compatible with the Jetboil Zip and MicroMo products. The product is ideal for those who love to drink coffee while backpacking.
Features
A microfilter to reduce the presence of sediments and offer smooth coffee
A resistant silicone ring for a snug fit to prevent excess coffee grounds from escaping
A stem that easily detaches from the basket, and you may store it in your coffee cup.
What to look for when buying the best coffee makers for backpacking or camping?
When looking at coffee makers for backpacking or camping, you need to look for features that will maximize the product's functionality. 
However, looking at the bells and whistles of a product is not what you should do. Instead, look at the design and usability of the product.
Take into consideration your needs when you are choosing a coffee maker for backpacking or camping. 
Weight
Possibly the most essential consideration for travellers is how much weight a coffee maker would add to their load.
The finest travelling coffee maker should ideally weigh no more than 5 oz. However, weight should not be the primary factor for car campers or campervanners.
Capacity
Do you camp alone? With a companion? Or do you bring the whole family? Your camping mates are likely to enjoy coffee as much as you do.
To avoid noise at the campsite, consider purchasing a coffee maker that can prepare numerous coffees simultaneously. 
Similarly, single campers can conserve space and weight by selecting a coffee maker that only brews one cup at a time.
Portability And Usability
Packing portable coffee makers should not be complicated. The most practical models are streamlined, come with a carry bag, or fit together when packed.
We also want our camping gear to be as simple to use as possible, which means that we can go from backpack to stoves in a matter of minutes. 
Finally, remember that you may wish to use your coffee maker before the sun comes up. As a result, we hunt for coffee makers with fewer parts, as they will be easier to assemble.
Consider how often you need to clean the equipment. You'll have access to running water if you stay at a campsite, but in the woods, you might prefer a coffee maker that requires little maintenance.
Brewing Style And Strength
'Real coffee' means different things to different people. So we've included coffee makers with various brewing types on our list, the most popular pour-over and French press coffee makers. 
When selecting a coffee maker, consider how you like your coffee brewed, whether you prefer a coarse or fine grind, and what strength you prefer. 
Quality And Durability
It's a good idea to always ask yourself how long you expect a camping coffee maker to last. As a result, we examine the materials of each model before deciding on our favourites. For example, stainless steel is nearly impervious to rust, and glass is ideal for camping. 
In addition to considering the materials used for construction, we also believe each product's warranty before recommending it. While some models offer lifetime guarantees, others have between 1 year and five years warranties.
Cost
The ideal coffee maker for camping is not too expensive. The things on our list range from low-cost to high-end, but the most costly isn't always the best option for you.
So first, consider your budget and how much money you want to spend on a portable coffee maker.
Is AeroPress good for backpacking?

The AeroPress is a portable coffee maker that takes a few minutes to make coffee. It's made from plastic and uses the same equipment as a drip brewer. It's an ideal tool for backpacking and camping because it eliminates the need to carry coffee beans or ground coffee when you go hiking or camping.
You can use it to brew any kind of coffee, and the Aeropress filter is easy to clean when preparing your beverage.
How do you take coffee while backpacking?

You don't want to carry up a bunch of coffee supplies or just make some instant coffee in the morning. Plus, you want something that keeps you energized so you can enjoy the outdoors on your trip. We recommend that you look at the coffee press and make a fresh cup of coffee while hiking or camping
What is a Pourigami?

The Pourigami is a portable coffee dripper that weighs only 12 oz. It is constructed of stainless steel and has a silicon grip that prevents the item from slipping while you are pouring. It is the best portable travel coffee dripper. The Pourigami is a great option for campers who are always on the go and want to enjoy a steaming cup of hot coffee every morning while they are out camping. It comes with an integrated silicone band that keeps the dripper from being knocked over, and it has an ergonomic lid that you can open with one finger.
Conclusion:
A coffee maker is an essential component of every backpacker's journey, especially on trips that last several days or longer.
Many portable coffee makers are available in the market today, so finding the best one for backpacking may be difficult.
To make your choice more accessible, we've reviewed the eight Best Coffee Makers For Backpacking and help you find what's Most Important to You in a Camping Coffee Maker?
Note that they are easy to use and are made with lightweight materials. They are also durable, easy to clean and come with a variety of different features.
These models may not be cheap, but they can help ensure quality coffee on your camping journey!
Happy camping!